Discount Tire Sponsors Professional Bull Riding
At Discount Tire, one of our true passions is having fun, and there are few things as fun and exciting as bull riding. That's why we are proud to sponsor Professional Bull Riding and riders Eduardo Aparecido and Brennon Eldred!
Discount Tire Professional Bull Riding Schedule
2020 PBR SCHEDULE
Jan 24-26 at Golden 1 Center in Sacramento, CA
Jan 25 at Spokane Arena in Spokane WA
Jan 25 at Rupp Arena in Lexington, KY
Jan 31-Feb 1 at Chesapeake Energy Arena in Oklahoma City, OK
Feb 1 at Thompson Boling Arena in Knoxville, TN
Feb 1 at Van Andel Arena in Grand Rapids, MI
Feb 7-8 at Covelli Centre in Youngstown, OH
Feb 7-8 at Staples Center Los Angeles, CA
Feb 7 at The Alamodome in San Antonio, TX
Feb 15-16 at AT&T Stadium in Arlington,TX
Feb 15 at Fed-Ex Forum in Memphis, TN
Feb 15 at The Four States Fairgrounds in Texarkana, AR
Feb 22 at Hampton Coliseum in Hampton, VA
Feb 22 at DCU Center in Worchester, MA
Feb 22-23 at Enterprise Center in St. Louis, MO
Feb 28-Mar 1 at Sprint Center in Kansas City, MO
Mar 6-8 at Cross Insurance Center in Bangor, ME
Mar 6-7 at Simmons Bank Arena in Little Rock, AR
Mar 14-15 at Infinite Energy Center in Duluth, GA
Mar 14 at Nutter Center in Dayton, OH
Mar 20-21 at Wesbanco Arena in Wheeling, WV
Mar 21-22 at Save Mart Center in Fresno, CA
Mar 21-22 at Gila River Arena in Glendale, AZ
Mar 28 at Rapids Parish Coliseum in Alexandria, LA
Apr 3-5 at Denny Sanford Premier Center in Sioux Falls, SD
Apr 4 at Rabobank Arena in Bakersfield, CA
Apr 17-19 at Rimrock Auto Arena at Metra Park in Billings, MT
Apr 18 at Alerius Center in Grand Forks, ND
Apr 24-26 at The Pit in Albuquerque, NM
Apr 25 at Intrust Bank Arena in Wichita, KS
May 1-2 at Uvalde County Fairplex in Uvalde, TX
May 8-9 at 4 Bears Casino & Lodge in New Town, ND
May 9 at Bill Hailey Arena in Cassville, MO
May 16 at Wise County Fairgrounds in Decatur, TX
May 30 at Sheridan County Fairgrounds in Sheridan, WY
Jun 5 at Flathead County Fairgrounds in Kalispell, MT
Jun 6 at Ector County Coliseum in Odessa, TX
Jun 12-13 at Deadwood Events Complex in Deadwood, SD
Jun 19-20 at Bismarck Civic Center in Bismarck, ND
Jun 26 at Edwards County Fairgrounds in Rocksprings, TX
Jul 4 at Amarillo National Center in Amarillo, TX
Jul 20-21 at Frontier Park Arena in Cheyenne, WY
Jul 25 MPEC Center-Kay Yeager Coliseum in Wichita Falls, TX
Aug 8 at La Bahia Fairgrounds in Goliad, TX
Aug 8-9 at The Box Center in Tulsa, OK
Aug 15-16 at Fertitta Center in Houston, TX
Aug 22-23 at Bridgestone Arena in Nashville, TN
Aug 29-30 at Tacoma Dome in Tacoma, WA
Aug 29 at Lincoln County Fairgrounds in Eureka, MT
Sep 11-12 at Hinda Center in Anaheim, CA
Sep 18-20 at JQH Arena in Springfield, MO
Nov 4-8 at T-Mobile Arena in Las Vegas, NV
Don't miss any of the excitement of Professional Bull Riding. Check out the 2020 PBR schedule and catch all the action!
Discount Tire Professional Bull Riding Sponsorship Riders
Discount Tire proudly sponsors riders Eduardo Aparecido and Brennon Eldred. Check out their bios below to learn more about their stellar bull riding careers!
Eduardo Aparecido Bio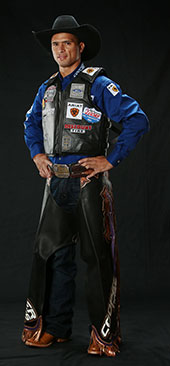 Like many Brazilian bull riders before him, Eduardo began riding professionally on the PBR Brazil Touring Pro Division at the age of 21, and made the jump to 25th PBR: Unleash the Beast competition full time in 2013 at the age of 23. He qualified for the PBR World Finals as an alternate in 2012, and quietly emerged the following year as a world title contender. In the five years since joining the Premier bull riding circuit, his riding percentage is 47.13% and he boasts an average PBR world final standings finish of seventh over that span. Eduardo has ten career 25th PBR: Unleash the Beast event wins. Eduardo finished the year in a career high fourth in the final PBR standings. He set personal best results with 12 top five finishes, 18 top 10, and 47 successful rides. He spent 15 weeks ranked number one in the PBR world standings.
When Eduardo isn't riding, he spends time with his wife Kelly, and daughters Maria Eduarda, Maria Luiza
Brennon Eldred Bio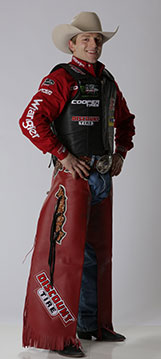 The son of an amateur bareback rider and team roper, Brennon road his first rough stock at the age of five. Basketball, baseball and football through high school gave way to Bull Riding and he turned pro in late 2012. Eldred looks up to two-time PBR world champion Justin McBride and calls him his idol.
In 2016, Brennon qualified for his third PRCA National Finals Rodeo, won three rounds, and placed second in the event average. Brennon also nine PRCA sanctioned rodeos, finishing a career best second overall in the final world standings.
In 2017, Brennon committed to competing in both PRCA and Professional Bull Riders (PBR) qualifying for his fourth National Finals Rodeo (2014 –2017) and first PBR World Finals. He went on to win seven PRCA sanctioned rodeos and finished 15th in the final PRCA world standings. He ended the year with three wins in PBR sanctioned events and finished 27th in the final PBR world standings.
Great Deals on the Best Tires at Discount Tire
At Discount Tire, we make it our goal to provide the lowest prices on the best tires and wheels. Whether you're looking for great deals on off-road tires for your truck or efficient, smooth-rolling trailer tires, you can count on us for the lowest prices, guaranteed. So, if you're looking for new tires, check out our promotions to find great deals on the best tires.