Discount Tire Sponsors Professional Bull Riding
At Discount Tire, one of our true passions is having fun, and there are few things as fun and exciting as bull riding. That's why we are proud to sponsor Professional Bull Riding and riders Silvano Alves, Brennon Eldred and Eduardo Aparecido!
Discount Tire Professional Bull Riding Sponsorship Riders
Discount Tire proudly sponsors riders Silvano Alves, Brennon Eldred and Eduardo Aparecido. Check out their bios below to learn more about their stellar bull riding careers!
Salvano Alves Bio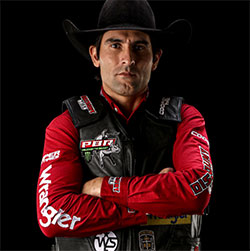 Hometown: Sao Paulo, Brazil
Age: 33
Set the record for longest consecutive ride streak at 24 between 2014 and 2015
3x PBR World Championships
First rider ever to win title in back-to-back seasons
Second rider ever to win back-to-back world championship
Currently ranked 14th in PBR World standings
Ride %: 56%
Event Wins: 28
2010 PBR Rookie of the Year
Brennon Eldred Bio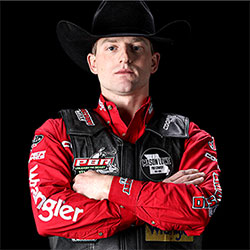 Hometown: Sulpher, OK
Age: 26
Brennon got interested in the sport by going to rodeos with his dad and uncle
Hobbies: team roping, deer hunting, bass fishing, and listening to hip hop music
Currently ranked 20th in PBR World standings
Ride %: 34 %
Event Wins: 4
Eduardo Aparecido Bio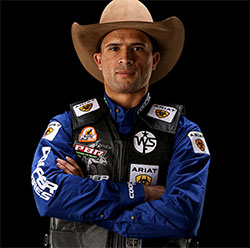 Hometown: Gouvelandia, GO, Brazil
Age: 30
Began his career riding professionally on the PBR Brazil Touring Pro Division at 21 years old
When he isn't riding, Eduardo enjoys spending time with his wife Kelly, and daughters Maria Eduarda and Maria Luiza
Currently ranked 21st in PBR World standings
Ride %: 56 %
Event Wins: 17
Great Deals on the Best Tires at Discount Tire
At Discount Tire, we make it our goal to provide the lowest prices on the best tires and wheels. Whether you're looking for great deals on off-road tires for your truck or efficient, smooth-rolling trailer tires, you can count on us for the lowest prices, guaranteed. So, if you're looking for new tires, check out our promotions to find great deals on the best tires.