Discount Tire Sponsors Supercross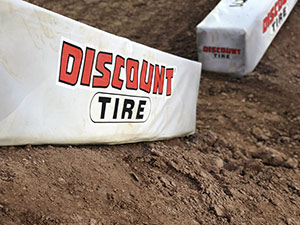 At Discount Tire, our passion for tires and performance doesn't stop at the black top; it extends all the way to the dirt. That's why we are proud to be the official Wheel and Tire Retail sponsor of Monster Energy Supercross!
Although we don't stock or work on motorcycle tires, we provide the best deals on tires and wheels for whatever vehicle you drive to and from the track, whether it's a truck, trailer, UTV/ATV, or even minivan.
Discount Tire Supercross Schedule
2019 SUPERCROSS SCHEDULE
January 5th at Angel Stadium in Anaheim, CA
January 12th at State Farm Stadium in Glendale, AZ
January 19th at Angel Stadium in Anaheim, CA
January 26th at Oakland Alameda County Coliseum in Oakland, CA
February 2nd at Petco Park in San Diego, CA
February 9th at U.S. Bank Stadium in Minneapolis, MN
February 16th at AT&T Stadium in Arlington, TX
February 23rd at Ford Field in Detroit, MI
March 2nd at Mercedes-Benz Stadium in Atlanta, GA
March 9th at Daytona Int'l Speedway in Daytona, FL
March 16th at Lucas Oil Stadium in Indianapolis, IN
March 23rd at CenturyLink Field in Seatlle, WA
April 6th at Nissan Stadium in Nashville, TN
April 13th at Bronco Stadium at Mile High in DEnver, CO
April 27th at Metlife Stadium in East Rutherford, NJ
May 4th at Sam Boyd Stadium in Las Vegas, NV
Don't miss any of the pulse-pounding Supercross action! Check out the 2019 Supercross schedule and catch every race!
Great Deals on the Best Tires & Wheels at Discount Tire
Discount Tire makes it our goal to provide the lowest prices on the best tires and wheels. Whether you're looking for great deals on off-road tires for your truck or efficient, smooth-rolling trailer tires, you can count on us for the lowest prices, guaranteed. So, if you're looking for new tires, check out our promotions to find great deals on the best tires and wheels.