2021 Acura TLX Type S Tires — Our Picks
By: Discount Tire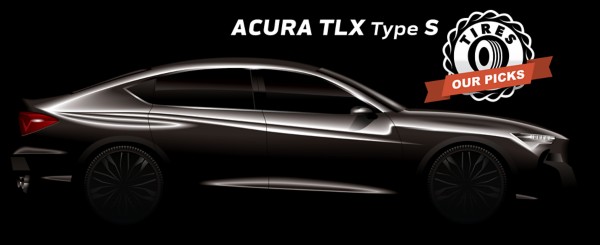 Acura is looking to up the ante with the newest generation of TLX, due to start roaming the streets in spring of 2021. 

Available in A-Spec and Advance models, as well as the model we're all here for: the Type S. Acura is pulling out all the stops on the 2021 TLX, starting with a unique frame. (For those who aren't in the know, this means that the new model won't be a souped up sedan riding on a Honda frame; it's going to be built on something entirely new and exclusively Acura.)
They're also stepping up the performance across the entire platform, with the base model 4-cylinder starting out with an increase in horsepower and more torque than the 2020 TLX's V6 model. This means that even drivers who don't opt for the full TLX Type S experience can still expect heart-pounding performance from the base TLX's turbo-powered 4-cylinder engine.
We're so excited about the forthcoming Type S that we're going to speculate on the potential rubber that will grace its frame when it hits pavement in spring 2021.
Acura TLX Type S Details
According to the team at Acura, the TLX Type S will come with two 20-inch wheel options: a split ten spoke design inspired by the Type S Concept and a "Y" spoke design that takes its inspiration from the Acura NSX. (Supercar inspired performance and design? We'll take a set of those!)
Acura also shared that the Type S will wrap these custom wheels in 255/35R20 tires. For those of you following along, that means the 2021 TLX-S will essentially feature a plus 1 size increase over the 2020 TLX 3.5 A-spec. 
We think that's a good thing, because according to Acura, the 2020 Type-S comes packed with a 3.0 liter turbocharged V-6, which is going to put out a whopping 355 horsepower and 354 ft-lb of torque. That means the new TLX is going to need as much rubber between it and the road as possible to control all that extra horsepower.
That leads into what we're all here to discuss: our predictions for the tires that are going to grace the elegant frame of the up and coming 2021 Acura TLX Type S.
Tires on 2020 TLX A-Spec
As a point of departure, it's important to talk about the other models of the TLX. While the new Type S will roll out on 20-inch wheels, Acura have confirmed that the A-Spec model will come stock with 19-inch Shark Grey wheels, which we've also seen on the outgoing generation 2020 A-Spec model. 
The original equipment on the 2020 Acura TLX A-Spec is the much-lauded 245/40R19 Michelin Primacy MXM4. The Primacy MXM4 is a luxury touring tire that Michelin designed to provide enhanced handling and confident all-season traction, all without sacrificing tread life. 
While it's likely that Acura will select an original equipment tire that will confidently take on any weather, it also seems probable that they will want a tire that amps up the performance attributes of the new Type S.
2021 Acura TLX Type S Tire Predictions
So, using this foundation of luxury performance and a plus-sized fitment, below are our predictions on the tires that might meet the road when the new 2021 Acura TLX Type S is available.
Since Acura has told us that we can expect to see the new TLX Type S come stacked with 255/35R20 tires, we'll start with that in mind. However the adventurous driver may want to explore upsizing to fitments with even wider section width. This will allow for powerful traction to help tame all the raw power coming from the high-powered turbocharged engine.
Starting with this in mind, we can use Treadwell, our tire decision guide, to determine the top three (potential) tires for the new 2021 Acura TLX S. Those three recommendations include:
All of these options put down the serious traction the Type S will need to control the aggressive power of its new mill, combined with the brand new sport-tuned suspension and overall chassis platform. These options also provide straight line stability under acceleration and braking, as well responsive handling for matchless control in cornering maneuvers.
Simultaneously, these luxury tire options provide traction for confident grip in wet and dry conditions and a comfortable ride that will only further compliment the smooth and controlled driving characteristics Acura is known for.
As we get closer to the spring launch of the new TLX Type S, we'll be sure to update this page. And if you're looking to upgrade the rubber or rims on your current Acura TLX, feel free to use Treadwell to find the best tires for your driving style or find a location near you today.

For more information on this and other tire and wheel services, check out our YouTube Channel or reach out to us on Twitter, Facebook and Instagram.