What are the best tires for New Mexico?
By: Discount Tire


Common vehicles: Economy cars, AWD crossovers, and pickup trucks.
Major regions: Santa Fe, Albuquerque, Las Cruces, Rio Rancho
Road conditions: Roads are clear and dependable for most of the state, most of the year; the usual exceptions are flash floods (especially in the late spring/early summer) and some mild winter conditions in the areas that get snow.
Discount Tire locations: 20 stores (and counting!)
First Discount Tire location in New Mexico: 1982
Proud New Mexicans have always known what many other Americans have been learning over the past few decades: the "Land of Enchantment" is a great place to live, be it for family, career, retirement, or just plain fun. For folks moving to a new state, New Mexico currently ranks in the top ten.
As the fifth-largest state by area, New Mexico is known for its wide-open spaces, including two national parks, eleven national monuments, dozens of state parks and millions of acres of national forest land. There's plenty of room for growing New Mexican chiles (the peppers on which most of New Mexico's cuisine is based), hosting the world's largest hot air balloon festival, and enjoying a uniquely beautiful and clear night-view of the cosmos.
Of course, New Mexico's highways and byways tie all these special spots together. Thanks to its arid climate, you can count on clear roads, except for when the weather intervenes: sporadic flash floods or winter conditions in higher elevations, around Albuquerque and points north.
Driving in New Mexico
To travel New Mexico's roads, most of its residents go for economical cars, like the Honda Civic, or full-size pickups that are ready for some of the state's more challenging terrain, like the ever-popular Ford F-150. Still, a good number of New Mexicans have split the difference with AWD cars and crossovers, like the Subaru Outback and Nissan Rogue.
Whatever vehicle they choose to drive, New Mexico's drivers have an eye for value, as the average vehicle age for the state is 13.1 years, considerably more than the national average of 11.6 years. Expecting a long life from a vehicle means planning for replacement tires; here are our picks for New Mexico.
Beyond our excellent tire selections here, you can use treadwell®—our online tire guide—to compare all the tires that fit your vehicle and how you drive, including an estimate for what the tires will truly cost you over time. Learn more…
Best car tires for New Mexico
For a car in New Mexico, especially in the economy class, you'll want to emphasize long tire life relative to the money you spend for them. Consider the Cooper CS5 Ultra Touring. This all-season tire was built for comfort and longevity. Plus, depending on the size, you have different speed rating options in case you were looking to complement your vehicle's performance trim package.
If you're concerned about the possible need to change a tire while touring the open roads, check out Bridgestone DriveGuard. With run-flat capabilities on top of Bridgestone's stellar reputation for reliability, this touring tire delivers all-season traction with impressive technology for weight distribution and long tread life.
Perhaps your budget only allows for the most budget-conscious tires. In that case, look into the GT Radial Touring VP Plus, a Discount Tire exclusive. You won't be sacrificing quality with this all-season wonder as it carries GT Radial's 50,000-mile treadwear warranty and a modest price tag.
Best truck tires for New Mexico
Are New Mexico's highways where you're normally driving in your pickup? The Hankook Dynapro HT RH12 steps up to that challenge with performance and style. With a modern design for stability and traction, this all-season highway tire is a great value with a 70,000-mile warranty.
If you take advantage of off-road New Mexico as much as its highways, jump into the Michelin LTX A/T 2. Versatile enough for the dirt and gravel, but perfectly comfortable and quiet on the road, the LTX A/T 2 is one of the most all-around capable tires from one of the world's premier tire manufacturers.
But maybe you'll just break bad and dedicate your 4x4 pickup to the 47th state's rocks and mud. In that case, consider the Yokohama Geolandar M/T G003. This mud terrain tire was made tough to handle the roughest terrains New Mexico has to offer.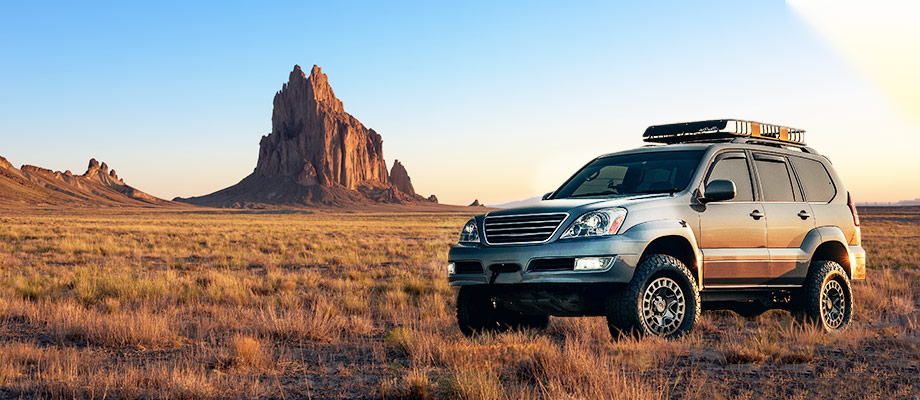 Best crossover tires for New Mexico
Many New Mexicans yearn to take advantage of everything their state has to offer, all from the comfort of one vehicle. For them, an AWD vehicle can provide the perfect mix of economy, performance, and fun in the New Mexican sun … or even snow.
If your crossover tastes skew toward luxury, the Continental Cross Contact LX 25 provides premium all-season performance. Containing Continental's proprietary technology for handling and traction, you can also count on low road noise.
For a crossover tire ready to drive from the plains to mountains, look into the Falken Wildpeak A/T Trail. With all-weather capabilities, including the three-peak mountain snowflake certification for severe snow traction, and a 65,000-mile limited treadwear warranty, you can count on this tire year-round in any New Mexican locale, season after season.
New Mexico's choice is Discount Tire
No matter what vehicle you drive in the land of yucca flowers and roadrunners, Discount Tire is there to make sure you have the best tires at the best price. Stop in, call or make an appointment online to visit your local Discount Tire store and get fast, safe, expert assistance for your next set of tires.