What are the best tires for Washington?
By: Discount Tire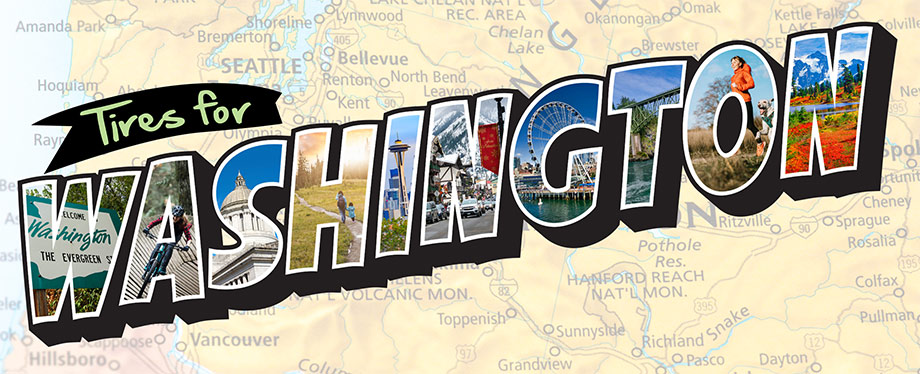 Common vehicles: Subcompact commuter cars/hybrids, CUVs, SUVs, AWD sedans
Major regions: Seattle, Spokane, Tacoma, Vancouver, Bellevue, Kent, Everett, Renton, Federal Way, Kirkland
Road conditions: Rain (152 days/year), infrequent ice and snow in metro Seattle, snow in mountainous areas, summer sunshine
Discount Tire locations: 32 (and counting!)
First Discount Tire location in Washington opening year: 1987

Apples. Coffee. Bill Gates. Grand Coulee Dam. What do these things have in common? Of course, they're well known features of the state of Washington.
The Evergreen State is also known for its diverse geography. Even though it contains everything from the purple mountain majesties (it is difficult to get more majestic than Mount Rainier) to the fruited plain (did we mention apples?), the state is ranked only #18 in total land area.
Washington is separated into two distinct geographies and climates by the Cascade mountains. Inhabitants of the fields in the east endure much wider swings in temperature from season to season with much lower precipitation as their western coastal counterparts adjacent to the Pacific Ocean. The mountainous section between the two sees the most snowfall – upwards of 200 inches per year.
This brings us to tires: what do we recommend for providing Washingtonians confidence to traverse their bridges, ferries, mountains, farmlands and more?
Best car tires for Washington
For the eco-conscious metropolitan commuter, consider the Hankook Optimo H426. It's a quiet, great value all-season tire with a 60,000-mile warranty that's perfect for your EV, hybrid or economy car. It can handle wet and dry roads with some winter features as well (though not a designated winter tire – more on that later).
If you skew more towards Washington's towns and suburban streets, another high-value tire is our exclusive Road Hugger GTP A/S. It provides all-season on-road stability with some serious style. And they're wear-resistant (55,000-mile warranty) thanks to an impressive resin/silica enhanced tread.
When the mountain highways are calling, every Washingtonian needs to be prepared. For your crossover or AWD sedan, check out the Michelin Latitude Tour HP. Designed for crossovers, the Latitude Tour HP can handle the hilly roads surrounding the Cascades in rain, sun, and even some snow. On top of that, Michelin engineered them with lower than average rolling resistance for this type of tire, which equates to better gas mileage.
Winter, all-season, or all-weather tires for Washington?
Depending on the winter temperatures and average snowfall in your corner of the state of Washington, you may be in need of winter tires on your vehicle. Our recommendations for all-season tires above should get you safely through the first frost or snowfall, but when the snow is sticking and the thermometer isn't rising above 45 degrees, you'll be safest on winter tires.
The Yokohama Iceguard IG20 is up to the challenge of a Washington winter. Optimized for cold temps and snowy traction, this winter tire also excels in wet and slushy conditions. To top it off, it performs extremely well while keeping quiet.
And if you're looking to equip your luxury sedan or crossover with winter tires, the Continental Winter Contact TS830 is a great choice. It can brake on the ice and tread through the snow with ease.
What about "all-weather" tires? These are all-season tires with true winter tire capabilities that can eliminate the need for winter tire changes, a good match to the weather diversity throughout Washington. And though there isn't a vast selection available, more are being developed all the time.
A good example of an all-weather tire is the Michelin CrossClimate +. This tire will perform year-round on the roads of the Pacific Northwest. And because it is a Michelin, it will look incredible on any vehicle.
Best truck tires for Washington
If you really want to take advantage of all the terrains comprising Washington's topography, you'll need to hop in your 4x4 truck or SUV. You will also need tires that can handle mother nature's more challenging terrains in various weather conditions. The following recommendations carry the three-peak mountain snowflake symbol, ensuring good traction in snow.
A good choice for this application is the Yokohama Geolandar A/T G015. The technology behind these all-terrain workhorses includes three-dimensional sipes and an specialized tread compound to ensure grip, even in cold weather. And for an all-terrain tire, it looks cool and unassuming, so they'll match your luxury SUV even when you're visiting upscale eateries in the city.
On the other hand, a tire that looks as aggressive as it performs is the Goodyear Wrangler UltraTerrain AT, another Discount Tire exclusive. It is powerful, puncture-resistant, and comfortable on the road but ready for an old-fashioned, Washington off-road adventure in any season.
Washington gets their tires at Discount Tire
When it's time for new tires to take on Washington's weather, look no further than your neighborhood Discount Tire. Let's get you taken care of by outfitting your vehicle with the best tires to meet your budget for when, where and how you drive!