What are the best tires for Wisconsin?
By: Discount Tire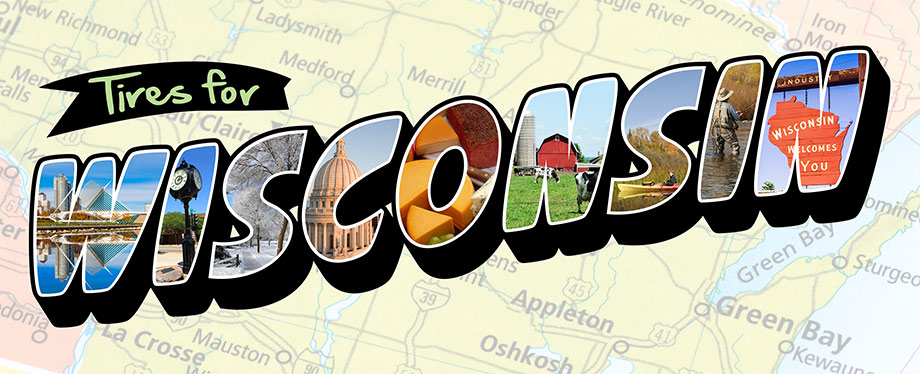 Common vehicles: Full-size pickup trucks, CUVs
Major regions: Milwaukee, Green Bay, Madison, Waukesha, Appleton, Janesville
Road conditions: Predictably severe winter conditions of ice and snow and wet conditions in the rainy spring and summer
Discount Tire locations: 6 (and counting!)
First Discount Tire location in Wisconsin opening year: 2007
Wisconsin. Besides being the setting for nostalgic sitcoms like "Happy Days," "Laverne & Shirley" and "That '70s Show," it has a distinct place in the history and infrastructure of the US.
A leading producer of dairy products, "America's Dairyland" is the 30th state to join the Union, 23rd in area, and currently 20th in population. Many of its communities end up on "best of" lists, as Wisconsinites have forged a family-friendly home for education, sports and outdoor recreation.
Wisconsin geography and weather
The coastlines of Wisconsin along Lake Michigan and Lake Superior are key geographic influences on its harsh winters and humid summers. Across its forests, lakes, farms, cities and towns, the "Badger State" endures lots of winter snow (some areas over 100 inches per year) as well as severe thunderstorms, tornadoes and flash flooding in spring and early summer.
Given the weather and diverse geography, it's no surprise that Cheeseheads throughout the state are partial to pickup trucks and crossovers. Wisconsin's most popular vehicle by sales in recent years has volleyed between the Ford F-150 and Chevy Silverado 1500, with strong showings from major crossovers, including Chevy Equinox, Honda CR-V and Toyota RAV4.
With an average age of nearly 12 years for Wisconsin's vehicles, it's likely the typical Wisconsinite will need to replace the tires on their ride at least once or twice. Of course, Discount Tire has the tires and is ready to install them on your Wisconsin vehicle.
Best truck tires for Wisconsin
Due to their popularity, we'll start with pickups. And due to its nearly unanimous positive reviews, we'll start with the Michelin Defender LTX M/S.
From our own testing and customer reviews, it's hard to find a more capable and reliable tire for your truck. It's ready for all types of Wisconsin weather and is built to keep a high level of performance throughout the life of the tire.
If you're looking for a truck tire to handle all of the terrains Wisconsin has to offer, check out the Nitto Terra Grappler G2. This is the second generation of Nitto's aggressive all-terrain all-star, designed for improved off-road performance while maintaining a quiet ride on the road.
Based on our testing and typical Wisconsin on-road driving habits, some other highly recommended highway tires include the Bridgestone Dueler LTH (a Discount Tire exclusive) and the Cooper Discoverer HTP.
Our best seller for this segment in the Badger State is the Pathfinder HT. Only available at Discount Tire, this high-value tire gets great reviews, has a 60,000-mile warranty and is easy on your wallet.
Best crossover tires for Wisconsin
As previously stated, crossovers have really taken off in America's Dairyland. Fortunately, many of the highly regarded truck tires are made in sizes to fit your CUV and the aforementioned Cooper Discoverer HTP and Pathfinder HT are excellent choices.
For a great looking and elite all-season tire on your crossover, consider the Pirelli Scorpion Strada All Season. It's designed for SUVs and crossovers and offers premium performance in any weather. The Strada All Season also happens to be another Discount Tire exclusive product, so you can bet it's budget-friendly.
Best car tires for Wisconsin
Unless you have a car strictly for fun in the summer sun, we can't help but put a strong focus on all-season tires for cars in Wisconsin.
A dependable stalwart in this category is our Arizonian Silver Edition III. Designed to last long with a 55,000-mile warranty, it offers great value for your family car, minivan or crossover while providing comfortable and quiet touring performance.
On the sporty side of all-season tires is the Continental Control Contact Sport SRS . It's truly a high-performance tire with all-season capabilities, and a great choice if you're packaging them with a set of new wheels to simultaneously upgrade the performance and look of your vehicle. Read more on the the Control Contact Sport SRS.
Best winter tires for Wisconsin
For at least a few months out of the year (or longer), Wisconsinites need to be prepared for driving in snow and ice.
Discount Tire has a huge selection of winter tires to keep you safe when the forecast isn't creeping above 45 degrees. To highlight a couple choices, we'll look at one for your car and one for your truck. Both are studdable to add even more traction on the ice.
The Laufenn I FIT ICE provides touring performance for your car in icy, snowy and sub-freezing conditions. Specifically designed for braking on ice, its claw-shaped tread grabs the road in the worst of winters.
Keeping your pickup truck on the road in the Wisconsin winter is easy with the GT Radial Champiro IcePro 2. Even if the roads are snowed over, icy and/or slush filled for months, you'll be ready; the IcePro 2 provides traction in extreme winter conditions.
Discount Tire gets Wisconsin taken care of
The above recommendations are all just a starting point. For more, enter your vehicle above and shop for tires in your neck of Wisconsin's woods using our Treadwell™ tire guide or talk to the experts in your Discount Tire store.