Our "Little Old Lady" Commercial
By: Discount Tire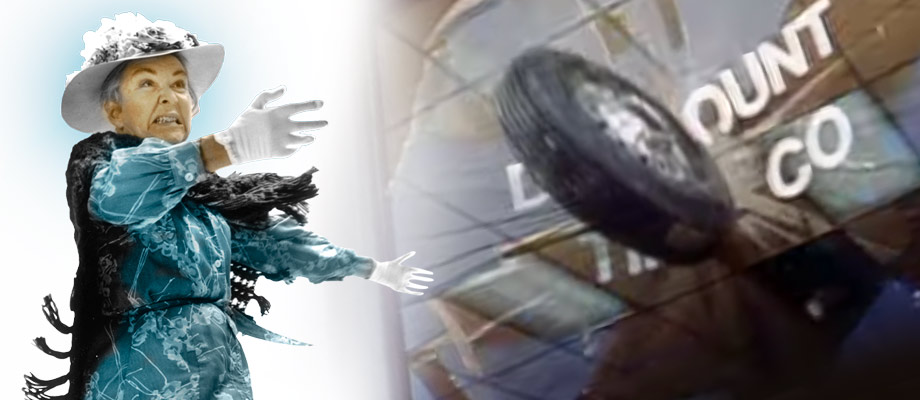 If you've perused our site, there's a good chance you've seen an image of a lady dressed in blue throwing a tire. And you might be wondering why it is so prominently featured.
It all started with an idea from our founder and former CEO, Bruce Halle. Now known as "the Little Old Lady", the image is reminiscent of a popular Discount Tire ad that first aired in 1976.
Around the time of its conception, the country had recently entered a recession which led to devoted customers refraining from purchasing tires or wheels. Bruce knew that once the economy picked up, returning and new customers would be in need of tires. To help bring in the new customers, the advertising team came up with a 10-second television ad that highlighted our well-known return/satisfaction policy: "If ever you're not satisfied, please feel free to bring it back".
Filmed on a random Sunday at one of our Phoenix store locations, the ad consists of a woman in a blue-print dress with multiple accessories, walking up to the store, and throwing a tire at the window. You can see the words "Discount Tire" form in the shattered glass as you hear "Thank you, Discount Tire." From then on it was then referred to as the "Thank You" ad.
Legend has it that there were many challenges during filming. This undoubtedly produced some hilarious outtakes, but unfortunately, their whereabouts are a mystery.
Unsurprisingly, the commercial was a success! The "Little Old Lady" is widely credited with elevating Discount Tire's name to the national level and ran on the air for more than 12 years, winning an International Broadcast Award from the Hollywood Radio and Television Society as well as an entry in The Guinness Book of World Records' 2005 50th anniversary edition for the longest running tv commercial.
A surprising fun fact however, is that one disgruntled customer drew inspiration from the ad and actually threw a deflated tire at a storefront window of a Discount Tire store in Michigan! He caused up to $500 in damage, and thankfully, no one was injured. This remained the only major negative incident regarding the commercial.
Halle never imagined the ad would leave a long-lasting impact on Discount Tire and remains a testament to the company's humble beginnings. Even today, 40 years later, the ad is a pride and joy to all of us at Discount Tire.
Check it out on our official YouTube channel! Little Old Lady Thank You Commercial.