Goodyear Eagle – buyer's guide
By: Discount Tire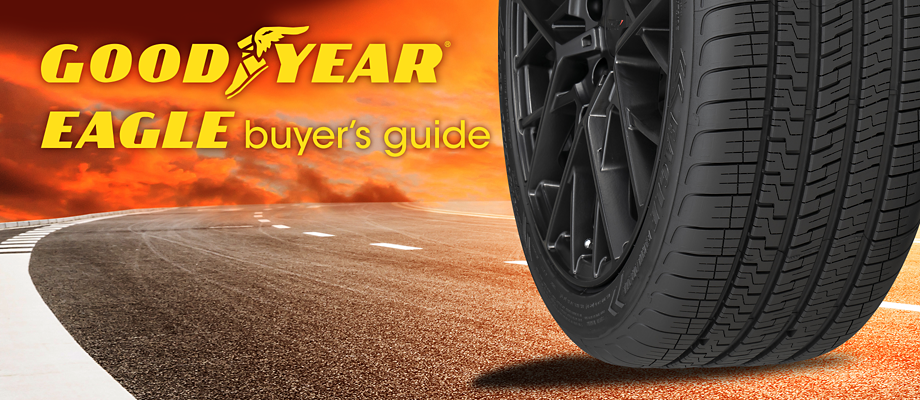 With over 100 years of experience making tires for motorsports, Goodyear knows more than a thing or two about performance tires. They were the most winning tire in NASCAR history long before they became the official tire of NASCAR in 1997, a position they still proudly hold today.
The Goodyear Eagle family of tires has been a part of that racing tradition since their introduction in Daytona in 1981. From their research and track-applied designs, they've continually improved and developed the Eagle tire lines available around the world today.
Goodyear describes this family of tires as offering "premium sport performance capabilities," but there are so many varieties, they truly range from performance-oriented all the way to track-ready. So, if your car isn't merely a means to get you from point A to point B, but rather a vessel for on-road experiences to be enjoyed as an extension of your style and personality, there is a line of Goodyear Eagle tires for you. Of course, Discount Tire can help you choose.
Goodyear Eagle LS and Eagle LS2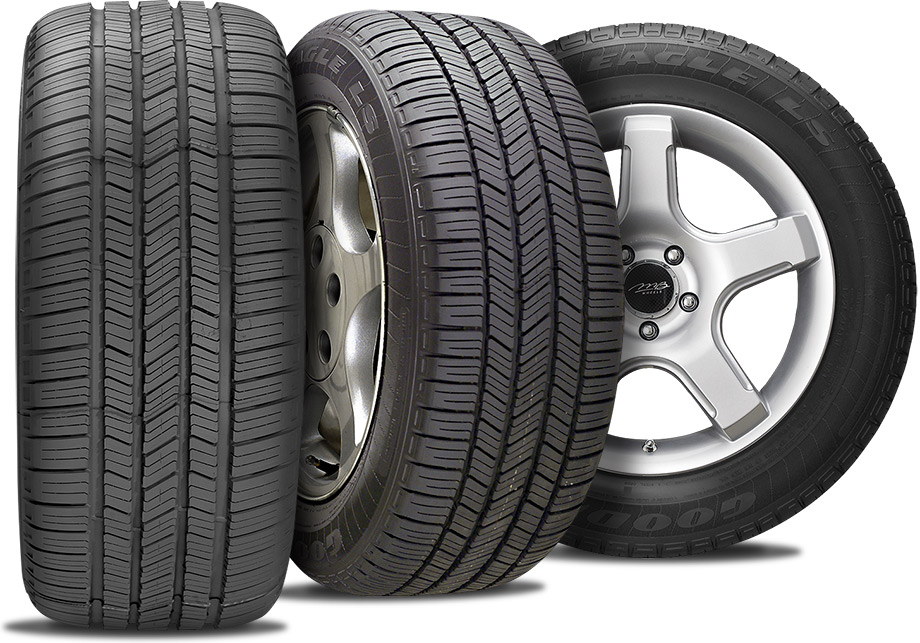 Taking full advantage of the styling of the higher performance tires in the Eagle family, the Goodyear Eagle LS and its sister tire, the Goodyear Eagle LS2, are both all-season tires designed for you to be comfortable on the road with low-noise characteristics. Their sipes allow for great all-season traction, even in some light snow, and they're modestly priced for their level of precision handling.
Goodyear Eagle RS-A and Eagle RS-A2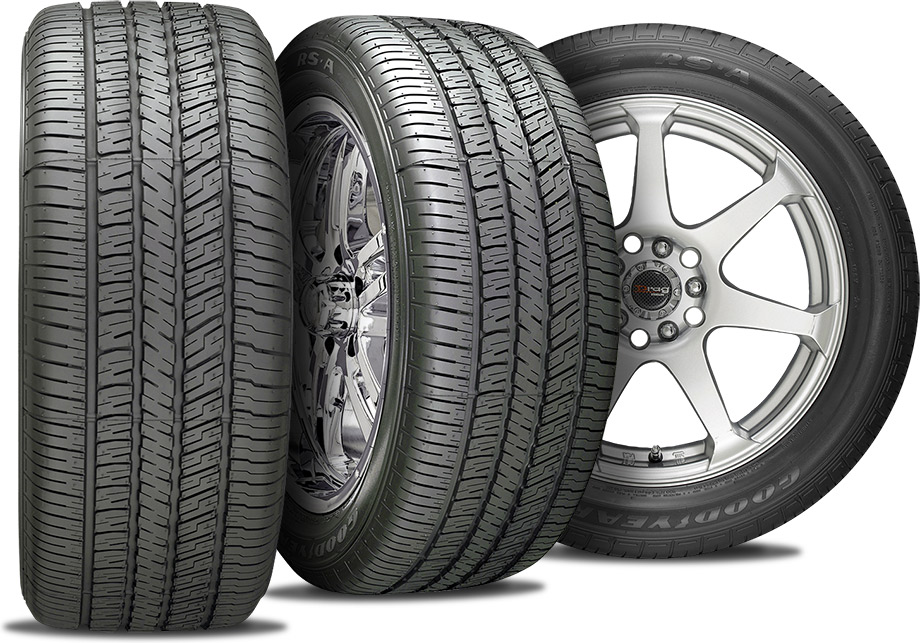 If you want performance tires, but need all-season tires, check out the Goodyear Eagle RS-A or its sequel, the Goodyear Eagle RS-A2. These tires give you trustworthy all-season capabilities on dry, wet, and even lightly snowy roads. But as they are in the Eagle family, they are designed for handling, responsive steering and traction (thanks to a large contact patch and sipes) and come in a variety of higher speed ratings.
The Eagle RS-A is economically priced – usually the lowest priced Eagle line for the vehicles it can fit. This means you can dip your toe in the water of performance tires without sacrificing all-season sensibility. On the other hand, stepping up to the Eagle RS-A2 provides improved wet handling and was designed with an added rim protector to help protect your wheels against curb rash.
Goodyear Eagle Sport A/S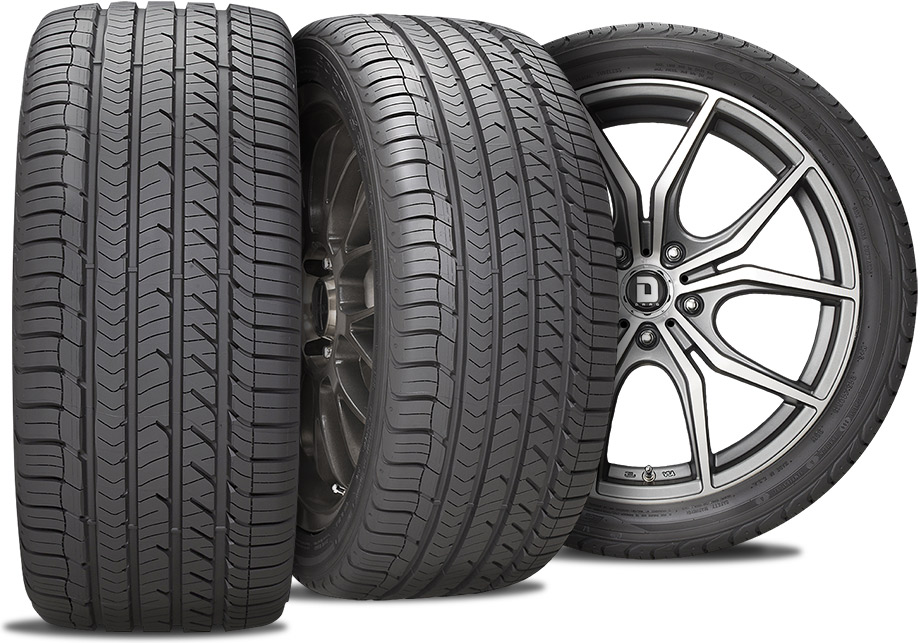 Yes, the Goodyear Eagle Sport A/S is an all-season tire, but as the name implies, it is "Sport" first. Not just another all-season performance tire, it makes use of a unique tread compound that helps deliver superior sport performance while still reliable throughout the changing seasons.
This tire makes driving fun while promoting precision steering and responsive handling. You can also count on a long-lasting tread with its 50,000-mile warranty; select sizes are available in run-on-flat (Goodyear Eagle Sport A/S ROF).
Goodyear Eagle Touring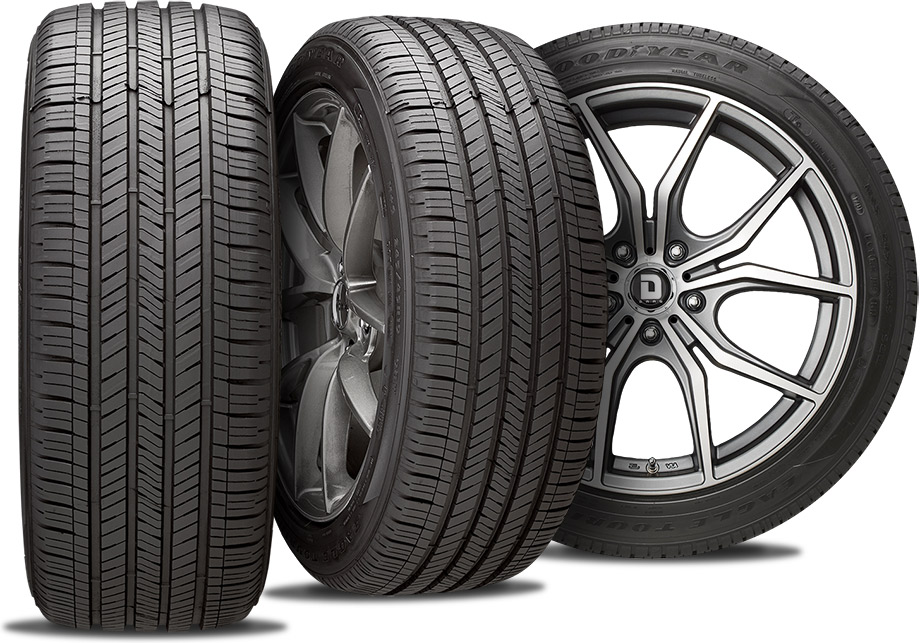 If your vehicle demands comfort and quiet in addition to performance, consider the Goodyear Eagle Touring tire. Expect the steering response and handling worthy of the Eagle moniker, with the comfort and quiet of a luxury vehicle in all seasons.
Select sizes of this tire are available with Goodyear's proprietary Soundcomfort Technology (Goodyear Eagle Touring SCT), which actually reduces interior vehicle noises and further quiets the ride.
Goodyear Eagle GT II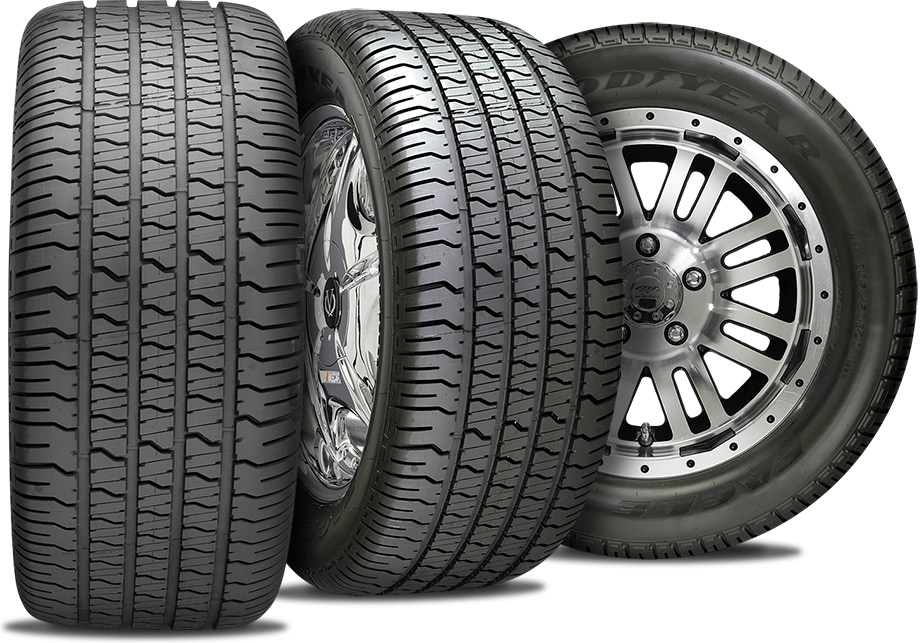 The stylish Goodyear Eagle GT II has sizes extending into the sport truck and sport utility vehicle range. The emphasis here is all-season traction and ride comfort combined with performance handling, even at high speeds.
Goodyear Eagle Exhilarate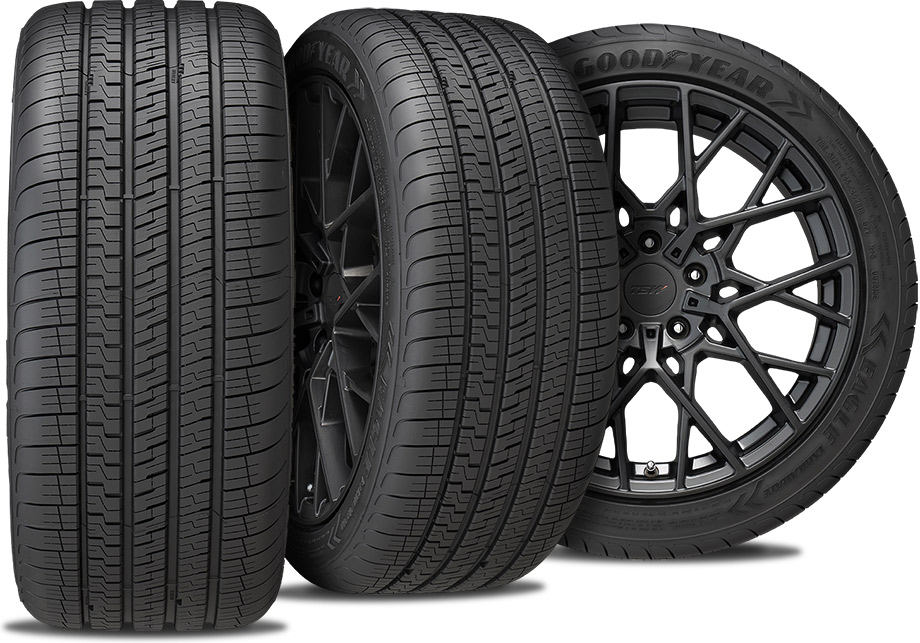 A 2019 addition to the Eagle family is the Goodyear Eagle Exhilarate, an ultra-high-performance tire that's notable for its performance in wet conditions.
This tire is packing some serious Goodyear proprietary tech. For traction and handling, it includes ActiveGrip Technology, for shorter braking on wet and dry surfaces there's ActiveBraking Technology, and keeping it strong yet lightweight, it relies on Goodyear's ActiveStrength Technology.
Other features include rim protectors and a built-in wear gauge. And of course, this tire can reliably go fast with W and Y speed ratings. When you take in all the impressive performance features, you might forget that it is actually an all-season tire.
Goodyear Eagle F1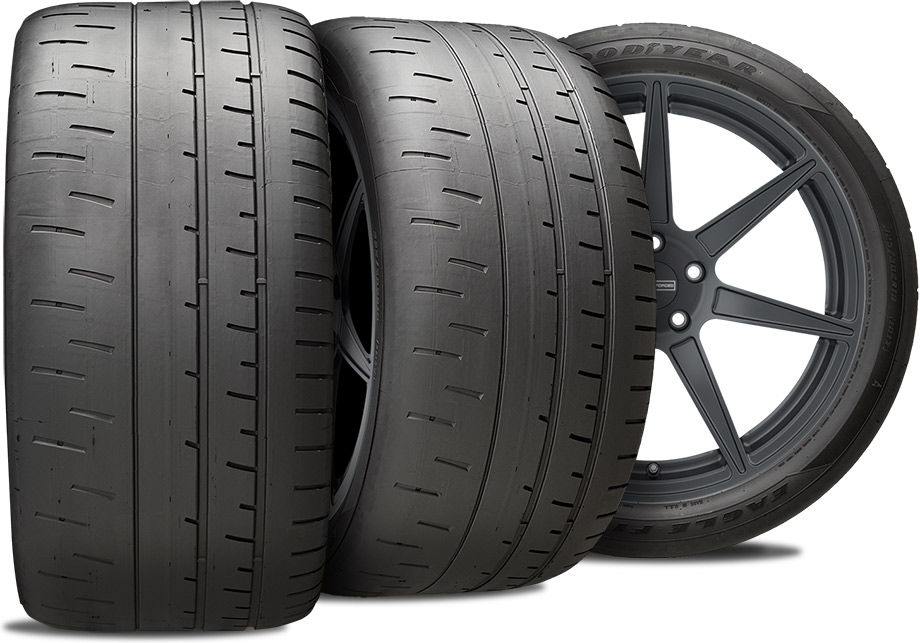 Now we come to the lines that really showcase the sport performance characteristics of what the Eagle is all about. What the Goodyear engineers have been learning on the track and applying in the lab comes to life on the road for you via these models:
As you can see, there are so many under the F1 heading that we'll provide an additional article that breaks down the differences and what you can expect from them. For now, suffice it to say these are summer tires for serious performance and worthy of high-end and exotic sports cars, whether driven around town or in competition.
Get your Goodyear Eagle tires at Discount Tire
Named for the majestic bird, the Goodyear Eagle family of tires exemplifies the strength, confidence and speed of an eagle. But unlike the rare sighting of the bird, Goodyear Eagle tires can be found year-round online and at your neighborhood Discount Tire store.
Have more questions about Goodyear tires? Call or stop by your nearest Discount Tire store to consult with an expert on which line of Goodyear Eagle is best for your vehicle and where you drive it.