Goodyear Wrangler – buyer's guide
By: Discount Tire

The Goodyear Wrangler is easily one of the best-known families of tires from one of the world's most recognizable brands. For decades, Wrangler has been known as a tough, reliable tire that works well on and off-road.
From their initial release in 1977, Goodyear Wrangler tires were designed for trucks and early SUVs. This tire family has continued to expand with several lines, each designed for more specific expectations and/or vehicles capable of handling more challenging terrains.
The tires below are the newer and more popular examples; Goodyear designates them all as "All-Season," and nearly all are designated as "All-Terrain." We'll examine differences in their construction, traction and other unique features to help you decide which Goodyear Wrangler is right for you.
Goodyear Wrangler SR-A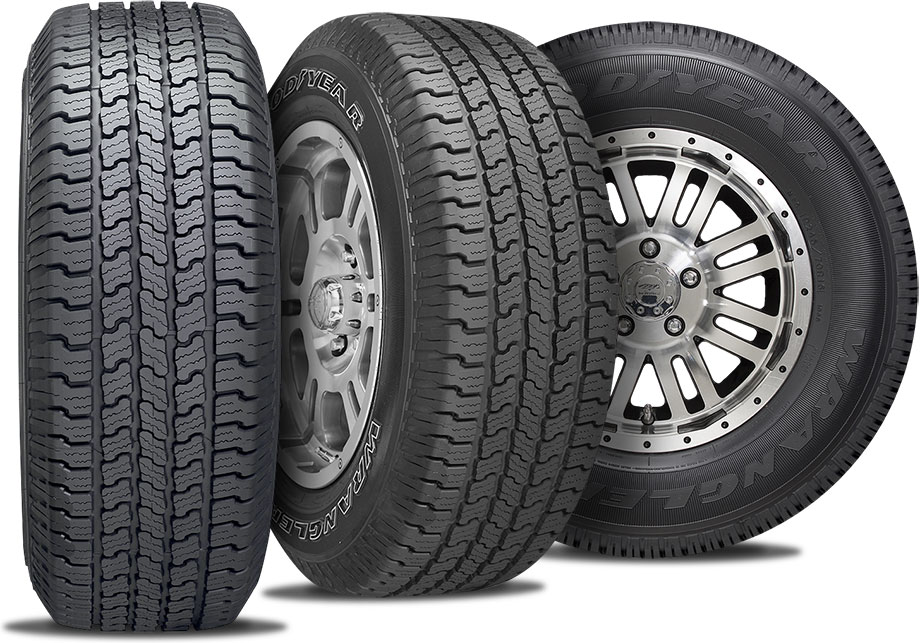 The Wrangler SR-A is on the entry level of the Goodyear Wrangler family, providing all-season traction on dry and wet roads. Although this is an example of a Wrangler not suited for all terrains, this dependable truck and SUV tire still packs some stellar features for the price, including an exclusive wet traction compound for better grip in the rain.
Additionally, the SR-A features wide tread grooves and TredLock microgrooves to help cornering grip and further improve wet traction. You can also count on the SR-A to be the quietest choice among the Wrangler family; a nice feature for those who commute in a truck or SUV.
Goodyear Wrangler TrailRunner AT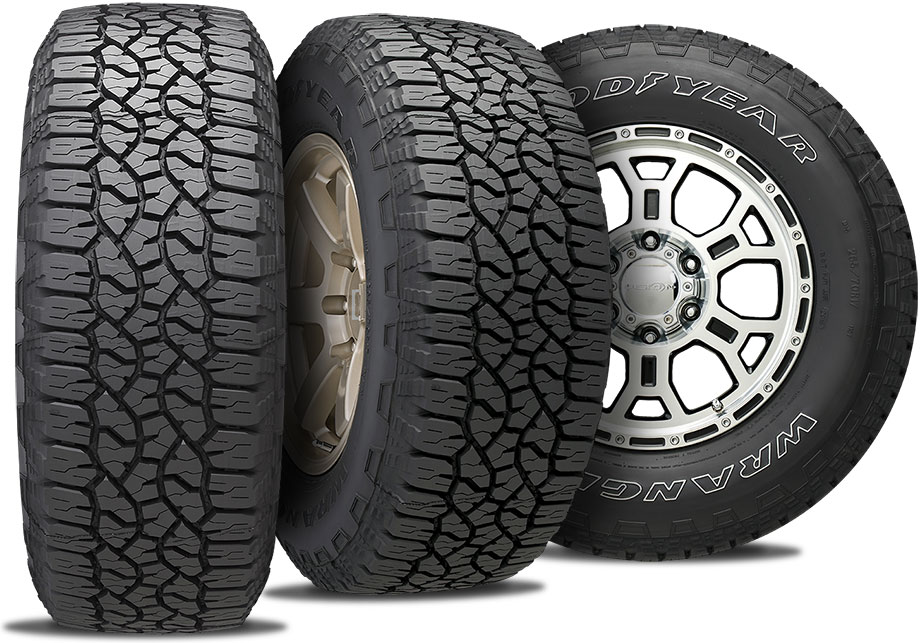 As we step up to an all-terrain Wrangler, count on dependable performance both on and off-road with the Wrangler TrailRunner AT. Its aggressive tread pattern and saw-tooth block edges provide all-terrain durability, and multi-angle sipes offer all-season traction.
You can even take on mud and snow thanks to its stepped shoulder (with no sacrifice of stability or comfort on the pavement). The hardworking Goodyear Wrangler TrailRunner AT can go from campsite to worksite and all paths in between in rugged style.
Goodyear Wrangler Fortitude HT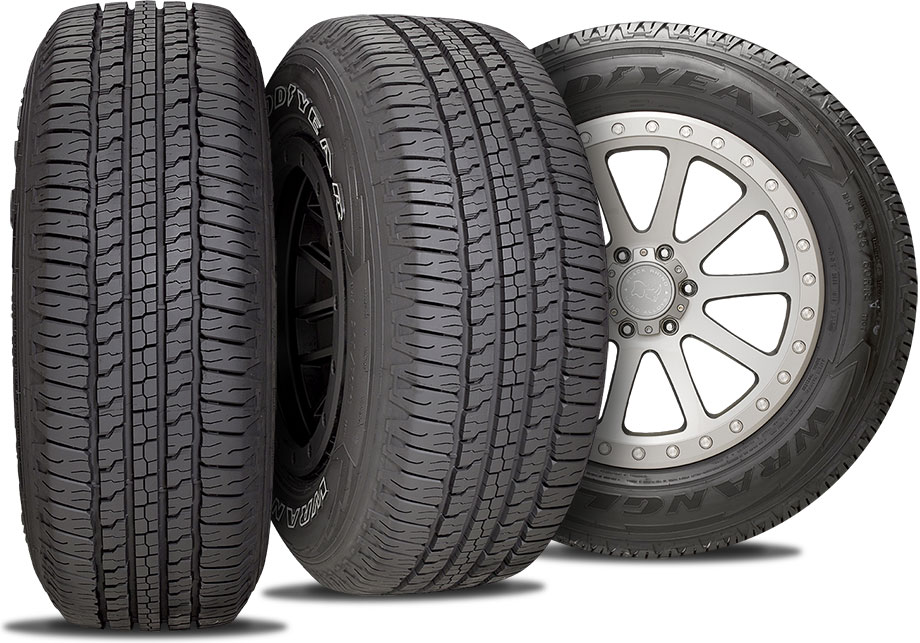 Another popular midrange option in the Goodyear Wrangler family is the Fortitude HT. Known for its versatile long-lasting tread, the Wrangler Fortitude HT delivers all-terrain traction with a quiet, comfortable highway ride—even in the winter—for your pickup or SUV.
This good-looking tire has two sidewall choices: black and outlined white letters. Its full-depth sipes and deep aqua grooves protect against hydroplaning; rely on year-round, confident handling on dry, wet and snowy roads. Plus, its low rolling resistance may even improve your gas mileage.
Goodyear Wrangler UltraTerrain AT (Discount Tire Exclusive)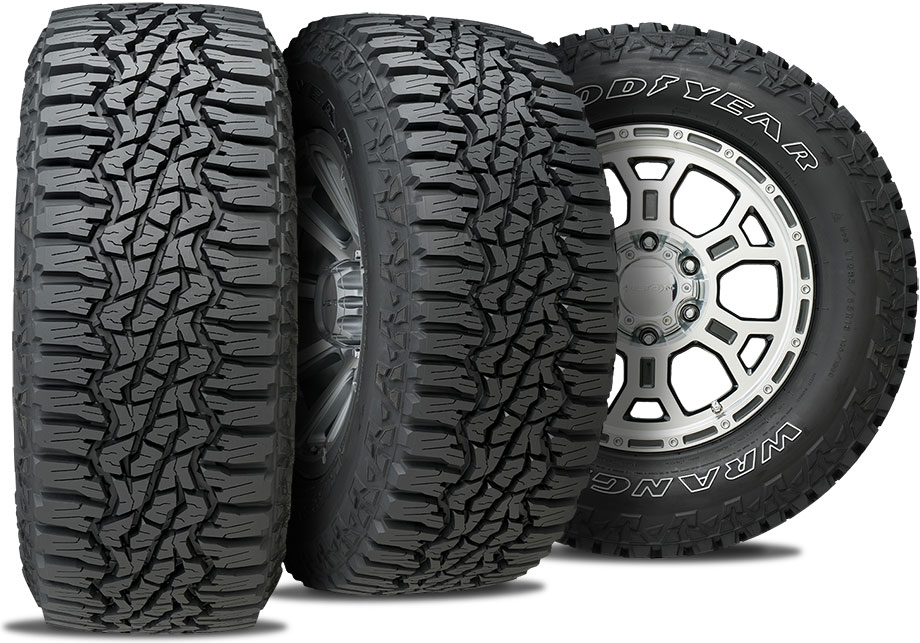 For the classic look of the Wrangler but with updated tech and capability for all-around off-road performance, consider the UltraTerrain AT. You'll get powerful all-terrain grip, a decent highway ride and confidence even in extreme winter conditions.
Constructed with a rugged all-terrain compound, its aggressive tread pattern and shoulder elements feature TractiveGroove Technology. Resisting tread chunking and punctures, this design also earned the Three-Peak Mountain/Snowflake certification. Venture through harsh off-road terrains with confidence in this Discount Tire exclusive!
Goodyear Wrangler All-Terrain Adventure With Kevlar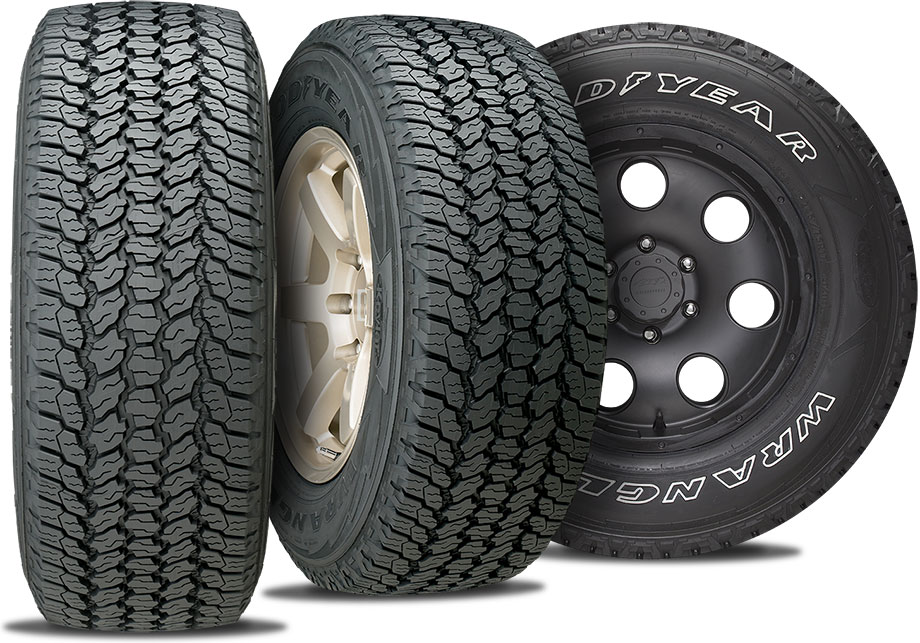 The All-Terrain Adventure with Kevlar proves itself through superior traction and strength. These Wranglers exude powerful, all-season versatility for highway driving and off-road excursions.
This is an exceptionally tough tire. It features Durawall technology to resist sidewall cuts and punctures and a DuPont Kevlar layer (two layers in light truck sizes) for class-leading durability. With traction ridges, open shoulder blocks, and biting edges, they look as aggressive as they perform.
Expect long-lasting durability and confidence to maintain grip when driving on the pavement or ground in all seasons and conditions: water, mud or snow (with Three-Peak Mountain/Snowflake certification in light truck sizes).
Goodyear Wrangler DuraTrac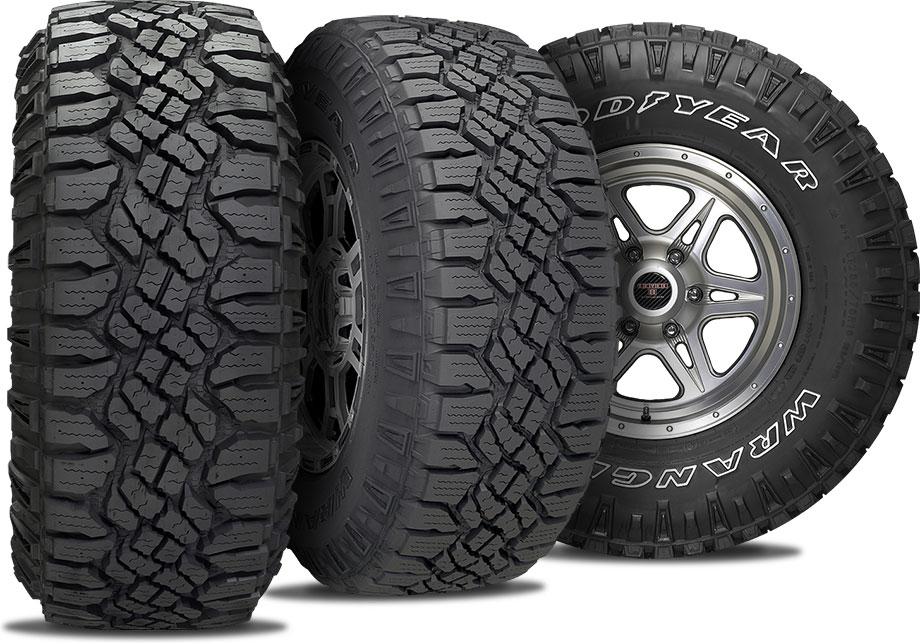 Another high performing and high-quality all-terrain tire, the Goodyear Wrangler DuraTrac packs in some additional features into the Goodyear Wrangler family that set it apart. Its aggressive tread provides enhanced traction for all-season, off-road performance thanks to Goodyear's TractiveGroove Technology. In deep mud, snow, or gravel, DuraTrac is on the job.
It might even be best suited for highway driving. The DuraTrac provides lateral stability and a relatively quiet ride for the segment. Designed with a built-in rim protector, you'll have some additional help with protecting your wheels from accidental curb damage.
This combination of features makes the Wrangler DuraTrac a particularly popular choice for work trucks that regularly tow and haul.
Goodyear Wrangler MT/R With Kevlar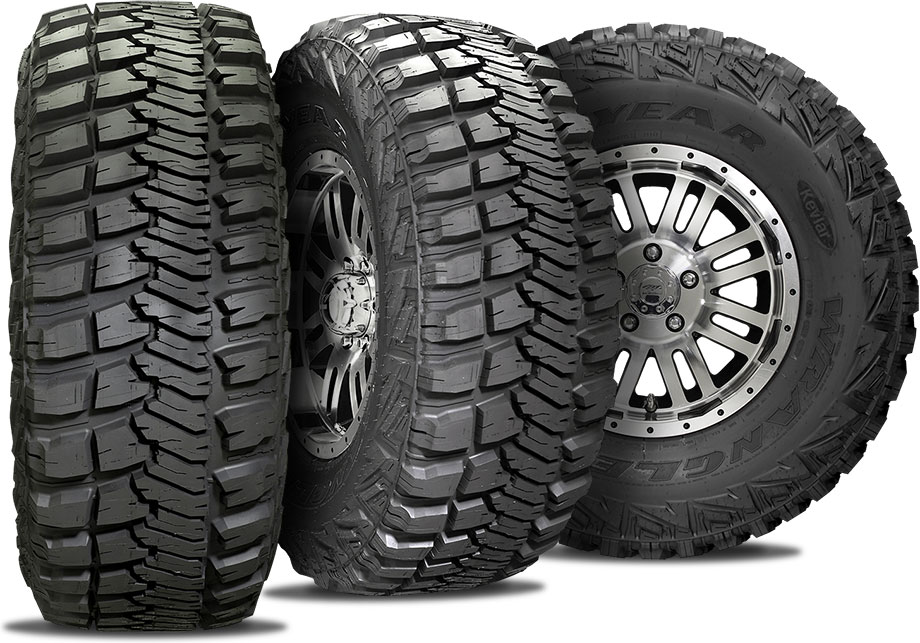 This member of the Wrangler family is built for extreme off-roading. The Goodyear Wrangler MT/R with Kevlar is the premier choice for strength and traction in serious off-road and muddy, wet conditions.
Constructed with an advanced rubber silica in its aggressive tread pattern, these Wranglers provide superb off-road grip and good day-to-day handling on the road (for a MT tire). Its tread wraps around to the sidewalls to provide traction in deep mud, sand and sharp rocks (its sidewalls are Kevlar-reinforced to increase sidewall puncture resistance).
When the ultimate in off-road performance is required, the MT/R with Kevlar delivers.
Corralling the Wrangler
Though these are the most popular lines, we've covered merely half of the Wrangler family of tires. Depending on your budget and where (and how often) you'll be off-roading, there is surely a Goodyear Wrangler for you.
If you need more information or a second opinion, call or visit your neighborhood Discount Tire store and talk with an expert. If you're ready to buy, see all Goodyear Wrangler tires we carry and make an appointment for your truck or SUV.