Land Rover Defender tires: our guide
By: Discount Tire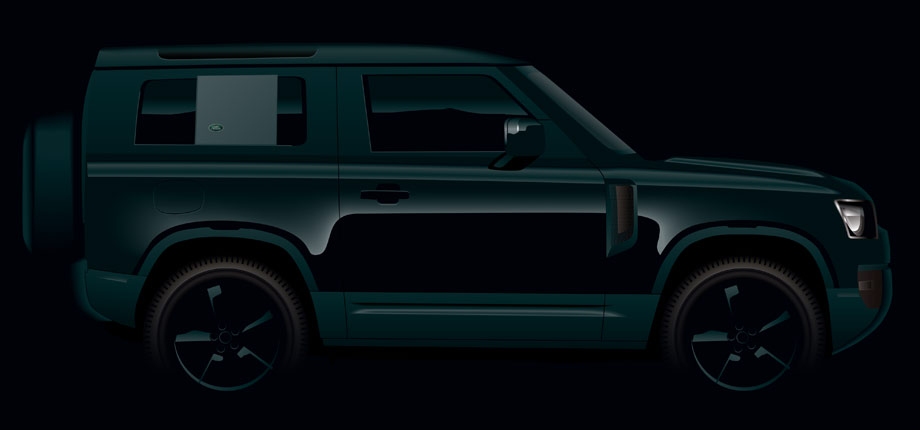 The new Land Rover Defender represents the return of a legend. From the savannahs of Africa to decades of service in global warzones, the Defender is a trusted nameplate that supports the most extreme missions, excursions and adventures.
And now it's coming back.
If you're reading this you're probably well acquainted with the differences between the new Defender 90 and 110, but maybe not so much with exactly what rubber it's supposed to run on.
An interesting production element that Land Rover is adding to the launch of the new Defender is the suite of accessory options it's available in. Some Defender packages are clearly and literally geared more toward hardcore off-road use, while some have more storage and vehicle accessibility options for overlanding and adventuring. Many other features incorporate the more luxurious creature comforts the brand has become known for over time.
Land Rover Defender Tires
One thing we're a big fan of on the new Defender is the externally-mounted rear spare tire on the new Defender. (If that doesn't say that a vehicle is built for off-road use, we don't know what does.)
Land Rover lists Defender wheel diameter sizes at 18, 19, 20, and 22-inches. With a steel wheel as an OE option, the 18-inch Defender wheel will be your best bet for off-road tire sizes, while the 20 and 22-inch Defender wheels are going to be the more street-oriented fitments for use around town.
Land Rover Defender Tire Sizes
Regardless of the wheel diameter selection or design, the new Defender ships on 32-inch tires across all of its trim levels and wheelbases.
The 255/70R18 Defender tire size (that fits on its steel wheel option) is going to have some of the best upgrade options if you're looking to immediately swap whatever all-terrain the Defender ships on for a more serious 10-ply or mud-terrain option for any rock crawling or serious 4x4 need.
The 18-inch Defender wheel is also going to provide the most sidewall height and overall protection of any of its size options, which you should be able to further plus-size on a section width and aspect ratio to some degree to expand the viable off-road tire options for your Defender.
But there are still plenty of good all-terrain and mud-terrain options for the 19, and to a lesser extent, 20-inch Defender wheels.
The 255/65R19 and 255/60R20 Defender tire sizes are both pretty obscure and generally Land Rover-specific tire sizes overall, but adjusting the section width and aspect ratio will also open up your off-road tire options pretty drastically if you're willing to experiment with plus-sizing. Just be aware that doing so can have subtle and dramatic effects on your Defender's driving characteristics.
Land Rover Defender Street/Performance TIRES
For those who know you have no ambition to take your Defender off road (or if you do, as carefully as possible) the 22-inch Defender tire is going to pretty much confine you to tire options designed more for the pavement.
But that doesn't have to be a bad thing!
Like the original Defender, a lot of people are going to buy this thing for its looks and premium interior. And with its new turbocharged hybrid-electric drivetrain at its highest trim level, the Defender is no slouch around town.
With the measurements of the 22-inch defender wheel coming in at 275/45R22, Land Rover trades even more sidewall height for the glitz of some highly refined, luxurious-looking rims on the Defender.
Up and down the section width and aspect ratio plus-size adjustments of this size, you have a number of performance all-season and light all-terrain tires you can run on your Defender.
Whether you're looking for a more quiet ride or better cornering, acceleration and braking performance, there are a number of good options from the likes of Nitto, Michelin, Bridgestone, and many others that make a more street-oriented truck tire that can still support the weight of a SUV like the Defender.
From the new to the old, we can get your Defender sized up with the best tires for your needs. Find a location near you to get your Land Rover prepped and ready for your next adventure!