What tires should I buy for my Ram 1500?
By: Discount Tire - Via Treadwell™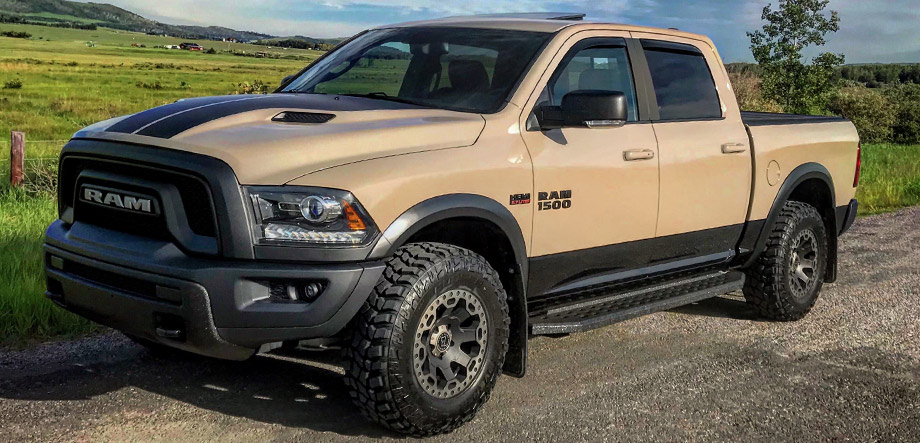 Trim levels: Laramie, Bighorn, Tradesman, Limited, LongHorn, Rebel
Wheel Sizes: 16-inch, 17-inch, 18-inch, 20-inch and 22-inch radius
About: Do you drive your Ram pretty much everywhere? Looking for a little bit more of a soft and quiet ride around town, but with improved driving dynamics? Or maybe you're looking to up the ante off-road? Whatever the case, you might be asking yourself...
When it comes to Ram 1500 tires, what should I buy?
Use: 60% city, 30% highway, 10% towing

Budget: $$-$$$

1500 TIRES – OUR PICKS
Recommendation #1 – BFGoodrich Advantage T/A Sport LT

If you're looking for reliability and all-season traction, look no further than the BFGoodrich Advantage T/A® Sport LT.
Designed with locking 3-D sipes, silica-infused tread compounds and BFGoodrich's very own Aqua Flume Technology, the Advantage T/A Sport delivers on year-round traction and strong grip in in wet or dry weather, and even light snow. For long-lasting performance, its Continuous Center Rib design and ETEC System feature allow for robust handling, comfort and excellent mileage throughout the life of the tire. Excluding the Rebel, the Advantage T/A Sport is suited for all other Ram 1500 trim levels and is backed by a 65,000-mile warranty.
Recommendation #2 – Continental Terrain Contact H/T

Whether your commute is mostly on city roads, highway, or a mix of both, the Continental Terrain Contact H/T is designed for excellent performance year-round.
It features Continental's TractionPlus Technology to provide the right balance of proper road handling, noise and durability. When compared to other well-known highway tires, the Terrain Contact H/T exhibits best-in-class wet braking with long-wearing tread life and reduced road noise. As a bonus, this tire comes in a variety of sizes and is suitable for every trim level of Ram 1500.
Recommendation #3 – General Grabber A/TX

The General Grabber A/TX is the perfect blend of on-road performance with off-road capability all-year round. Suited for all trim levels of the Ram 1500, the A/TX also provides added confidence in extreme winter conditions with its three-peak mountain snowflake rating.
Designed with an aggressive tread pattern, full-depth sipes and alternating shoulder scoops, the A/TX has a strong grip and all-terrain traction. As a bonus, the tire also has a rugged tread compound and stone bumpers to prevent against punctures and Comfort Balance technology for on-road comfort. With a set of these on your Ram 1500, you'll be ready to tackle anything from light rain to heavy snow.
These picks are suited for various trim levels of the RAM 1500, but wheel and tire sizes can vary. Double check on our site or stop by one of our locations if you're on the hunt for the best tires for your MINI!
Want to see recommendations for you and your vehicle on the Discount Tire blog? Fill out this form!
About Treadwell™
Treadwell's™ mission is to give you greater peace of mind, confidence, and a no-worry purchasing experience by providing the most authentic, unexpectedly simple tire comparison and selection process you've ever had. Give it a try here!