Replacing tires on a leased car
By: Discount Tire

There are excellent reasons to lease a vehicle in lieu of purchasing, depending on your situation and needs. Many savvy consumers who do their homework and are realistic about their driving and maintenance habits can save serious money by leasing. In other cases, they are driving newer and/or higher-end vehicles than their budget would allow if they had purchased a vehicle.
Of course, there are potential downsides to leasing a vehicle—especially all of the fees (and potential fees).
Aside from the amount due at your lease contract signing and the monthly lease payment itself, you may be on the hook for other fees (including bank fees, lease acquisition fees, security deposits, and even a turn-in fee at the end of the lease).
Then add the possible "excessive wear" fee, which is based on the final inspection when you turn the car in. And yes, this includes the tires.
Do you have to replace tires on a leased car?
Wear and tear for the entire vehicle—including the tires—is expected over the life of your lease. A defined level of acceptable tire wear will even be outlined in the contract.
If you return the vehicle with an acceptable level of wear on the tires, you probably won't incur any additional costs. However, if the tires are damaged or excessively worn, you'll most likely have to pay a fee.
But what constitutes "excessive wear" on tires? Most lease contracts will stipulate a required tread depth of no less than 4/32 of an inch upon return, plus no damage that would render the tires unsafe. So if your leased vehicle's tires are worn out, you'll definitely want to replace them before returning the vehicle.
With the help of the experts at your local Discount Tire, knowing the true condition of your tires is always free and easy. Before you return your lease, stop in for a free tire inspection and tread wear consultation.
How much will you have to pay? The exact fees for any excess wear will not be included in your lease contract; they will be determined when you return the vehicle. Usually, this fee will be the cost of replacing the worn or damaged tires. What's more, the cost will be the dealership's price, which can be the highest in town. Depending on the make and model of the vehicle, charges could be upwards of $400 per tire!
Replacement tires on your lease
When replacing the tires on your lease, be sure to replace them with tires of the same size and specifications as the OE (Original Equipment). This information is found on the tires themselves, as well as on the vehicle's door placard, a sticker found in the driver's side door jamb. In most cases, you'll be expected to have a matching set, or at least matches on the back and front respectively.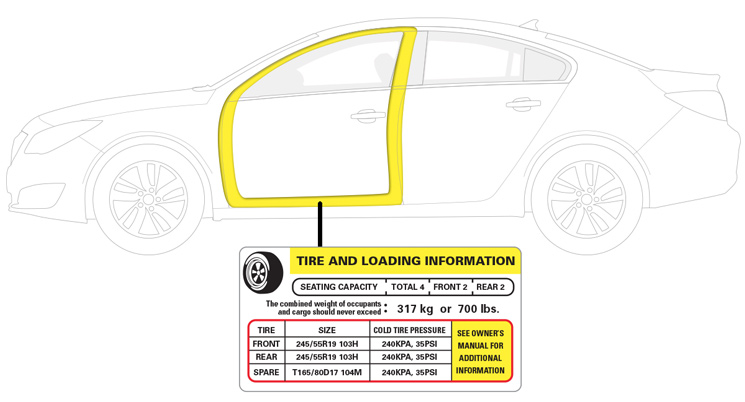 For many makes and models of vehicles, a replacement tire brand may not be specified in the lease agreement. To save some money, you can replace the tires with good, budget-friendly choices.
However, keep in mind that higher-end vehicles usually have stricter rules regarding replacement tires, including rules around the perceived "quality" of the replacement. If you do not replace the tires with the OE model, a model or brand of a perceived comparable value will be expected.
Also, this applies to run-flat tires; if the vehicle was delivered to you with run-flat tires, the replacements should be as well.
Tips for maintaining tires on your leased vehicle
No one wants to pay any more than necessary, especially when returning a vehicle. Follow these tips to not be surprised by additional fees at the end of the lease:
Know the details of what is acceptable per your contract in terms of minimum tread depth and condition of your tires, as well as any other stipulations.
If you live in an area that has sustained periods of weather with temperatures below 45 degrees, consider using winter tires. You'll be safer, your vehicle will be in less danger of cosmetic (or worse) damage, and you'll have fewer months and miles detracting from the tread on the original tires. (Also don't forget to have your winter tires removed before you turn your lease in!)
Keep records of all maintenance performed on your lease, especially if any is not done at the dealership where you obtained the vehicle. This can help to show how well you took care of it, including the repair or replacement of tires.
Although there's a lot of good information online about the best tires to put on at the end of your lease, there's also a lot of conflicting information. It is not advisable to trust online anecdotes when deciding the best course of action for your selection of tires. There can be significant differences in the fine print of vehicle lease agreements depending on the state, date of lease, length of lease, and more.
A few months before the end of the lease, check your tires to decide if you'll need replacements before you turn it in. If you think you do, check our current promotions to get the best price. If you're not sure, stop by your local Discount Tire store for a tire inspection and consultation.
Have the final inspection done on your terms. To keep it impartial, the lease company will typically have inspections completed by a third-party specialist. This inspection can usually be done anywhere the car is accessible, so be sure to have them come to you at home or work rather than dropping your car at the dealership and leaving it all to chance.
Turn in your leased vehicle with confidence
If you're considering leasing a vehicle for the first time, don't let potential excessive tire wear fees convince you not to. If leasing is right for you, talk with the dealer or lease company and find out the expectations for acceptable wear and tear up front. They should be able to show you the fine print in the lease contract.
And if you're towards the end of your lease and getting ready to turn in your vehicle, don't let the lease company decide your final payment. Your tires are definitely cheaper to fix ahead of time yourself, rather than leaving it to the dealership at the end of your lease.
Be sure to stop into your local Discount Tire for a free tire inspection first. Let us know the details on your lease contract and we'll see if you are in the clear. If your tires are not acceptable per your lease terms, we can replace them with the OE tires or an acceptable substitute at a lower cost than the dealership before you turn it in. Make an appointment at a location near you for a consultation with an expert today.
We'll get you and your lease taken care of!