Nitto Grappler – buyer's guide
By: Discount Tire

The situation: It's time for new tires for your light truck or SUV.
You want to upgrade your truck's performance without breaking the bank or sacrificing quality. Enter Nitto's "Grappler" line of tires. Nitto has technologically developed their tires for trails and highways while achieving a long and smooth-riding treadlife which makes them the ideal choice for anyone looking for the best truck tires out there.
After doing a little research, you realize there are several Grapplers to choose from. How will you decide? We'll examine your options and match up the Grappler that's right for your truck and how you use it.
If you crave even more choices, keep in mind that all Grappler lines sport dual sidewalls, allowing you to choose from two sidewall designs. You decide which design suits your ride.
Terra Grappler AT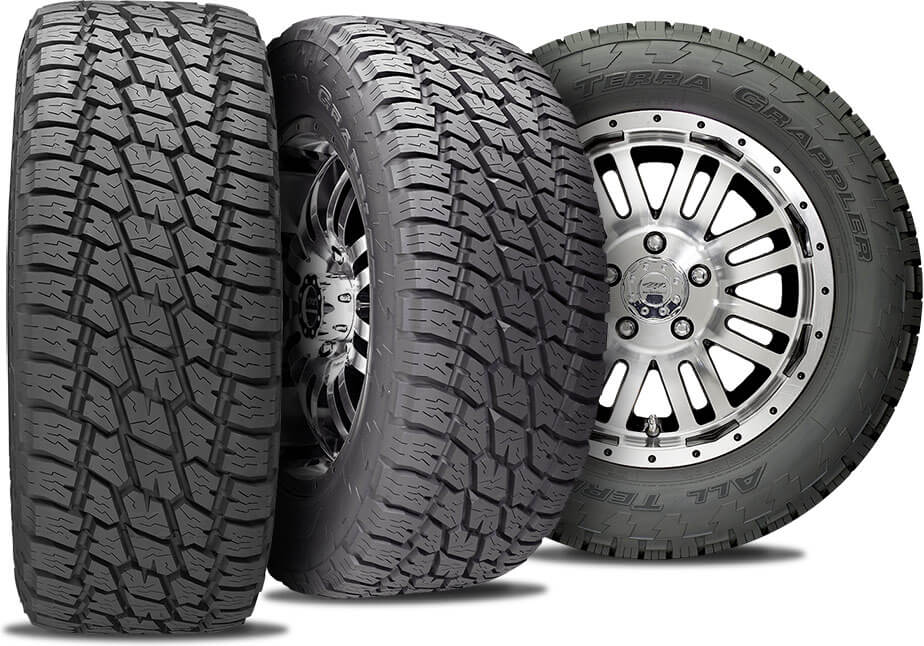 AT stands for (you guessed it) "All Terrain," and the original Terra Grapplers live up to that name and more. They tout traction for off-roading and on-the-road handling, and are designed to excel in wet and dry road conditions. The Terra Grappler AT provides off-road performance with a shoulder design for traction in dirt and sand under rainy or dry conditions. Summer or winter, you can expect quality, multi-purpose performance.
As for sidewall designs, choose from solid outlined lettering on one side or striped lettering on the other.
Terra Grappler G2
For another option in all-terrain performance, Nitto designed their next generation of the Terra Grappler. The G2's purpose is the same as the AT: handling and performance on and off the road. But what's the difference between the two? The key lies in the materials used to construct the tire – specific to a compound that allows for an even longer tire tread life. This is backed up by a limited treadwear warranty (up to 65,000 miles, depending on size), which is unique for a line of all-terrain tires.
Nitto added other technical advancements to further improve performance in off-road conditions while keeping the Nitto Terra Grappler G2 quiet on the highway and retaining their aggressive style even as they wear.
Plus, you still have options for an aggressive sidewall appearance: thunderbolts modeled on the AT or their newer "blade" design on the Nitto Terra Grappler G2's reverse side.
Mud Grappler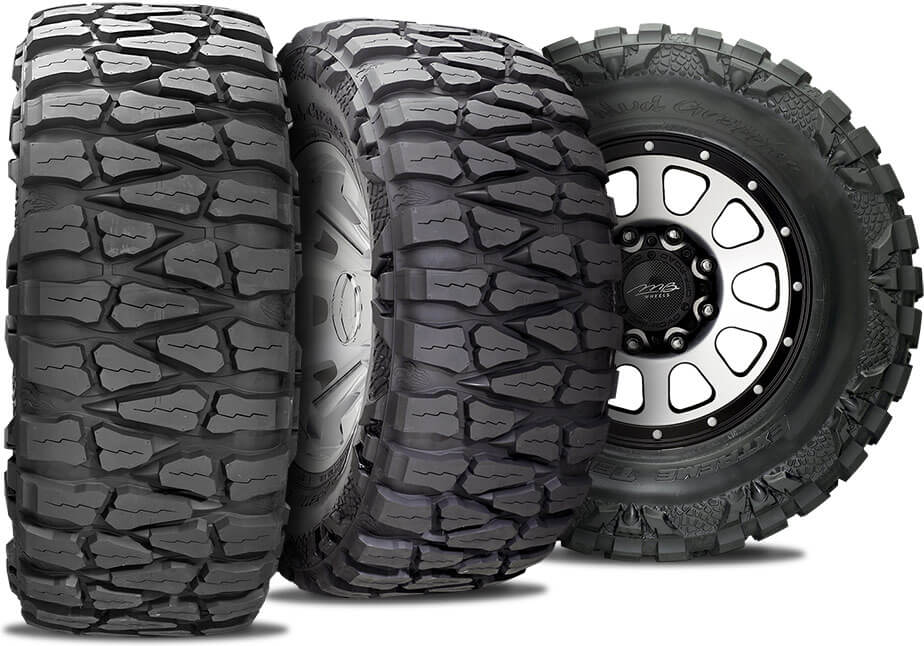 Its name may be "Mud," but these tires are popular and dynamic. Nitto designed the Mud Grappler for "extreme mud terrain," but these tires can handle a diverse set of off-road situations. Its aggressive tread is designed to bite in extreme terrain and its heavy-duty sidewalls and aggressive sidewall lugs resist punctures from whatever you may encounter as you tackle rocks, dirt, and mud the next time you're out on the trail.
Choose from the Mud Grappler's aggressive dual sidewall designs: plain or lizard skin side lugs.
Trail Grappler M/T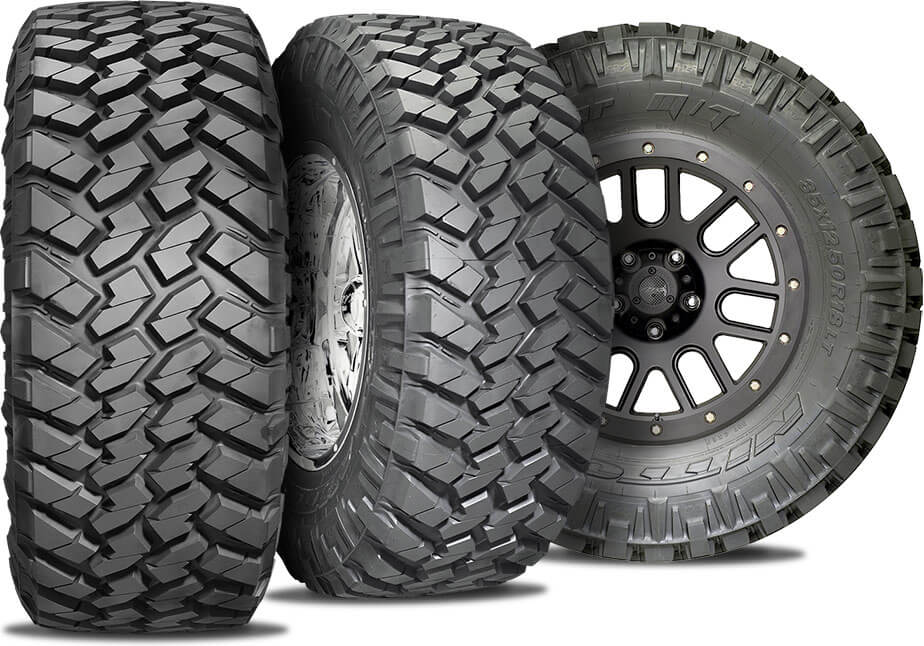 This tire splits the differences between the Mud Grappler and the Terra Grappler. The result is an off-road tire with some on-road features. The Trail Grappler M/T is constructed to resist sidewall punctures and command the trails, all while keeping quiet on the road. Road noise is a common drawback to mud terrain tires, but Nitto's advanced manufacturing techniques keep the ride smooth on the pavement.
Dual sidewall designs on the Trail Grappler allow you to choose between stylized or traditional lettering and architectural buttresses.
Ridge Grappler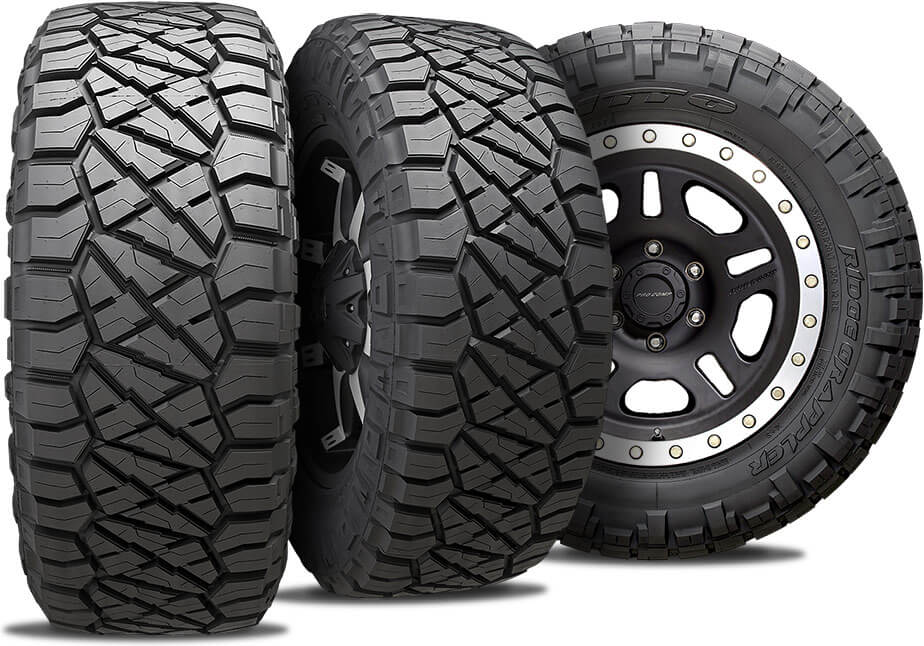 This Grappler also provides features of both the all-terrain and mud-terrain models: smooth and quiet at highway speeds while its geometric tread clears out mud and ejects stones as it bites into the terrain on the trail. The Nitto Ridge Grappler's reinforced, staggered shoulder lugs, alternating tapered and step block edges and sidewall lugs provide extra traction.
Sidewall choices: aggressive block design or a traditional Grappler look.
Dura Grappler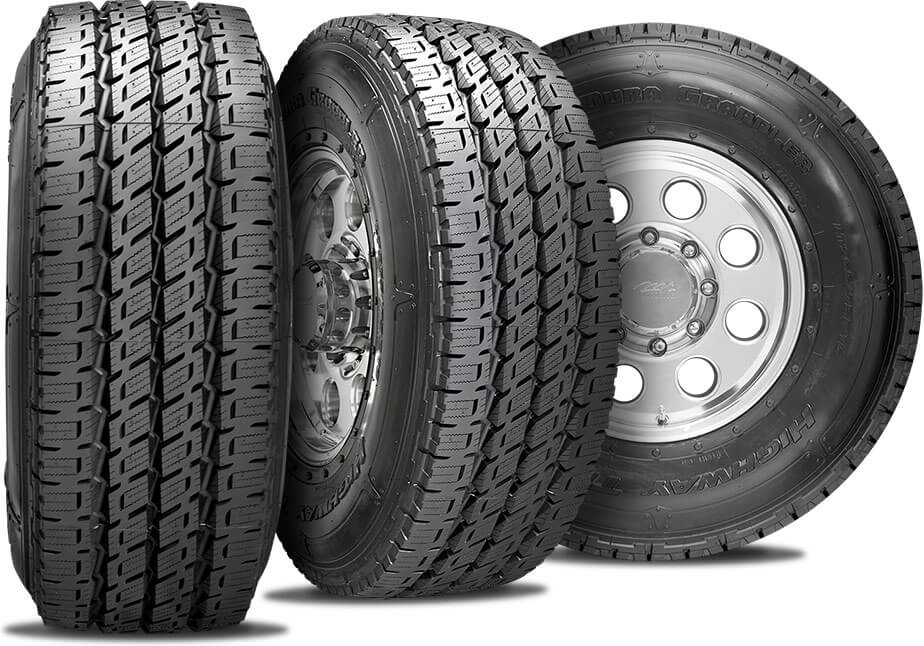 For comfortably traversing the highway in your light truck or SUV, consider the Nitto Dura Grappler. Its main features focus on smooth, quiet, long-lasting performance on wet and dry roads. Based on the size and duty of your vehicle and your specific needs, this Grappler comes in different sizes and designs. The engineering and construction of the Dura Grappler aims for maximum tread life and is warrantied for up to 60,000 miles.
Sidewall options on the Dura Grappler include traditional and metal fin designs.
Dune Grappler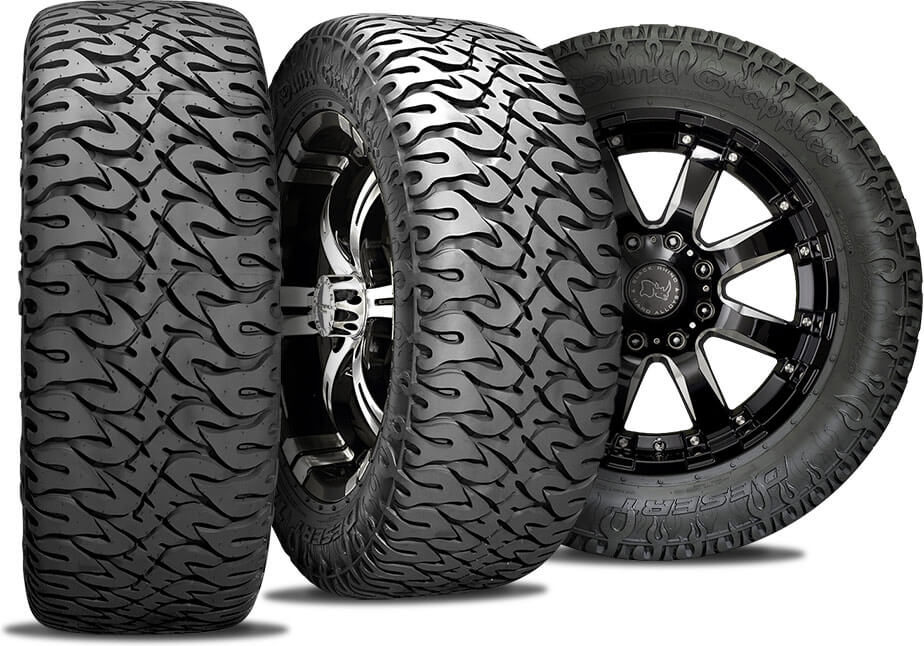 Heading off-road in the desert? The Nitto Dune Grappler has traction to spare on loose rocks, sand and packed dirt, and is comfortable and quiet on the road. Consistent with the other Nitto Grapplers designed for going off road, you can count on heavy-duty sidewalls and puncture resistant construction if you put these tires on your rig. The Dune Grappler's tread is designed to minimize road noise and is built to last – providing dependability to those of us in the desert.
Choose from the dual sidewall designs: traditional or Old English lettering.
Exo Grappler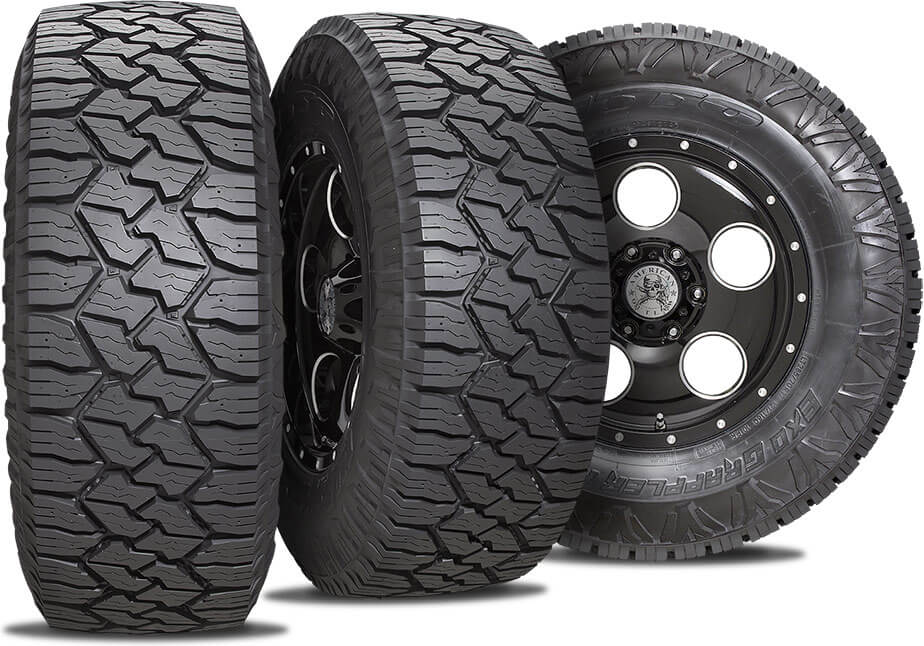 If you need to step up to a tire that can handle all types weather in all types terrain, consider the Exo, Nitto's most heavy-duty Grappler yet. Constructed from a chip resistant, all-weather compound, the Exo Grappler can handle wide varieties of terrain, temperature, and precipitation. Specifically standing up to severe snow and freezing conditions, the Exo Grappler boasts a 3-peak mountain snowflake rating.
Its tread design enables it to retain traction in loose dirt while ejecting stones from the tread, and its remarkable off-road traction is matched by smooth handling on pavement.
Durable sidewalls feature three-dimensional buttresses on one side and Y-shaped buttresses on the other.
Wrapping-up the Grappler
Your choice of Nitto Grappler will greatly depend on how and where you'll be driving your light truck or SUV. Think about the amount of on-road versus off-road driving you do, and don't count out the climates or amount of water you expect to encounter where you take them. Armed with all of this information, you can confidently decide which Nitto Grappler will armor your vehicle.
Ready to buy? See all Nittos we carry and make an appointment for your truck or SUV.