37 Inch Tires
If you're here looking at 37-inch tires for your rig, then you're clearly serious about your wheeling. Suffice to say, you've come to the right place.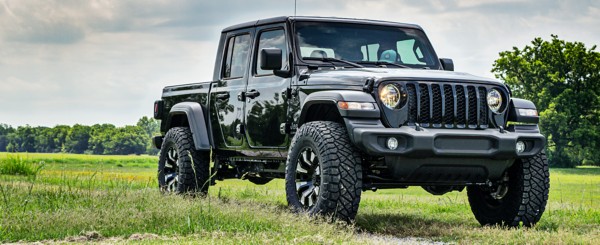 No matter what mods you've made to your Jeep, Toyota, lifted pickup or SUV, leave nothing on the table when it comes to allout off-road performance. With 37" tires, the capability you get backs up the aggressive look that's sure to set your machine apart from the rest of the pack.

Whether you're re-upping or upsizing, 37 inch tires may be the ingredient you need to perfect your off-road performance recipe. And with our commitment to stock the best 37 inch tires and brands at unbeatable prices, you can max out your build without breaking the bank.
37 Inch Mud-Terrain Tires
Mud bogging, rock crawling, water crossings, jagged cliff edges, you name it. Whatever terrain you face, take it on with complete confidence when you roll on 37's. You might not even need all that gear like a winch, high-clearance bumper, Hi-Lift jack and traction boards when you're on 37'' mud tires.
Built with the gnarliest tread patterns and rugged shoulder features, these 37 inch mud terrain tires are designed for relentless grip in harsh terrains. They're also typically built with the toughest tread compounds and durable, reinforced sidewalls for additional confidence when the going gets beyond tough.
When you plan on leaving paved roads behind entirely, be sure to ride on the tires that can face any challenge. Whether it's a set of BFGoodrich, Cooper, Toyo, Nitto, Goodyear, or any other great brand of 37 inch mud tires, you'll be ready to strap in for the ride of your life.
37 Inch All-Terrain Tires
If, on the other hand, you're looking for the aggressive appearance of a plus-sized 37 inch tire and the rugged good looks of an all-terrain but you don't want to sacrifice too much on-road creature comforts, a 37'' all terrain tire might be a good choice.
Designed for traction, all-terrain tires in 37 inch fitments feature aggressive tread patterns with plenty of biting edges and high voids. They also feature reinforced sidewalls and aggressive shoulder blocks for traction and durability when you have to tackle sharp rocks and harsh terrains. 
It doesn't matter if you're taking on a slick rock face or a deep mud pit, or even going on an extended overland adventure, these tires are built to take on whatever you throw at them without missing a beat and riding too rough around town.
Whether you already have a set of truck wheels just waiting to get wrapped in some serious off-roading rubber or you're looking to build your own bespoke 37 inch tire and rim package, we have the selection to help you get your rig trail-worthy.
And don't worry, we've got plenty of experience working on modded and lifted trucks and SUVs, so when it comes to getting your 37s mounted and balanced, we can get you taken care of worry-free.