Lawn Mower Tires
Few things are as satisfying as a perfectly mowed lawn. So don't let a flat tire on your lawn mower get in the way of a job well done!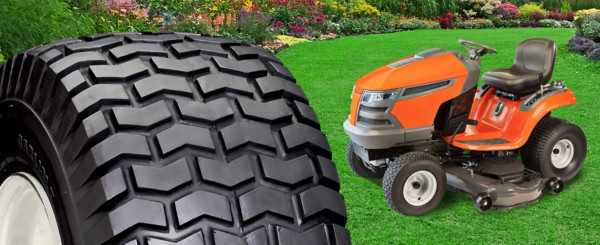 Tires for your Lawn Mower
From re-upping the tires on your personal mower to outfitting your own landscaping business or replacing the tires on the ride-on mower you use to maintain a full 18-hole golf course, there's any number of reasons you might be in the market for a new set of lawn mower tires. 
No matter why you're replacing your mower tires, you're in the right spot to get the best deal on the best brands available.
After all, we've got a wide range of lawn and garden tires that can help you get the job done well, including Carlisle lawn mower tires.
And our trusted experts on site can help you sort out which tires are best for your needs based on their different tread patterns. 
If you need a set of smooth mower tires that won't tear up the turf at the local golf course, we've got you covered. And some mowers deal with seriously challenging terrain, including mud and loose soil. But don't worry! We have tough mower tires that can help dig you out of any hole.
Mounted Lawn Mower Tires
If you've found yourself wondering how to change a lawn mower tire or where to get lawn mower tires mounted, you're in luck.
Not only do we stock a wide range of mower tires at the lowest prices, we can get them mounted and installed for you, no problem. No need to worry about downtime for your maintenance crew (or for yourself if you don't know how to install tires on your personal lawn mower).
There's no need to get your hands dirty when it comes to changing your mower tires. Bring it on by one of our locations and we'll take care of mounting your lawn mower tires to the mower wheels. With our expertly trained staff, we can get you back in the weeds in no time at all.
Whether you're looking for lawn mower tires in specific sizes, like 20x8x8 (or even mower tires in 10'' or 12'' diameters) we're well-stocked to get your yard or job looking pristine in no time.
Feel free to swing on by your nearest store at your convenience or schedule an appointment today!