Wheelbarrow Tires
If you're getting ready to knock out some chores and you find that your wheelbarrow tire has gone flat, you can count on us and our stock of wheelbarrow tires to help you stay on top of things.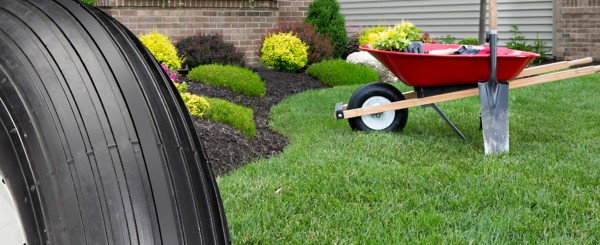 Tires for your wheelbarrow
We won't blame you if you're surprised to find that we sell wheelbarrow tires. 
However, it's our responsibility to cover just about every tire out there, including lawn mower tires, golf cart tires and wheelbarrow tires.
Whatever chores you have in store for the day, our tough Carlisle Wheelbarrow tires feature rugged designs, so they can handle serious punishment without dropping the ball (or whatever else you're carrying).
Hardy tires built for strength, durability and rolling ease, our wheelbarrow tires have a high load capacity and a robust design. That means you can rely on these tires to work almost as hard as you do.
Whether you're planning a home renovation, doing some gardening or working construction, our wheelbarrow tires are here to save the day—and to help you easily maneuver heavy loads wherever they need to go.


Wheelbarrow tire replacement
If it's time to replace your wheelbarrow tires, you're in luck. We stock plenty of the best wheelbarrow tires in 6-inch, 8-inch and universal Carlisle wheelbarrow tire and wheel assemblies. And our stores are staffed by tire experts who can quickly install your new wheelbarrow tires, keeping downtime to an absolute minimum.
As an added bonus, we guarantee the lowest prices on all tires we carry!
Feel free to schedule an appointment at your nearest store or drop on by whenever it's convenient for you.