18x8 Wheels
You can be king of the streets or off-road royalty with a set of 18x8 wheels!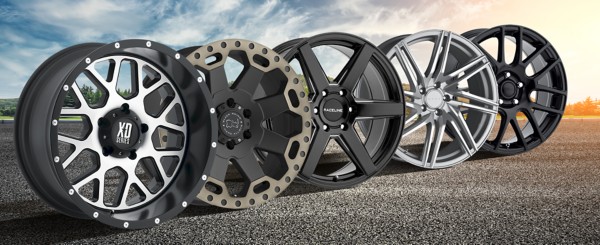 Looking for a wheel upgrade from some of your favorite aftermarket brands? You're in the right place! Not only do we carry the brands you're after, we also carry 18x8 wheel sizes in every fitment imaginable.
18x8 Inch Wheels
Outfit your ride with the best of the best 18x8 wheels on the market!

Want to upgrade your car or SUV with a modern mesh spoke look? The Voxx Nova is a lightweight aluminum wheel specially designed for just that in a slimming glossy black finish with awe inspiring mesh spokes.
Great for performance applications, the Drag DR-70 is an 18x8 inch aluminum wheel available in three different finishes (flat black, charcoal gray, silver machine face) and can come in either single or dual drilled options. It features a dragged star spoke design with a sleek, flush fitted center cap.
18x8 Truck Wheels
No matter what wheel style or design you want or need, we have the right 18x8 wheel for your truck or SUV. Check out the Raceline 156B Surge, a multi spoke wheel that comes in chrome or black that looks good on any kind of rig or SUV.
But if you want to be a little more "extra" and go for broke, check out the Black Rhino Warlord, a heavy hitter with a structurally sound concave wheel design that can accommodate a wide range of bolt patterns, lip sizes and measurements. It comes in matte black or matte gunmetal—no one will dispute who's king of the road here.
If your truck needs new 18x8 rims but prefer to keep it more subtle (but no-less awesome) than the Warlord, check out the XD Series XD820 Grenade, a deep lip wheel with a mesh spoke design and machined rivets. It comes in a slew of finishes and fitments that can take any truck or SUV to new heights.
You can also see how your new 18x8 wheels will look on your exact vehicle make, model, and even OE paint color with our wheel visualizer! From there you can even add your vehicle into our fitment calculator to find the exact wheel specs your vehicle needs.
If you're going to buy new wheels, why not a new set of tires too? Head on over to Treadwell, our personalized tire buying guide to help you decide on the tire for you and your new 18x8 rims. You can build your own wheel and tire package and kill two birds with one stone.
If none of these are ringing any bells for you, don't sweat. We can special order any wheel or tire you need. Make an appointment at your nearest store or give us a call. We'll take care of you!
No matter the purpose, the size you need or the style you want, we have the 18x8 wheel for you!