4 Lug Rims
From ATVs to Italian sports cars, classic muscle to high-MPG commuters, dial in your ride with a set of 4 lug rims.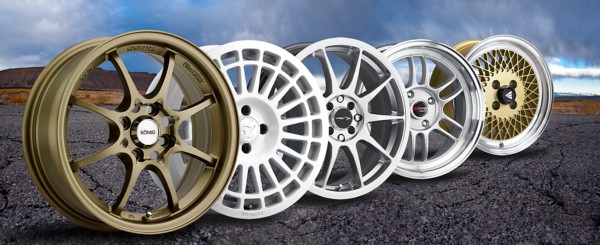 We love a four lug wheel. These things are on just about every type of vehicle out there—we aren't kidding. Everything from an ATV to a Toyota Prius can be found sitting on wheels with four lugs. Even some rally racers and compact Italian sports cars are rocking a four-lug bolt pattern.
With that in mind, we do our best to keep our shelves (digital and in-store) stocked with the best 4 lug wheels from some great brands.

We've got options available from some of the biggest names in wheel manufacturing, including American Racing, Drag, Enkei, Fifteen52, Fuel Wheels, Konig, MB Wheels and Vision, just to name a few. So, if you're hunting for a new set of rims for your car, we've got you covered.

And with our huge inventory, we've got some of the most popular sizes available, too. No matter how obscure the fitment, you can count on us to get your ride styling big (while keeping the prices small). We've got 14-inch 4 lug rims, 15-inch 4 lug rims, 16-inch 4 lug rims and 17 inch 4 lug rims. We've even got 4 lug rims specific to your classic Mustang.

Long story short: if it's got four lugs on it, we've got it. 

4 lug performance wheels

If you've got ripping performance on the brain, look no further than a set of 4 lug Drag DR-34 wheels. Whether you're cutting time off your commute or your track run, this wheel is sure to make an impression. 

Some drivers may be in search of rally-ready grit and 4 lug fit. The Fifteen52 Turbomac delivers both in spades. If it was good enough for Ken Block, you'd better believe it's good enough for us.

And if you can't find the wheels you have your heart set on, that's ok. It may not be listed on our site, but we can special order just about anything under the sun. Give our stores a call and we'll help you get wheeling and dealing in no time. (And with our low price guarantee, you'll save some coin on your 4 lug upgrade.)

4 lug rims and tires

Why settle for something as simple as a new set of wheels when you can custom design your very own 4 lug rims and tires package?

After all, buying tires and wheels online has never been easier. Thanks to a few of our simple tools, you can be rolling on a new set of tires and wheels in no time.

First, check out our wheel visualizer to find the exact wheels for you and see how they look on your vehicle. After that, Treadwell can provide you with tire suggestions that match your unique driving needs, including your driving style, vehicle type and weather conditions in your area.

It really is as easy as that. What are you waiting for? Get rolling on a brand new set of wheels and tires that are perfectly matched to your style and driving needs today.

When you're ready to heat up your ride with a set of 4 lug rims, feel free to schedule an appointment at your nearest store. We'll get you taken care of.