4x100 Wheels
From vintage sports cars to modern hybrids, gas up your ride's style and performance with 4x100 wheels.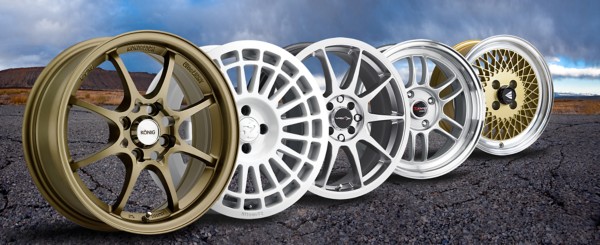 If you're here, then you know two things.
You know that 4x100 wheels are a simple and easy way to dramatically upgrade your ride. Whether you roll in a rally-racing coupe, a vintage vehicle with classic swagger, or even a modern compact/hybrid that you want to customize, then there's a good chance you're looking for 4x100 rims.
Second, you know that we take pride in having the largest selection of aftermarket and OE replacement wheels. If it's time to upgrade your rims, you're in the right spot.
We've got 4x100 wheels available from some of the hottest rim builders out there, including Drag Wheels, Konig, Enkei, Fifteen52, Vision Wheels and many other great brands.
Got your eye on a specific wheel color? We've got you covered. Our virtual and literal shelves are stocked with 4x100 white wheels, 4x100 chrome wheels, 4x100 gold wheels, 4x100 black wheels and many other in-demand finishes.
And when it comes to finding the perfect fitment for your ride, you can count on us. Even with our staggering inventory, you can find the wheels you're hunting for with ease.
We have the most in-demand sizes in stock, including 15-inch 4x100 wheels, 16-inch 4x100 wheels, 17-inch 4x100 wheels and more. To get real specific, we know a lot of you are looking for a set of 15x8 5x100 rims as well as 16x8 4x100 wheels. Simply put: we've got 'em!
4x100 wheels and tires
And if you're ready to upgrade the rubber on your ride, why not custom design your very own 4x100 wheels and tire package?
While it can be a little confusing to sort through so many wheel and tire options, we make it as easy as possible to shop for wheels and tires online with ease.
With our wheel visualizer, you can easily find the right 4x100 rims for you and see how they'll look on your ride. Then, use Treadwell to find the perfect set of tires to wrap around your new wheels.
And if you don't see the 4x100 rims you're after, just give us a call. Our stores are staffed by wheel experts who can find and special order just about any rim out there, no matter how rare the size or how unique the finish.
When you're ready to take the leap and outfit your ride in a new set of 4x100 wheels, go ahead and swing on by your nearest store or save time and schedule an appointment online!