4x110 Wheels
Make your off-road madness count with brand new 4x110 wheels!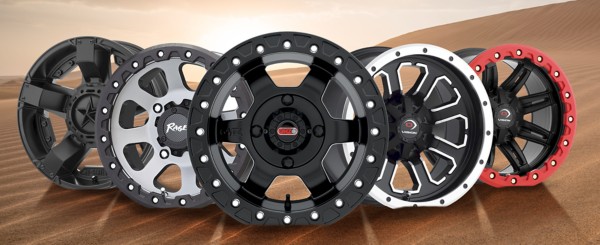 Does your ATV or off road hobby vehicle need a wheel upgrade? You can't take on those boulders without proper equipment! We've got the best selection of 4x110 wheels at the best prices around. We only carry the most trusted brands that you clamor for, including but not limited to Vision, Rage, GMZ Racing, Raceline, XD and more!
While 4x110 wheels are largely for ATVs, there are still a few car manufacturers who use this bolt pattern size, such as Mazda. If you're looking to add some classic retro flair to your ride, check out the Konig Rewind! It offers an old school JDM racing vibe and comes in a silver or graphite finish.
4x110 ATV wheels
Let's face it: the 4x110 bolt pattern is most commonly associated with ATVs and for good reason. The most popular ATV brands like Honda, Suzuki Can Am, Polaris, Kawasaki and Arctic Cat all have models that ride on 4x110 bolt pattern wheels.
For commanding off road, the Vision Commander is the way to go. Your ATV will look large and in charge with its striking two tone finish with a machine cast divot lip and rugged eight spoke design. It's perfect for your ATV, UTV or golf cart.
If you need larger wheel sizes or a more structured, aggressive look then the XD Series XS811 Rockstar II is for you. With its optional interchangeable spoke inserts, tough five spoke design, satin black finish and number of wheel sizes, this 4x110 wheel offers you lots of room to explore.
For serious off-roading, consider the Raceline A91B-Ryno Beadlock. It boasts a split eight spoke wheel with machined accents and a beadlock system for proper off roading tire pressure adjustment. It comes in either a striking black or gunmetal finish in typical ATV wheel sizes.
4x110 wheels and tire packages
While you're looking at 4x110 wheels, why not get new tires to match? You can easily pair up the perfect combination of rims and tires suitable to you and your rig with our 4x110 wheel and tire packages!
If you're feeling a little overwhelmed with all of the 4x110 bolt pattern wheel options out there, don't sweat! We've got the tools to help you easily find what you need. You can use our wheel visualizer to help you preview what your new rims will look like on your vehicle's exact make, model, and even OE paint color. Then, use Treadwell to find the right tires for your rig.
If you're still unsure which 4x110 wheels or new tires are for you, just give us a call. You can set up an appointment at your nearest store and we'll get you taken care of!