5x115 Wheels
From muscle cars to luxury sedans, add a little awesome to your ride with a set of 5x115 wheels.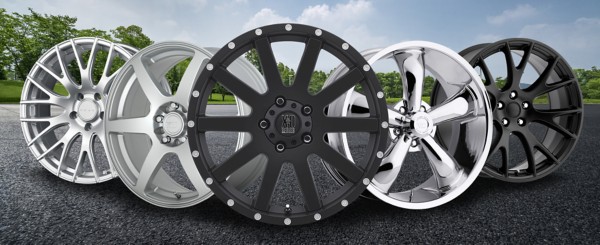 What cars have 5x115 wheels?
Wondering what cars have 5x115 wheels? Wheels with a 5x115 bolt pattern can be found on a ton of great vehicles, including Buicks, Cadillacs, Chevrolets, GMs, Chryslers, Dodges, Pontiacs and more.
Whether you're rocking that classic American muscle or a refined vehicle that boasts high-end luxury, you can amp up your ride's looks with 5x115 wheels.
There are hundreds of stellar options to choose from when you're ready to upgrade to some new 5x115 rims! The best part is, we've got the lowest prices on the biggest selection of tires and wheels in the industry. We're not kidding! We've got rims from some of the most trusted names out there, including Drag, Konig, MB Wheels, Motegi Racing, Unique, Vision, XD and many, many more.
With our massive inventory, we've also got all the most popular fitments, including 18-inch 5x115 wheels, 20-inch 5x115 wheels and 22-inch 5x115 wheels.
Many people wonder, do 5x115 wheels fit a 5x114.3 vehicle? The short answer is: no. While they're close enough in size to seem interchangeable, the difference is just enough that it can cause serious trouble if you install 5x115 wheels on a car with a 5x114.3 bolt pattern. Similarly, you don't want to try and install a 5x114.3 wheel on a vehicle with a 5x115 bolt pattern. For your safety, we will only install wheels with the correct bolt pattern on your vehicle.
5x115 rims
If your ride rolls on a set of 5x115 rims, you're in luck. Some of our favorite wheel builders routinely drop some sick wheel builds in this unique bolt pattern.
Looking to upgrade the performance of your Dodge Challenger without compromising that OE look? Get that classic Dodge style and max out what's already legendary muscle car performance with a set of Replica Hellcat wheels. (They're great for fitting a wider tire on a non-Hellcat trim level Challenger.)
Drivers who want all the benefits of modern performance engineering for their high-powered sports car need look no further than the Drag DR-69. This slick mesh wheel is built with spokes that reach to the edge of the rim flange, giving it a larger than life feel, while its aluminum alloy construction ensures strength and low weight.
Looking for pedal-to-the-metal track-ready qualities? Then you want the Motegi Racing MR143 CS6. This deceptively simple 6-spoke design from the pros at Motegi boasts Hyper Silver and Satin Black finishes, a snap-in center cap and Motegi's cutting edge engineering and general street cred.
If it's time to replace the rubber on your ride as well, why not turn your wheel upgrade into a total traction boost with a custom-designed 5x115 wheel and tire package?
First, use our wheel visualizer to find the wheels you want (and see how fly they make your ride look). After you settle on the perfect wheels, hop on over to Treadwell for personalized tire recommendations based on your vehicle, unique driving habits and even the weather in your area. Once that's all done, you're ready to get rolling on your new tires and wheels!
Not seeing the wheels you're looking for? No sweat. We can find and special order any rim (or tire) out there. Give us a call and we'll have your ride outfitted in no time.
When you're ready to elevate your ride, schedule an appointment at your nearest store and we'll get you taken care of.