5x4 5 Wheels
Need to replace a cracked rim on your car? Or maybe you want to max out your vehicle's looks and performance. No matter the reason, there's a good chance you're looking for a set of 5x4 5 /5x114.3 wheels.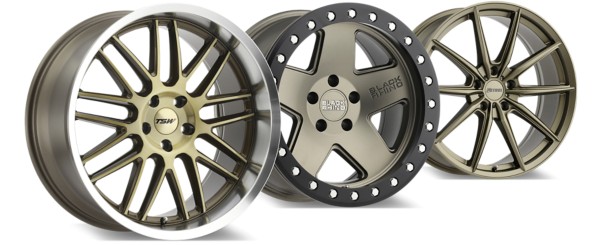 What vehicles use 5x4 5 wheels?
A big question about wheels with this bolt pattern: what vehicles use them?
The truth is that from passenger cars to sports cars, small pickups to crossovers, SUVs, ATVs, and even trailers, 5x114.3 wheels are virtually everywhere. 
In fact, 5x114.3 rims are used so regularly, you can find them on everything from Ford SUVs, including the Explorer and the Escape, all the way to a Bentley Continental GT and even a Toyota Tacoma. Talk about range!

In fact, wheels in this bolt pattern are built by virtually all major wheel manufacturers, including Fifteen52, Fuel Wheels, MB Wheels, Enkei, Method Wheels and many, many more.

What's the difference between 5x114.3 wheels and 5x4 5 wheels?
One of the big questions we hear when it comes to these wheels is: what's the difference between 5x4.5 and 5x114.3 wheels? 
Answer: absolutely nothing. 5x114.3 wheels are just the metric variant of 5x4.5 inch wheels. It's a simple conversion from metric to standard. While the numbers are different, the wheels themselves feature the same exact bolt pattern. 
So if you're on the hunt for 5x4.5 wheels and someone says you really need a 5x114.3, you'll know that you're both talking about the same thing.

We know most drivers out there aren't worried about the bolt pattern on their ride. But if you're here, then you're not like most drivers. You know that if you're considering replacing the rims on your whip, it pays to know what you're rolling on.
Ready to make the switch to a new set of rims? Our wheel visualizer lets you try any 5x4 5 wheel before you buy!
Our stores are fully staffed by aftermarket rim experts, (and serious wheel enthusiasts) so you can rest easy knowing that we'll get your wheels installed quickly and safely. Plus, since you're getting them from us, you know you'll be getting the best deal on them too, with mounting and balancing included
Walk-ins are always welcome—just find your nearest store. Or, if you'd rather save time, you can schedule an appointment when you have the right set of 5x4 5 wheels picked out at your convenience.