5x5.5 Wheels
Found on a range of vehicles, including light trucks, SUVs and vans, a new set of 5x5 5 rims is one of the easiest ways to give your ride a serious boost in both style and durability.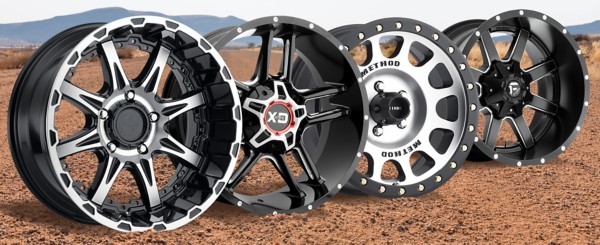 What vehicles use 5x5 5 wheels?
If you've found yourself asking, "What vehicles use 5x5 5 wheels?", you're not alone. We hear this one a lot when it comes to the 5x5.5 bolt pattern. 
As one of the more common bolt configurations out there, it should come as no surprise that 5x139 7 wheels (AKA the metric variant of 5x5.5), are found on a wide range of vehicles. 
This includes SUVs, light trucks, minivans and full-size work vans. Whether you're upgrading the rims for your van, pickup or even your favorite off-roading Jeep, you just might be in the market for a new set of 5x5 5 wheels.
Because there are so many vehicles out there that use this bolt pattern, there's a huge selection of 5x5.5 rims available from some of the baddest wheels makers out there. 
And if you know anything about us, it's that we make sure to stock as many of these great wheels as we can. We've got 5x139 7 rims available from Fuel Wheels, Black Rhino Wheels, Method Race Wheels, American Outlaw, XD Wheels and many many more.
If you need wheels, you're in the right spot.
5x5 5 wheels and tires
And if you're interested in 5x5 5 wheels and tires, you're in luck. We have the largest selection of tires and wheels, making it easy to dial in your ride with your very own custom 5x5.5 tire and wheel package. Plus, since we guarantee the lowest prices on tires and wheels, a custom upgrade won't hurt your wallet.
Whether you're looking for new wheels because you're replacing an old one or you're adding the finishing touch to your favorite auto project, we've got you covered when it comes to 5x5.5 wheels. Our stores are staffed by auto enthusiasts and rim experts alike, so if you need help finding the right wheels for you or you just want to talk shop, you can count on us.
If you're still scoping out the perfect set of 5x139.7 wheels, check out our wheel visualizer to see what the rims look like on your ride before you buy them!
Feel free to drop on by your nearest location or book your time in advance and schedule an appointment.