6x139.7 Wheels
From off-road ruggedness to street-ready curb appeal, nothing maxes out the swagger and performance of your pickup or SUV like a set of 6x139.7 wheels.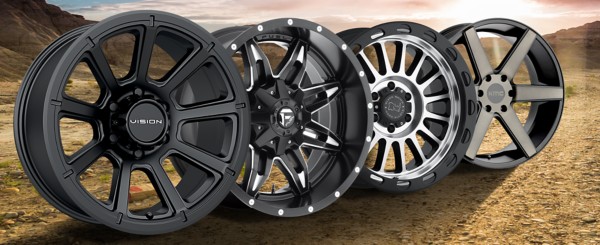 What vehicles have a 6x139.7 bolt pattern?
Also referred to by their standard variant, 6x5.5 wheels, you can find this popular bolt pattern on a huge range of light trucks, SUVs and even some minivans. So, if you're wondering what vehicles have 6x139.7 wheels, the answer is: you can find 6x139 7 bolt pattern rims on vehicles from around the globe, including Acura, Cadillac, Chevrolet, GM, Ford, Hummer, Infiniti, Jeep, Lexus, Nissan, Toyota and more.
Because 6x139.7 wheels can be found on such a wide range of vehicles (and with so many different applications), there are hundreds of options to choose from. We have offerings from some of the most trusted names in the industry, including American Outlaw, Black Rhino, Drag, Fifteen52, Fuel, Icon Alloys, Level 8, Method Race, Moto Metal, Vision and XD, just to name a few.
With our huge inventory of aftermarket rims, we've got you covered no matter what wheels you're hunting down. If you're looking for a specific fitment, you can count on us. We've got 20-inch, 18-inch and 17-inch 6x139.7 wheels stocked and waiting just for you.
6x139.7 Rims
Whether you're gearing up your Tacoma for the trail or prepping your SUV for a cross-country road trip, get your ride ready with a set of 6x139.7 rims.
Looking for off-road clout that's backed by one of the most respected names in wheel making? The Fuel Maverick is the rim for you. Built in a classic eight-spoke design with an aggressive deep lip, the Maverick stands out whether you're parked downtown or tearing it up on the trail.
If you want larger than life styling in a subtle concave design, you want the VIsion Turbine. With a unique nine-spoke build that features machined details extending into the edge of the wheel, the Turbine will give your ride all the sleek styling you could ask for. Plus, it's available in matte black and gunmetal machined face finishes, so you can choose the look that's best for your ride.
Want to deck out your pickup or SUV in a rally racing-inspired design that's tough enough to tear it up off-road and cool enough for a car show? Look no further than the Fifteen52 Turbomac HD Classic in 6x139.7. Co-designed and tested by Ken Block, one of the most famous rally racers of all time, the Turbomac HD is sure to turbocharge your ride's style and performance.
Is it time to replace or re-up the rubber on your ride? Then turn your wheel upgrade into a 6x139.7 wheel and tire package for a double scoop of style and performance!
If you're not sure where to start, that's ok! There are so many 6x139.7 bolt pattern options to choose from that it can feel a little overwhelming. That's why we developed a couple simple tools to help you sift through our inventory of tires and wheels.
First, check out our wheel visualizer to find wheels you like and see how sick they look on your ride. After that, let Treadwell guide you to the perfect tires for your unique driving needs!
Having trouble finding the wheels you want? Don't worry! We can locate and special order any wheel out there (and beat any price, too!). Give us a call and save on your style upgrade today! And if you want to save even more, we always have great offers when you use our credit card!
Ready to max out your ride's performance and style? Schedule an appointment at your nearest store and we'll get you taken care of!