Black 20 Inch Rims
Whether you're upgrading your off-road rig or your high-powered muscle car, turn your ride into a showpiece with black 20 inch rims.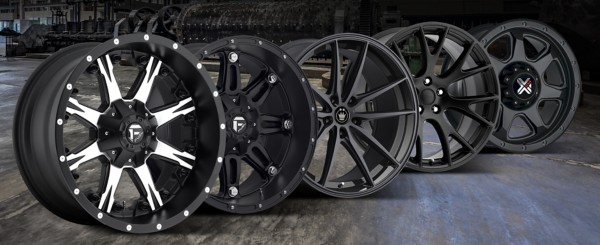 It's no secret: black rims are one of the ultimate upgrades to your ride. The only way black rims could be any cooler is by going with one of the highest-demand wheel sizes of all time: 20-inch wheels.
We've got a huge selection of 20 inch black rims from the hottest names in the wheel industry, including Fuel, Black Rhino, XD Wheels, Moto Metal, Method Race, TSW, American Racing and many, many more.

If you're modding your favorite muscle car, you can take it to a new level of sleek while maxing out your vehicle's performance with a set of Konig Oversteer wheels. 

For those who obsess over the fine details and love the look of original equipment wheels, a set of Wheel Replicas Hellcat wheels provides pulse-raising performance while keeping your Charger's spec look intact with the added benefit of fitting wider tires.

It doesn't matter what you roll in on, you can roll out in style with a new set of 20-inch black wheels. 

20 inch black truck rims

When your truck needs to be tricked out, we've got you covered. Punch up your pickup with a set of 20 inch black truck rims.

These days, just about every truck cruising the blacktop is rocking a set of 20's. So if you truly want to make sure yours stands out from the crowd, you want a set of 20'' wheels in a black finish.

And the best part is: it doesn't matter if you're going for the king of the off-road look or blacked out street style. Either way, there's a 20-inch black truck wheel for you.

One of our favorites is the 8-spoke beast that is the Fuel Hostage. This wheel features a clean design with aggressive off-road detailing, including machined divots and rugged rivets on the peak of the spokes. 

And if you're aiming for a combo of blacked out style with a sleek chrome shine, how about a set of 20 inch black and chrome rims? Give your truck a little bit of that dark shine with the Fuel Nutz. Thanks to its black outer rim and machined-face spokes, you're sure to turn heads with this black and chrome look.

Have other finishes in mind? We've got you covered there too. With our well-stocked shelves, we've got all the hottest finishes, including 20-inch gloss black rims, matte black 20-inch rims, and even black and red rims in a 20-inch fitment.

Whatever wheel you're looking for, you can find them here.

20 inch black rims and tires

While just about any vehicle upgrade can be exciting, there's nothing quite like the thrill of creating your own 20 inch black rims and tires package.

First, check out our wheel visualizer to find the black 20s that match your style (and see how great they look on your ride). Then try out Treadwell to get the same great tire recommendations you'd get in-store. 

After that, you're ready to schedule an appointment at your nearest store and get your ride blacked out.

Buckle up. These 20-inch black rims are going to take your ride to the next level.