Blue rims
Stop singing the blues—upgrade your ride's looks with a set of blue rims.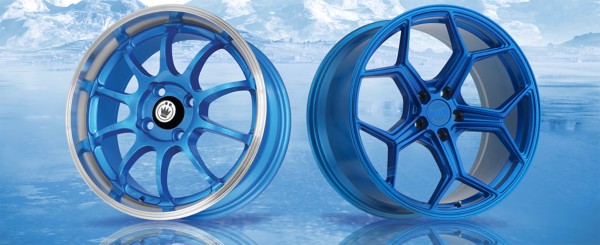 If you're hunting for the trendiest blue wheel styles or colorways, you're in the right spot. We pride ourselves on having the largest selection of aftermarket and OE replacement wheels in the market.
We've got a range of blue rims from some of the hottest wheel manufacturers out there, including the best of the best in Konig and XO Luxury.
If you're looking for ever popular blue chrome rims, you're in luck. We've got some seriously sick blue rims with chrome detailing. One of our personal favorites is the Konig Lightning.
Built in a sleek 10-spoke, tuner-inspired design, the Lightning is a blue rim with a chrome-style machined lip. It packs the eye-catching style you crave and the race-ready design you need.
Blue truck rims
And if your truck has you feeling blue, a new set of blue truck rims may be just the ticket. We've got blue truck rims available from some of the baddest builders out there.
Anyone interested in aftermarket truck wheels won't be surprised by this first brand. These folks are renowned for their aggressive styling and off-road functionality. You guessed it, it's Fuel Off Road.
From the candy-blue machine detailing on the Fuel Stroke to the blue highlights on the Fuel Hardline, you can't go wrong with a set of Fuel blue truck rims to complete any look or style.
And of course, maxed out off-road styling doesn't get better than with a set of blue rims from Black Rhino. Some of our favorite Black Rhino wheels come with optional blue finishes, including the Barstow, Rampage and Sentinel wheels.
If you want to make your new blue rims even more exciting, try custom designing your very own blue rims and tires package.
Because we have the largest assortment of tires and aftermarket rims anywhere, the one challenge will be deciding which tires and wheels are right for you. That's why we've put together a couple simple tools to help you sort through our inventory without a hitch.
With our wheel visualizer, you can easily find the perfect blue wheels for you and see how they'll look on your ride across various OE vehicle paint colors. Then, you can use Treadwell to find the ideal set of tires to wrap around your new set of blue rims.
And if you don't see the blue wheels you're looking for, don't pump the brakes on your search just yet.
Out stores can special order just about any blue wheel out there. Whether you're looking for a unique, custom finish or a hard-to-find size, we can nab the rims you're looking for and match any advertised price. (Just give us a call and we'll get you taken care of.)
We've got the cure for your blues: a new set of blue rims. When you're ready for a new set of blue rims, you're welcome to schedule an appointment at your nearest store.