Deep dish rims
Whether your ride is stanced or lifted, deep dish wheels are the key to turning heads.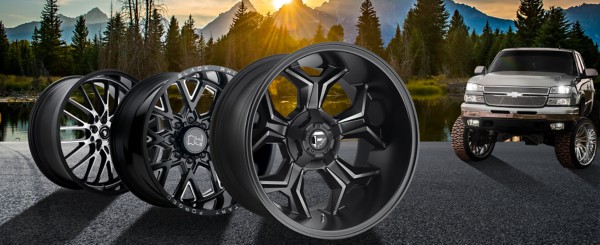 Looking for deep dish rims? Check these out!
If you can't quite figure out the next steps to trick out your ride or truck, consider adding a set of deep dish wheels for a quick but long-lasting boost of charisma and style. Make them look twice!
Since we pride ourselves on stocking the largest inventory of OE and aftermarket wheels on the market, you don't have to go far to find the right set of deep dish wheels for you and your vehicle!

Check out our selection of deep dish wheel options from the most trusted and sought after manufacturers, including Konig, Black Rhino, Fuel, Method Race Wheels, Moto Metal, Vision, and XD.

Deep Dish Wheels

Sporting an iconic dish shape, deep dish rims set the hub far back and create a deep "lip" separating the rim from the spokes and center cap. Coming in a wide variety of sizes, you can find the right set of deep dish rims for your vehicle right here, including 20-inch deep dish rims, 18-inch deep dish rims and 17-inch deep dish rims. 

Although popular on lifted trucks, deep dish rims are also incredibly popular and in-demand with the stanced tuner enthusiast community. No matter how your car is dropped, a set of our deep dish rims can set your car apart just as easily in traffic as they can within your car club or crew.

A great example of a deep dish option for your ride is the Konig Lace, which features a glossy black finish and lip paired with a striking machine face. This classic design still looks contemporary!

Deep Dish Truck Rims

Deep dish truck wheels can add a huge boost of style and expression that you won't be able to achieve with other aftermarket modifications—and offer you the chance to truly customize your truck.

Just check out XD's XD820 Grenade deep dish truck rim, which offers a truly dizzying number of finishes (including satin black, satin black milled, and/or red or blue clear coats with a milled finish) and sizes from 16 through 22 inches. This is a great option if you're looking for a one size fits all, all around smart look for your rig.

Customizing your truck to fit the look you're going for is simple with the number of deep dish wheel finishes, options and sizes we have available. And the best part? Our deep dish wheels have a fat lip but a slim price tag. 

Feeling a little overwhelmed? We make it even easier to find and plan out your wheel and tire purchase with some handy tools. First, use our wheel visualizer to see how your chosen set will look on your exact make, model, and OE paint color vehicle. Next, check out Treadwell to help you match a great set of tires for the perfect set of your very own deep dish rims and tires.

If you're still not satisfied with our large selection, just give us a call and we'll special order your new deep dish wheels. We can help you locate those rare and hard to find wheels and match any advertised price. 

When you're ready to roll out on some new deep dish wheels and tires, set up your appointment at your nearest store. 

No matter your style or preferred look for your truck, there's a deep dish rim set for you.