Red rims
If you're seeing red, we can sympathize. Turn your ride into a real show-stopper with a set of bold red rims.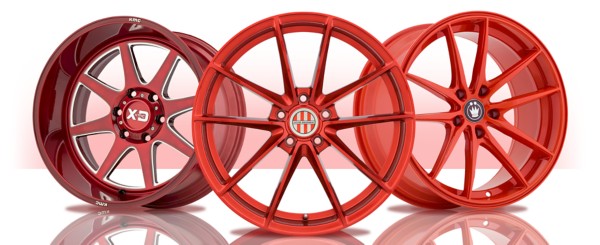 Red car rims
If you've got an eye for detail and know exactly what you're after, a set of red rims can totally transform your car's appearance.
You can find some seriously great red car rims on our shelves, including options from Konig, XO Luxury and Victor Equipment, and more.
If you drive a Lexus, check out some of our XO Luxury London wheels in red. And anyone who wants race-inspired function matched with an awe-inspiring red finish need look no further than a set of Konig Hypergram wheels.
No matter your car's color or mods, red rims are going to be totally unique and look awesome.
Red truck rims
Pump some life into your truck with a set of red wheels. Just take a look at the XD 844 Pike and you'll see exactly what we're talking about. With its brushed red finish and silver milled accent pieces, these red XD wheels make the perfect upgrade for any truck or SUV.
And we're not messing around when we say any truck or SUV. There isn't a truck out there that would look bad with a set of red rims on it. 
If you're rolling in a lowered single cab pickup, you'd better believe some red rims will bring it up a notch. And if you're rockin' around town (or off-road) in a lifted 4x4, there's a red truck rim out there for you.
We have the largest supply of aftermarket rims, so if you're hunting for red rims for sale, you've come to the exact right place. With a wide range of red rims, including popular fitments such as 17 inch red rims, 20 inch red rims and red 22 inch rims, we're ready to get your ride outfitted in red. 
If you don't see what you're looking for, no sweat. Our store can find and order just about any wheel finish, size or manufacturer you have in mind. If you can imagine it, we can probably get it for you. 
(And if you want to see exactly how your vehicle will look, such as the ever-popular "black car red rims" combo, check out our wheel visualizer to see just how great your vehicle will look with a fresh set of red rims any any number of different finishes and styles.)
If you're ready for a style redo on your ride, then a set of red rims may be the way to go. Drop on by your nearest store or reserve your time in line with an appointment and we'll get you taken care of.