Steel Wheels
Whether you're looking for a cost-effective replacement for a cracked original equipment wheel, you want no-frills protection for your 4x4, or you just want something basic to put a set of winter tires on, steel wheels are the perfect mix of form and function.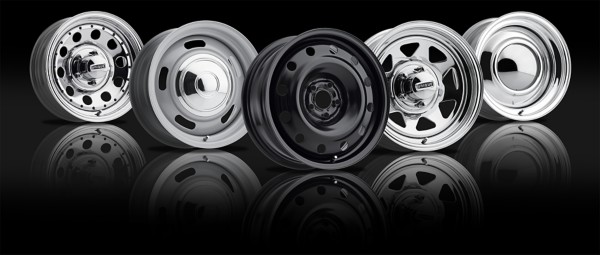 Built with an eye for quality and budget friendliness, steel wheels are designed for versatility. Steel rims are solid options for a variety of different vehicle types, including muscle cars and hot rods, off-roaders, light trucks, trailers, winter commuters and more.
Steel Wheels for Off-Roading
If you want serious durability and protection with a more utilitarian look, a set of steel off-road truck wheels can provide the strength you need to take on the toughest trail without having to worry about scratches, dents, dings, or superficial damage.
Rock crawling, high-speed baja, mountain passes, extreme breakover angles or narrow trails—wherever your next adventure leads, steel truck rims are a great way to stand out from the crowd with the added benefit of durable protection.
At the end of the day, running steel wheels on a 4x4 shows you mean business—and we can order any steelie you might be looking for.
Check out one of our favorite steel-style truck wheels: the Unique 297. 
Steel Wheels for Winter
One of the best ways to ensure your vehicle can handle winter weather is with a dedicated set of winter tires and wheels.
Steel wheels for use in winter weather are cost effective, look great, and they're designed to handle the daily punishment dealt over even the longest winter. No need to worry about road salt, chemicals, and in most cases even damage if you get into a mild fender bender.
To outfit your ride for tough winter weather, consider a set of winter steel rims as a part of a winter tire and wheel package.
(One of our favorite winter steel wheels is the Liquid Metal Atom.)
Steel Wheels for Hot Rods and Muscle Cars
Long a staple of classic car enthusiasts, steel wheels can round out your project car with authentic period-correct looks.
Hot rod and muscle car enthusiasts can benefit from the retro look and strength steel wheels provide (not to mention that they're often available as era-accurate replicas, making it a snap to modernize the wheels on a project car without sacrificing the classic look of your ride!). 
Check out Unique's lineup of steel and throwback wheels, throw in a set of dog dish hubcaps and you're on your way!
Steel Trailer Wheels
When it comes to hauling, you can't beat steel wheels for their utilitarian strength. Whether you're towing a toy-hauler, a horse trailer or an RV, you can count on a set of steel wheels to carry the load of your trailer.
The best part is, your steel trailer wheels aren't just strong enough for the long haul—they'll look good without breaking the bank!.
Looking for a specific steel wheel? If you don't see it on our site, your nearest location can find pretty much any size and fitment of steel rim you might want at the best price anywhere, no matter how you plan to use it.