The Bronze Age of Wheels
By: TSW

There was a time in history where bronze was celebrated for its achievements. An era between the Stone Age and the Iron Age, where bronze proliferated as one of the hardest, most durable metals in existence used extensively for armory and other technological advances of its time. Created only by skilled craftsmen by smelting copper with tin, it was durable and purposeful.
At TSW, we've always embraced the use of bronze in our wheels. With its distinct subtleties of color, texture and ambitious history, it could be because our roots are in racing—where we're always striving to achieve more tomorrow than we did today. Like much of bronze's technological development over time, choosing the perfect wheel and wheel finish for your build is a skillful process all its own.
We believe there is a wheel for every occasion and a finish for every aesthetic. TSW's wheel lines come in a variety of bronze finishes and hues to keep any angle of your setup covered, from bronze and matte bronze to our brushed bronze and dark bronze wheel designs.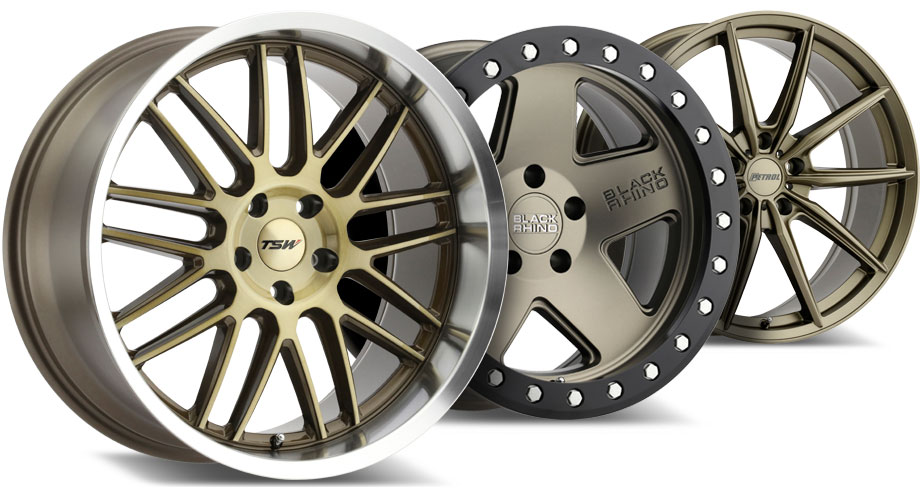 Standard Issue Bronze Wheels
Both bronze and matte bronze are timeless combinations when paired with a neutral-colored car or truck build. They add a splash of pop on an otherwise clean and mature color palette such as black and white, or even on various gray paint finishes.
The great thing about bronze wheels is that they tend to introduce warmth without being over the top in the "look at me" department (gold and chrome wheels come to mind). Somewhat surprisingly, bronze wheels also tend to be an organic match on a deep red or blue car, adding another layer of sophistication to your build.

For trucks and off-road builds, Black Rhino has a wide range of truck wheels available in bronze and matte bronze finishes.
Available in our tried and true original bronze finish, check out the following bronze truck rims:
Black Rhino Bantam
Black Rhino Cinco
Black Rhino Hachi
Black Rhino Hollister
Black Rhino Recon
Black Rhino Rumble
Black Rhino Stadium
(We have a sweet spot for both the Black Rhino Bantam and Black Rhino Cinco in particular—their classic bronze finishes along with the detailed touches of black hardware make a powerful statement and emphasize their aggressive spoke designs.)
If matte bronze wheels are more your style, the following are our current go-tos:
Black Rhino Attica
Black Rhino Barstow
Black Rhino Crawler & Crawler Beadlock
Black Rhino Oceano
Level 8 MK6
(The Black Rhino Attica is one of our favorite bronze truck-wheel picks due to how seamlessly the various details work in conjunction with the simple bold spoke design. The Black Rhino Attica features a high contrast Black Lip Edge and gold hardware.)

Bronze Rims: Classy By Nature
In instances where an even higher class of sophistication is called for, such as luxury and VIP builds, a brushed bronze finish is an increasingly popular wheel finish that's becoming something of a go-to of its own.
Elegantly dynamic, the brushed bronze finish is a textured top layer on top of the bronze base coat that brings out a wide spectrum of bronze hues that naturally accentuate the wheel spoke definition, especially when they catch some sunlight or are moving quickly. Brushed bronze wheels tend to appear brighter than the standard bronze, thus marrying well with existing chrome and polished accents.
Both the TSW Avalon and XO Luxury Helsinki are both available in brushed bronze yet differ vastly in character. The Avalon in brushed bronze is our take on the iconic sport mesh design of an aggressive deep dish wheel configuration, making for a timeless and universally complimentary wheel setup on any sports car or sedan.
The XO Luxury Cairo is a modern take on the deep concave rim design in a split five-spoke monoblock wheel. Particular 3D elements such as milling, contouring, pocketing and scalloping are engineered into its design to increase strength and save weight. In doing so, this creates a complex wheel design that features a hand brushed bronze face finish on top of its matte bronze base coat.
The brushed bronze over the matte bronze combo also allows for a duality in personality by either coming off conservative or dramatic—depending on the way your build is set up.
Bronze Wheels: Understated By Design
Our dark bronze finish is an essential look when building a functional stealth rig or when needing the ideal dark wheel to complete your blacked out look without letting the wheel completely disappear into your wheel well.
A reserved color by design, dark bronze allows technical and intricate wheel architecture to take the driver's seat. Working well on almost any type of vehicle build, dark bronze truly compliments anything you throw it up against, from matted out paints and wraps to military green, lizard green and Nardo gray.
The XO Luxury Helsinki in dark bronze and brushed bronze face is a modern and aggressive monoblock wheel heavily accented by geometric design elements. Deep pocketing accentuates its spoke profile while reducing rotating mass, making for both a strong and lightweight wheel.
Between the tactical features found throughout this wheel and aggressive spoke architecture, the dark bronze finish allows the XO Luxury Helsinki to find a happy medium that retains its understated look. This deep concave wheel profile also makes it a desirable choice for any modern sports coupe and sedan.
If you're in the market for a new set of wheels, the bronze wheel trend looks like it's going to be here to stay for some time. Pairing up perfectly with pretty much every sports car, sedan, truck and even crossover build, order any of the above bronze TSW, Black Rhino and XO Luxury rims (and all of their color and size variants) through your neighborhood Discount Tire/America's Tire.