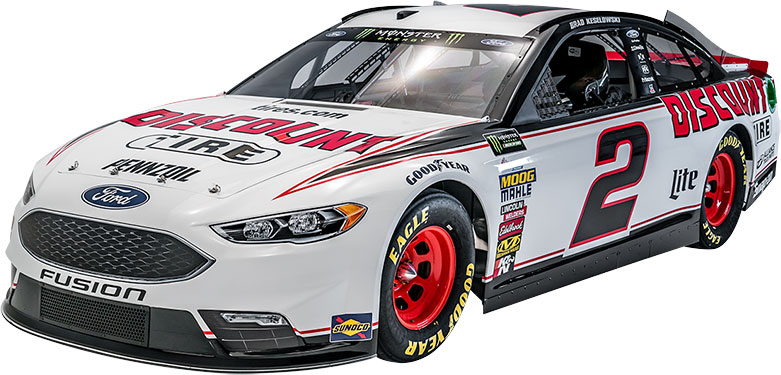 Discount Tire NASCAR Sponsorship
If you're a fan of Discount Tire, then you already know that we're passionate about working hard and having fun. That's why, when it came to our NASCAR sponsorship, it was a no-brainer. Discount Tire is proud to be a primary sponsor of the No. 2 Ford Fusion driven by 2012 champion Brad Keselowski in the Monster Energy NASCAR Cup Series (MENCS).
While being featured as the primary sponsor of the No. 2 Ford Fusion for 10 races, Discount Tire will also continue to serve as a prominent associate sponsor for the remainder of the schedule. In addition to the MENCS sponsorship, Discount Tire will continue as a primary sponsor of the No. 22 Ford Mustang in the NASCAR XFINITY Series (NXS) for multiple races in 2018 and beyond.
Discount Tire NASCAR Sponsorship Schedule
XFINITY SCHEDULE
Saturday, February 24th at Atlanta Motor Speedway
Saturday, March 17th at Auto Club Speedway
Saturday, June 30th at Chicagoland Speedway
Saturday, November 3rd at Texas Motor Speedway
Saturday, November 10th at ISM Raceway
MONSTER ENERGY CUP SERIES SCHEDULE
Sunday, February 18th at Daytona International Speedway
Sunday, March 4th at Las Vegas Motor Speedway
Sunday, April 15th at Bristol Motor Speedway
Saturday, May 19th at Charlotte Motor Speedway
Sunday, June 24th at Sonoma Raceway
Saturday, July 14th at Kentucky Speedway
Sunday, August 12th at Michigan International Speedway
Sunday, September 9th at Indianapolis Motor Speedway
Sunday, October 21st at Kansas Speedway
Sunday, November 18th at Homestead/Miami Speedway
Don't miss any of the NASCAR action! Check out the NASCAR Race schedule to see the Discount Tire No. 2 Ford Fusion in every race!
Discount Tire NASCAR Sponsorship Drivers
Discount Tire, in partnership with Team Penske, sponsors Brad Keselowski, Ryan Blaney, and Joey Logano. The Discount Tire and Team Penske drivers regularly visit Discount Tire stores to interact with customers and staff, and participate in tire safety campaigns promoted by Discount Tire.
Brad Keselowski Bio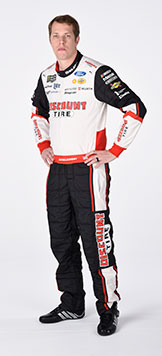 When the green flag waves on the 2018 Monster Energy NASCAR Cup Series (MENCS) season at Daytona International Speedway, Brad Keselowski will begin his ninth full-time season driving for Roger Penske. The Rochester Hills, Mich., native will be focused on bringing home a third Daytona 500 victory for The Captain and a second MENCS Championship.
Discount Tire has sponsored Keselowski since his early in his career at Team Penske. The company was the primary partner of the NASCAR XFINITY Series (NXS) championship entry in 2010. Discount Tire continued as the primary sponsor of the No. 22 Ford Mustang in the NXS over the last several seasons, winning four Owner Championships with Team Penske.
Having been raised in a racing family, Keselowski embodies the "Effort Equals Results" mentality that is a common thread throughout the Team Penske organization. The 2012 MENCS champion worked full-time for his family's NASCAR Camping World Truck Series team while managing his own short track career racing Factory Stocks and Limited and Super Late Models.
Keselowski's first big break came in 2007 when he competed for Germain Racing at Memphis Motorsports Park. He won the pole and led 62 laps, a performance that ultimately landed him a ride in Dale Earnhardt Jr.'s No. 88 NXS full-time entry just two weeks later. In 2008, Keselowski won two races for JR Motorsports and in 2009 claimed his first MENCS victory driving for James Finch at Talladega Superspeedway. Keselowski caught the eye of team owner Roger Penske, who hired him to compete full-time for his team in 2010. Since joining Team Penske, Keselowski has won a remarkable 53 races (combined in MENCS and NXS competition), the team's first MENCS championship, an NXS Driver title and four NXS Owner Championships.
Away from the racetrack, Keselowski married his longtime girlfriend Paige White in February of 2017 and the two live in North Carolina with their daughter Scarlett. Brad and Paige are both active with Brad Keselowski's Checkered Flag Foundation, which honors and assists those who have sacrificed greatly for our country. Since 2010, the foundation has supported over 50 organizations and individuals in order to help veterans and first responders during their road to recovery. Here's what Brad had to say about partnering with Discount Tire:
"I think what comes to mind to me is that from the very beginning of my career Discount Tire has been there. I couldn't be where I'm at without 'em and I couldn't be prouder to be associated with a world-class company that treats their employees with the highest level of professionalism and has done so much for my family. I look forward to growing that association for years to come."
—Brad Keselowski
Joey Logano Bio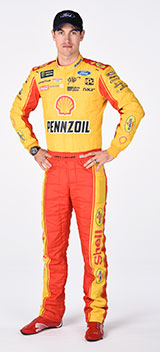 Joey Logano enters the 2018 Monster Energy NASCAR Cup Series (MENCS) season poised to return to the winning ways of his previous campaigns with Team Penske as he begins his 10th full-time tour of premier series competition.
The driver from Middletown, CT posted one points-paying MENCS victory in 2017, with an additional win in the season-opening "Clash" at Daytona. Team Penske announced during the 2017 season that Logano will continue to pursue race wins and championships for years to come with the popular NASCAR star extended to race the Shell-Pennzoil Ford for the team through 2022.
During the 2016 season, Logano won three races and made his second appearance in the Championship Four at Homestead-Miami Speedway, as he finished a career-best second in the final MENCS point standings. Entering the 2016 season, Logano had won more races (11) than any other driver in NASCAR's premier national touring series and he was the pick of many industry experts to win the elusive title entering 2017.
Away from the race track, Logano and his wife Brittany welcomed the addition of their son, Hudson Joseph Logano in the off-season. The Loganos also continue their charitable work with the Joey Logano Foundation, which begins its sixth year of operation in 2018.
In addition to his role as an analyst on FOX Sports Race Hub and select NASCAR XFINITY Series race broadcasts, Logano has made numerous appearances on Discovery Channel shows, including Fast N' Loud and a new project coming to the channel in early 2018. Here are Joey's thoughts on working with Discount Tire:
"It's been an honor to drive the No. 22 Discount Tire Ford Mustang for the last five seasons. In racing, you need loyal and dedicated partners to achieve success, at Team Penske, we have been fortunate to have the support of Discount Tire and all of their employees across the country. I'm proud to have been part of winning four NASCAR XFINTIY Series Owner Championships with Discount Tire, and look forward to seeing what they'll achieve in the Monster Energy NASCAR Cup Series with Brad in 2018 and beyond, and continued winning in the NASCAR XFINITY Series."
—Joey Logano
Ryan Blaney Bio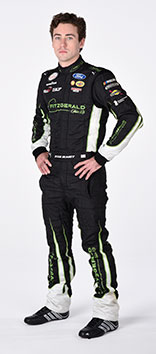 At 24-years-old, Discount Tire driver Ryan Blaney is a key pillar of NASCAR's youth movement. Full of enthusiasm, passion and talent, Blaney will make his full-season Monster Energy NASCAR Cup Series (MENCS) debut for Team Penske in 2018 driving the No. 12 Menards / PPG Ford Fusion. Blaney makes the transition to Team Penske following a career year in 2017 with Penske technical alliance team, Wood Brothers Racing, where he raced the famed No. 21 Ford for the last three seasons.
Blaney delivered NASCAR's oldest running and most historic team its best season finish since 1995, capturing his first career MENCS victory at Pocono Raceway and the 99th all-time win for Wood Brothers in 67 years of NASCAR competition. Blaney also earned his first and second career MENCS pole positions in 2017, after leading qualifying at Kansas Speedway and Phoenix International Raceway, helping Wood Brothers Racing score their 118th pole. Blaney and the No. 21 Ford team finished second in the Daytona 500, earned a spot in the Playoffs and made it to the Round of 8 before eventually finishing ninth in driver standings with four top-five and 14 top-10 finishes.
As he continues to grow as a racer, Blaney has the benefit of an experienced team behind him. With talented and winning teammates like Brad Keselowski and Joey Logano to learn from and a championship-winning crew, one of NASCAR's top young talents will continue to blossom at Team Penske this season in the Monster Energy NASCAR Cup Series. Blaney is excited to work the newly-formed No. 12 Ford Fusion team as he looks to compete for wins and the coveted NASCAR Cup title.
Check out what Ryan Blaney had to say about working with Discount Tire:
"I'm looking forward to getting back behind the wheel of the No. 22 Discount Tire Ford Mustang after last year's exciting campaign and winning our fourth Owners' title in the last five years. I think with myself, Brad, Joey, Austin and Paul working together and led by Crew Chief Brian Wilson, we are ready for another great year."
—Ryan Blaney
Good Deals on Goodyear Tires at Discount Tire
Discount Tire is the world's largest independent tire and wheel retailer, and in 2018, we're celebrating 58 years of low prices and the opening of our 1,000th store!
With Goodyear Tire being the official tire of NASCAR, we proudly offer great deals on exclusive Goodyear tires, including the Assurance UltraTour. So, if you need new tires, check out our promotions for great deals on the best tires. And don't forget to tune in for the all the NASCAR action this season!