What tires should I buy for my Dodge Challenger?
By: Discount Tire - Via Treadwell™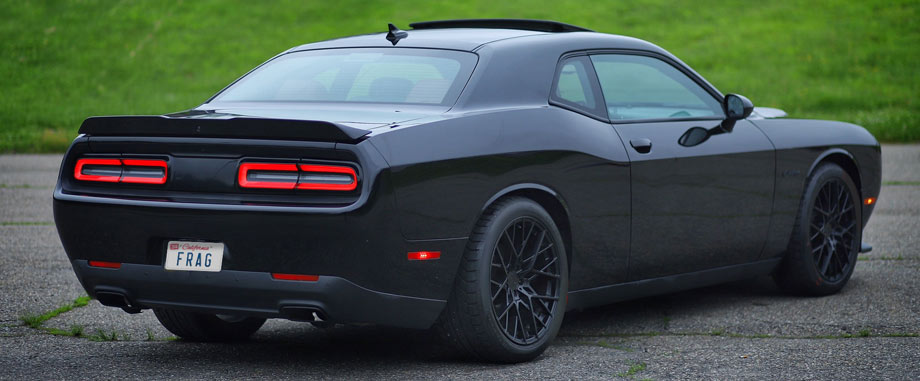 Trim levels: SXT, GT, R/T, R/T Scat Pack, SRT Hellcat
Wheel Sizes: 18-inch, 19-inch and 20-inch
About: Maybe the roads in your city are terrible. Maybe your right foot weighs significantly more than the average person's, and you physically have a hard time keeping yourself from ripping sweet burnouts in your Challenger every time you take off from a stop. Whether you want to save or splurge on Challenger tires, you might start by asking yourself...
When it comes to Dodge Challenger tires, what should I buy?
Use: 70% city, 30% highway

Budget: $-$$$

CHALLENGER TIRES – OUR PICKS
Recommendation #1 – BFGoodrich G-Force Sport Comp 2
For an ultra-high performance tire that provides excellent traction, the BFGoodrich G-Force Sport COMP-2 is a compelling choice for your Challenger. Whether squared or staggered, these tires feature BFG's long-lasting silica-infused COMP-2 tread compound in a design based on their current race-tire tread so you can get the best steering response and bite without having to worry too much about treadwear.
With a set of these tires on your Challenger, you can have the same amount of fun on the streets as some of the more premium nameplates out there., but at a lower price point.
Recommendation #2 – Road Hugger GT Ultra

The Road Hugger GT Ultra is a strong performance tire with a long-lasting tread life, smooth handling and dependable traction all year-round. Exclusive to Discount Tire, the GT Ultra is backed by a 50,000-mile limited warranty and is suited for all trim levels of the Challenger.
The silica-infused tread compound allows for long lasting tread life while its circumferential grooves and 3D sipes provide responsive handling and better grip in dry conditions. For a durable and strong set of tires, look no further than the Road Hugger GT Ultra.
Recommendation #3 – Nitto NT01 and Nitto 555R Drag Radial Staggered Set

It's no secret that Nitto has a strong heritage of performance tires, so we saw fit to recommend a staggered set of two different Nittos as a recommendation for any Hellcat and Redeye drivers. To keep things in the Nitto family, Nitto NT01's on the front and a set of two NT 555R Drag Radials for the rear should keep your Hellcat/Redeye from spinning on launch.
The Nitto NT10 uses a racing compound and large shoulder blocks, which reduces heat buildup while increasing acceleration, braking and handling. The overall design is DOT-compliant, making it a street legal tire that will fit your drag racing needs at the strip while being able to get you home safely.
Like the NT01, the Nitto NT555R Drag Radial is a full-bore competition tire that's also DOT-certified for street use. The NT555R was specifically designed to pair with other Nittos to give your vehicle a boost in acceleration performance and predictability. Its semi-radial construction and racing compound maintain stability at high speeds, while Hellcat forum members report that it also gets fairly decent treadwear around town (for a competition drag radial).
This setup is a foolproof way to get your Hellcat to hook!
With these picks it is important to note that wheel and tire sizes can differ between each trim level. Double check on our site or stop by one of our locations if you're on the lookout for the best tires for your Dodge Challenger!
Want to see recommendations for you and your vehicle on the Discount Tire blog? Fill out this form!
About Treadwell™
Treadwell's™ mission is to give you greater peace of mind, confidence, and a no-worry purchasing experience by providing the most authentic, unexpectedly simple tire comparison and selection process you've ever had. Give it a try here!