Introducing the fifteen52 Traverse MX
BY: DISCOUNT TIRE

Most people who know about fifteen52 are up on the enthusiast scenes they're a part of. It's a company and brand run by enthusiasts.
From their beginnings in the hot hatch and tuner communities of Southern California to becoming Ken Block's wheel-du-jour for his various high-powered Ford applications, lately fifteen52 is picking up reps off-road while leveling its sights on the soft-roading and overlanding scene with the Traverse MX.
It's by all accounts a new wheel. Built in new sizes and offsets for fifteen52 with a number of different colors available, it still stays consistent with the design language that put fifteen52 on the map to begin with.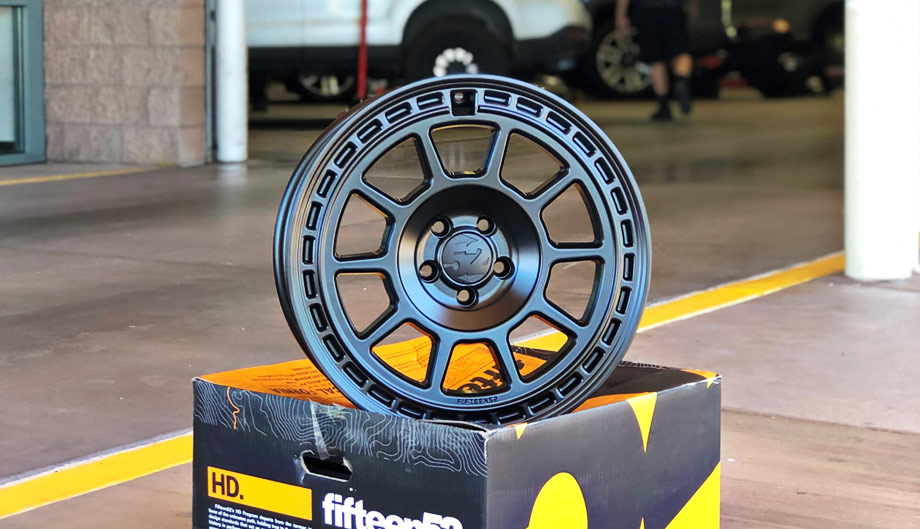 But our favorite part of the Traverse MX is its Discount Tire/America's Tire-exclusive color and size: Asphalt Black in 5 x 100.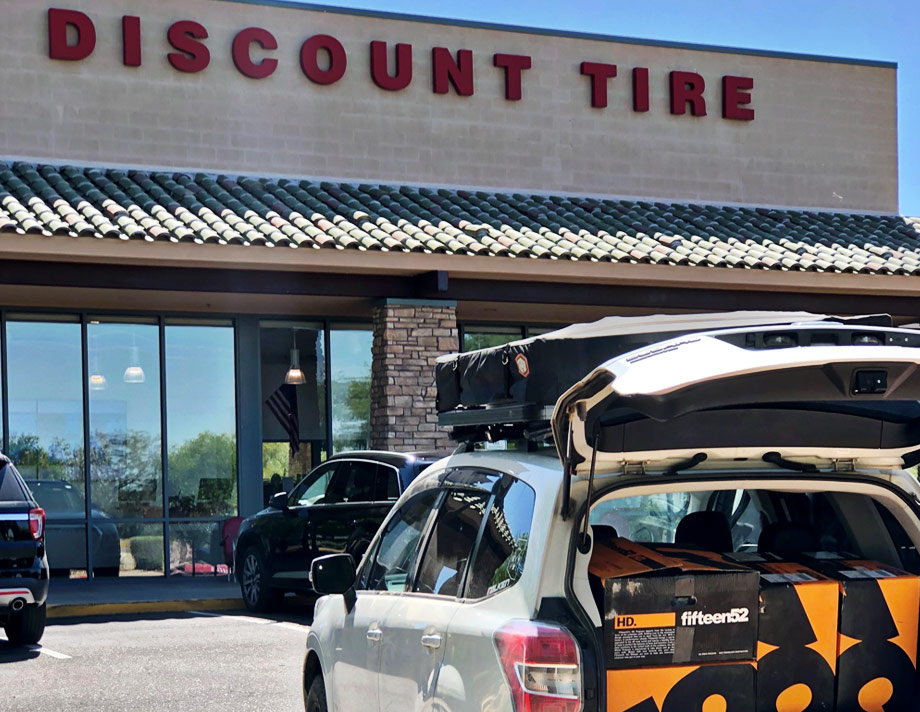 In fact, we like it so much that one of our corporate employees, Chris Roca (and his Subaru Forester) was at the very front of the line and discussion in the creation of this exclusive size and color as well as when we received our first shipment of the Traverse MX in the perfect size for his modified Subaru.
The birth of the Traverse MX
Chris started tracking and following fifteen52 after attending the 2019 Overland Expo in Flagstaff, AZ, where he saw their off-road wheel styles displayed on multiple vendor and show rigs.
As a kind of natural progression, finding Fifteen52 on Instagram was easy, but Chris noticed their strong following on social media and noticed the timely launch of the fifteen52's Integrale Gravel wheel in July 2019.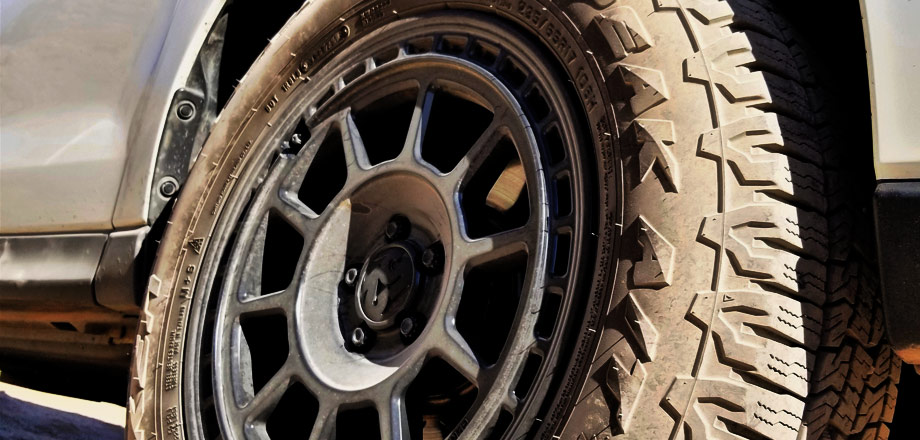 For off-road Subaru enthusiasts like Chris, it brought another off-road wheel style into the limited (but growing) market of rugged Subi wheel styles and was the only one in these fitments from fifteen52 at the time.
But after checking the specs on the fifteen52 Integrale Gravel, Chris noticed that this style is only available in a 15" wheel diameter option, which didn't fit many of the XT or 3.6R Subaru Forester and Outback models due to their larger front brake setups. This sort of identified a gap in application for a fifteen52 off-road "subi" wheel.
Flashback to about a month before the 2019 Overlanding Expo.
Fifteen52 posted a concept wheel targeted for off-road CUV's, calling it the Traverse MX.
As that concept wheel became more and more of a reality, Chris noticed styling cues from the very popular fifteen52 Traverse HD (a lower offset truck wheel style). And its specs showed diameter options that included 17-inch fitments, which are great for the XT and 3.6R Subaru models. However a 5x100 bolt pattern wasn't offered, which meant there weren't fitments for many earlier model and generation Subarus.
At the time the top brass in Discount's wheel operations were already in talks with fifteen52 about selling their inventory on our sites and in our store locations, but when the potential of an exclusive 5x100 Traverse MX came up during a meeting between the two brands things began to fall into place.

The result of savvy anticipation between the two partners resulted in the mutual benefit for fifteen52, Discount Tire/America's Tire, and Subaru owners and enthusiasts looking to dial in the look of their vehicle.
From there, the first shipments of the 5x100 Traverse MX have been available to order since April 2020.
Fifteen52 Traverse MX driving impressions
"The wheels I had on prior to the Traverse MX were the same size (17 x 8) and similar in style. But I will say that although my original wheels and the Traverse MX were similar in size and color, I have noticed how much better of a ride the new Traverse MX wheels provide."
"I notice the higher level of quality with the Traverse MX versus my prior wheels, especially in its smoother ride at highway speeds the first time I took the Traverse MX set on the freeway after I had them installed. Definitely happy with the new Fifteen52 Traverse MX!"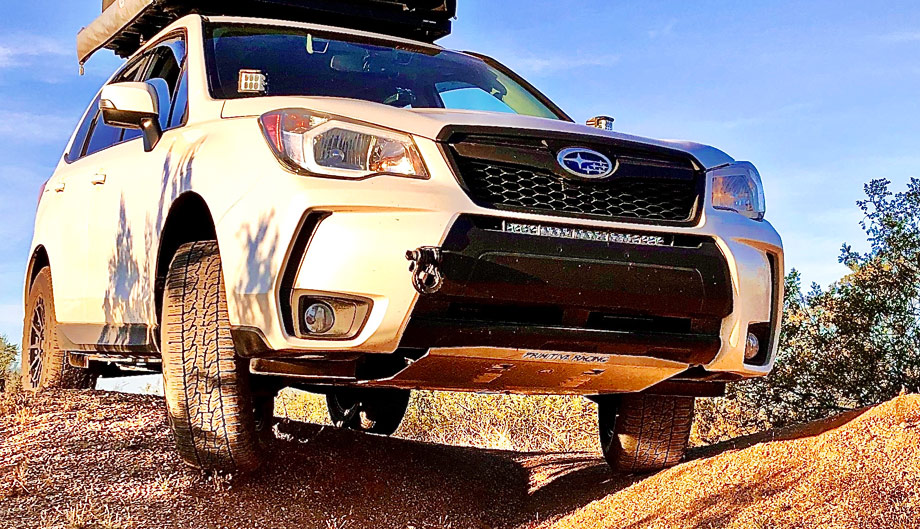 Chris' 2014 Subaru Forester XT Touring – @DZT_FOZ
Build sheet:
17x8 Fifteen52 Traverse MX Wheels: Asphalt Black in 5x100 +38 offset
Anderson Design Fabrication (ADF) 1.5" spacer lift with multi-link realignment kit
Bilstein B6 struts and shocks (front & rear)
Rallitek Sport (front) and Overload (rear) springs
Primitive Racing skid plates
Frontrunner Outfitters Slimline II roof rack
Tepui LoPro 3 Roof Top Tent
ARB 4ft Awning
Niilight 21" single row LED bar mounted in grill
Element LED SideShooter ditch lights with Anderson Design Fabrication ditch light brackets
Baja Designs Squadron Sport amber fog light kit
Trigger Controller 4 Plus wireless accessory controller
Well Visors window deflectors
For more, check out our roundup of Subaru Forester tires and fifteen52 at their website as we add more of their products in the near-future.