Ford Mustang Mach-E tire and wheel analysis
By: Discount Tire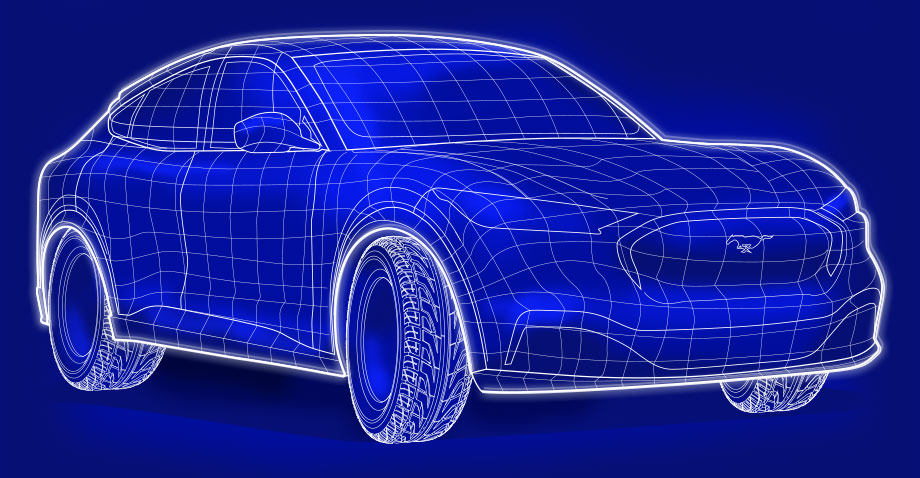 The Ford Mustang was supposed to be fun.
Over time its engines have grown in size (and thirst) as it has become the best-selling sports car in America across its various trim levels, names, special editions and drivetrains.
But now with the all-electric Ford Mustang Mach-E, it's all about business.
It's no secret that electric vehicles are the way of the future. (See our coverage on electric vehicle tires and Tesla tires for more.)
Yeah, it only kind of looks like a Mustang. It's also an SUV with four doors. Rather than contribute to the deluge of online commentary on the Mustang Mach-E's looks, we're here to focus on two things: its tires and wheels.
Mustang Mach-E tires
All we know about its tires so far is that in test and media vehicles, it's riding on 225 section-width all-season tires. That's pretty narrow, given how heavy electric vehicles are and regardless of the AWD or RWD trim level.
It's true that the base model Mustang coupe comes on all-season rubber, so it isn't all that much of a surprise for the current Mach-E that's making the rounds in the media to ride on an all-season tire that promotes traction on wet and dry surfaces. A narrower tire such as a 225 will also help with maximizing battery range by reducing rolling resistance.
But we also think the GT variant of the Mach-E will roll off the factory floor on some serious high performance summer tires.
Expect something from Michelin along the lines of the Pilot Sport 4S or Pilot Sport Cup 2 (as used on the current Mustang GT Performance Pack 2) as well as from Pirelli's P-Zero line of aggressive summer tires—two of the more recent OE tire suppliers for Ford's performance vehicles.
We expect that the Mach-E will be staggerable if not come from the factory on a staggered setup much like the performance-oriented trims of Tesla's offerings, but there may also be some hints on the Mach-E's tires based on the range of wheel sizes listed in the media guide Ford created in support of its debut.
Mustang Mach-E wheels
Ford lists Mach-E wheel sizes ranging from 18-inches to 20-inches—consistent with the ranges available on the current trim levels of the S550 Mustang coupe.
We know there they are aluminum with various finishes, as well as one option with an aero cover that should be targeted toward the longest-range and highest battery capacity trim of the Mustang Mach-E.

The lone 20-inch Mach-E wheel offering is also a forged wheel that's likely bound for the Mach-E GT.
Because this wheel will be lighter overall while likely paired with the shortest Mach-E tire sidewall, this forged wheel will probably be reserved for the highest-trim (and most expensive) performance-dedicated Mach-E.
Will lightning strike twice with the Mach-E? All we know is that rubber doesn't conduct electricity, but it's going to have to put the power down for the Mustang Mach-E—no matter what your idea of what a Mustang is or should be.