An en-tire world of art!
By: Discount Tire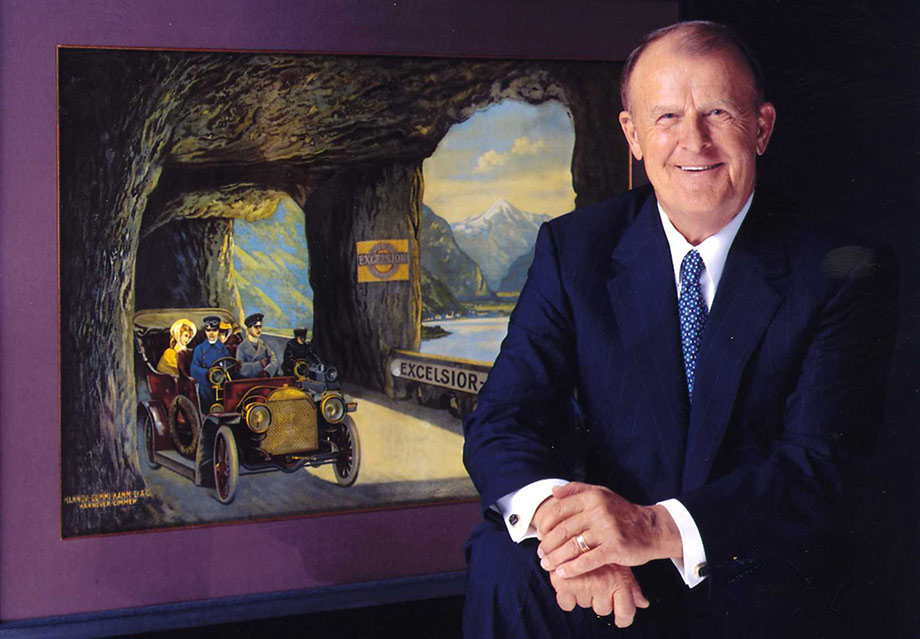 Mr. Bruce Halle, founder of Discount Tire, is known for doing the extraordinary. Knowing the value of hard work at a young age, Halle opened a small tire shop in Ann Arbor, Michigan, with six tires. He had no idea his business would eventually become the world's largest tire retailer.
As Discount Tire expanded, so did Halle's appreciation for art, especially color lithographs advertising the tire industry. While Halle was vacationing with his wife in Aspen, they wandered into a gallery where he purchased a tire poster to hang in his office. Realizing that there was an entire world of tire-related art, Halle fully immersed himself, amassing a collection of over 450 original lithographs. The collection exemplifies the remarkable relationship between art and commerce, simultaneously illustrating the evolution of the rubber and advertising industries.
In an interview with Forbes magazine, Halle stated "There's over 100 years of history of the industry I'm involved in. They're big, spectacular, colorful… I especially like ones of companies we're still doing business with today… It beats collecting old tires, which are big and smell bad."
These works, known as The Collection of Discount Tire are curated and proudly displayed across our company offices with selected works occasionally on display at various art museums and exhibitions.
Want to see some examples from the collection? Check out our list of selected works below!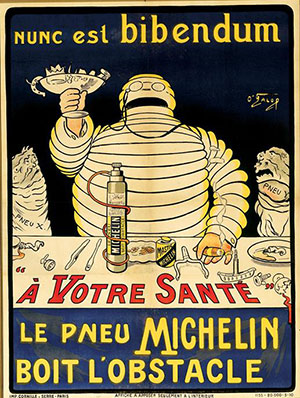 Marius Rossillon (O'Galop)(French, 1867-1946)
Nunc est Bibendum (Now Let's Drink), 1913
Color lithograph on paper 60 1/2 x 45 inches
Printer: Cornille & Serre, Paris


---
Marius "O'Galop" Rossillon designed the original Michelin Man. His first series of sketches, depicting a large white figure made of tires, was published in 1898. Accompanying the figure is a quote from the Roman poet Horace. It reads, "Nunc est bibendum," meaning "Now is the time to drink." The Michelin brothers insisted that their new tire drank all obstacles, including those depicted in Bibendum's glass! When the posters began to appear, French audiences identified the word Bibendum with the jolly tire man. Michelin used this poster over a twelve-year period, filling Bibendum's table with their latest products.
---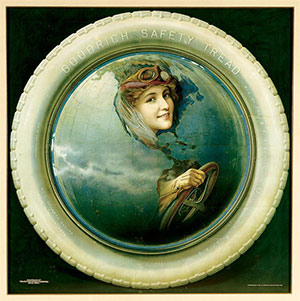 Anonymous
Goodrich Safety Tread, 1915
Color lithograph on paper
34 1/2 x 34 1/2 inches
Printer: The B. F. Goodrich Company Akron, Ohio
---
In this poster, the advertised product frames a winsome young woman, whose face and gloved hand are superimposed over the Western Hemisphere. By positioning the hand and the steering wheel on South America, the artist cleverly suggests that B. F. Goodrich is "driving" the rubber industry from its source.
---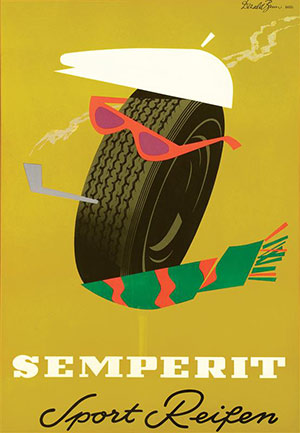 Donald Brun (Swiss, 1909-1999)
Semperit Sport Reifen (Semperit Sport Tire), c. 1950
Color lithograph on paper
32 x 22 1/4 inches

October 30, 1909 (Brun's Birthday)
---
It is difficult to find better advertising images than Brun's object posters. Their brilliant colors and rich texture make everyday objects into extremely realistic icons. This image provides a look at Brun's simple, humorous style. The artist depicts a Semperit tire smoking a pipe while wearing a driving cap, sunglasses, and windblown scarf. Brun's precision and graphic skill created an image that all four national languages in Switzerland would have understood. It is the ideal image of a sports car driver in the 1950s and the perfect advertisement for Semperit's sport tires.
---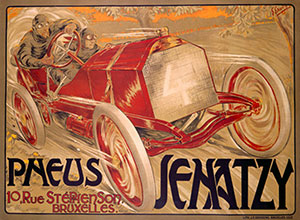 Georges Gaudy (Belgian, born 1872, active in Belgium and France)
Pneus Jenatzy (Jenatzy Tires), 1906
Color lithograph on paper
34 1/2 x 47 3/4 inches


---
Camille Jenatzy famously broke the 100km per hour race record in 1898. Shortly after, he and his brother took over their father's tire business. Commissioning this poster from Gaudy to advertise the company, it depicts Jenatzy winning the 1903 Gordon Bennett Cup in his Mercedes, which he ironically won on Continental tires.
---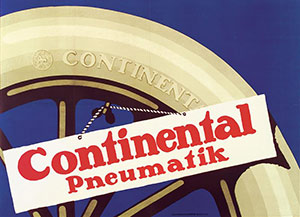 Julius Gipkens (German, 1883-1969)
Continental Pneumatik (Continental Pneumatic), 1914
Color lithograph on paper
27 x 37 inches
Printer: Hollerbaum & Schmidt, Berlin

February 16, 1883 (Gipken's birthday)
---
In Germany at the turn of the twentieth century, artists such as Julius Klinger and Joseph Maria Olbrich popularized a form known as the Sachplakat, or object poster, which promoted a product and brand name in a direct, realistic style. Gipkens, a self-taught artist, uses bold, contrasting colors to present the Continental tire. By cropping a close-up depiction of the product, he creates an eye-catching composition.
---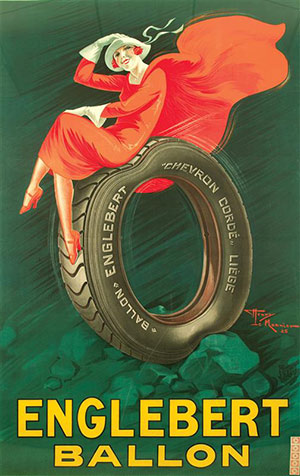 Henry Le Monnier (French, 1893-1978)
Englebert Ballon (Englebert Balloon), 1925
Color lithograph on paper 78 x 55 inches
Printer: Lutétia, Paris


---
As an Englebert Chevron Cordé Liège tire rolls smoothly over a bed of rocks, the colorfully dressed woman on top holds on to her hat. Her crimson cape and the product's name in bold yellow create a contrast with the dark green background.
---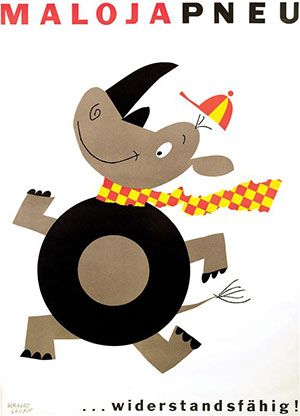 Herbert Leupin (Swiss, 1916-1999)
Maloja Pneu (Maloja Tire), c. 1950
Color lithograph on paper
47 1/2 x 34 1/2 inches
December 20, 1916 (Leupin's birthday)


---
Leupin's images are representative of his success as a poster artist. His training with the legendary Art Deco master Paul Colin for two years provided him with the skills necessary to be one of the masters of the product poster. This particular poster depicts his unique style. Combined with gentle humor and extraordinary graphic skill, Leupin creates a simple image of a rhinoceros with a tire in place of his body. The cartoon-like rhino seems to be in a hurry as his scarf flaps behind him and his cap flies off his head. This humorous character is typical of those created by Swiss object poster masters who transformed everyday products into icons.
---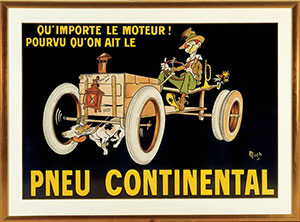 Michel Liebeaux (MICH) (French, 1881-1923)
Pneu Continental (Continental Tire), 1912
Color lithograph on paper 48 x 96 inches


---
In 1907, the German manufacturer, Continental, commissioned Michel Liebeaux, a caricaturist who was best known by the pseudonym Mich, to create a corporate icon for their company. The English clown and dog depicted in this poster were the result. Named Sam and Floc, the characters appeared well into the 1930s, reminding consumers that the motor is not as significant as having Continental tires.
---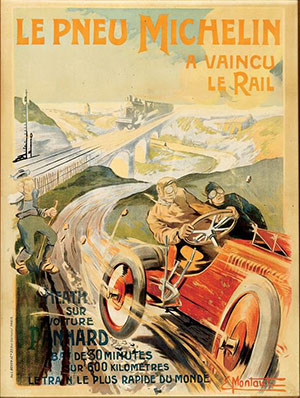 Ernest Montaut (French, 1878-1909)
Le pneu Michelin (The Michelin Tire), 1905
Color lithograph on paper
61 1/4 x 45 1/2 inches
Printer: L. Revon & Cie, Paris

November 7, 1878 (Montaut's birthday)
---
What better way to sell tires than by showing a racecar tearing through the countryside and exiting the picture plane. Created by artist Ernest Montaut, a well-known car aficionado himself, this ad for Michelin depicts American racecar driver George Heath in his Panhard Cabriole beating "the fastest train in the world over a 600 km stretch by 30 minutes."
---

Jessie Willcox Smith (American, 1863-1935)
Fifteen Fisk Boys, c. 1915
Color lithograph on paper
9 1/2 x 42 inches

---
In this poster Smith depicts the Fisk boy in a repetitive pattern. As the sun sets behind the hill, the toddlers walk through one Fisk tire and then another. Smith suggests the innocence of youth in this endearing composition. Her drowsy little boy remains synonymous with the Fisk brand today.
---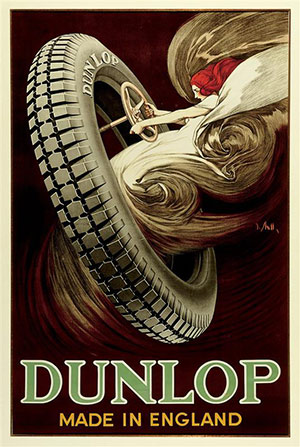 Clement André Lapuszewski (J. Stall) (French, 1874-1933)
Dunlop, 1930
Color lithograph on paper
55 1/2 x 36 inches


---
Using a tire to represent the whole vehicle is a tactic artists such as J. Stall employed in advertising. This image for Dunlop in which a beautiful redhead is shown seated before a large tire, confidently steering it into the darkness, stresses the tire's critical importance. See this poster on display in Legends of Speed at the Phoenix Art Museum. On view from November 3, 2019 – March 15, 2020.
---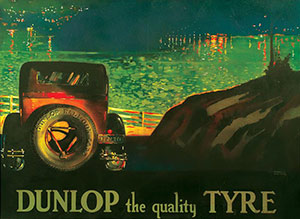 Henry John (Harry) Weston (Australian, born 1874)
Dunlop, the Quality Tyre, c. 1930
Color lithograph on paper
28 3/4 x 39 3/8 inches


---
A native of Tasmania, Henry John Weston established one of the first commercial art studios in Australia. In this impressionistic scene, distant twinkling lights are reflected on shimmering water. The most important part of the image-the Dunlop Balloon spare tire on the back of the roadster-seems to glow in the dark.
---
It's no secret that Halle's love for art and industry was a central part of his life. Without his enthusiasm, his entire collection of tire-related lithographs wouldn't be curated and displayed as it is today.
Have you stumbled upon some cool tire art? Tag us on Twitter, Facebook or Instagram!