Joey Logano: 10 Quick Questions
By: Team Penske & Discount Tire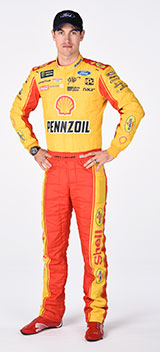 Hometown: Middletown, CT
Favorite food: Chicken Parm
Favorite vacation destination: Charleston, SC
Favorite sports team: New England Patriots
Guilty pleasure: Burnouts
What's your current daily driver?
2019 Ford Raptor
What are some of your favorite vehicles (personally and professionally) that you've driven?
I love driving my 1922 Ford Model T. It's a really cool car because it feels like you're going 100 mph and you're barely over 20. Brittany and I like to drive it to church on Monday nights during the summer, and it's just a lot of fun knowing it was truly the start of the automobile revolution in America.
What does your pre-race routine like?
Usually I start my morning with breakfast with my family. I try to spend as much time as a I can with Brittany and Hudson before I leave because the next time I see them is during the National Anthem.
After that, usually a few sponsor appearances to meet their guests and answer questions or sign autographs. From there I usually try to spend about an hour with my crew chief and team, talking about the day and what we expect to see. A quick drivers meeting, and then back for the team meeting and eat lunch before I get dressed to head to driver intros.
When you're not getting ready for the next race how do you occupy your free time during the season?
There's not much free time during the offseason. You really only have about two weeks at the end of the year off, usually we try to take a family trip and spend the holidays together. Once January 1 hits, you're doing production work for new firesuits and the next season, media days and so on.
By the second week of February you're back on the road headed to Daytona. Honestly, you just try to slow down and enjoy being home.
How do you unwind between races? In the offseason?
You never really unwind. I can take some time here and there to ride side-by-sides and play in the dirt, but usually Monday, Tuesday and Wednesday are full of meetings getting ready for the next race.
What are your predictions for NASCAR over the next 5/10/20 years?
I think teams will continue to collaborate together and with NASCAR, and work to keep our sport producing the best racing anywhere in the world. We've seen the efforts made to cut costs; those efforts will continue. But we have and we'll continue to have the best racing in the world.
What has been the most exciting moment of your career?
Without a doubt winning the championship at Homestead-Miami Speedway last November. That moment of climbing out of the car, surrounded by your team, the tire smoke, the car on fire. That's everything we worked for all year; most of us our whole lives have been dedicated to racing. That's a feeling I'll never forget.
Who is your hero?
For me a hero is anyone who gives of their time or resources to make the world a better place and make a positive impact.
Obviously you think of first responders using their talents and desire to serve, the United States Military at home and abroad. Then people in the local communities who live a life of generosity and really strive to make their neighborhood a better place and helping those less fortunate.
What's something most people don't know about NASCAR that they should?
Most people underestimate the amount of technology involved in our sport. They hear the term "stock car" and it really undersells the amount of technology and people behind a NASCAR team. At Team Penske we've got over 500 employees and over 300 of them are dedicated to our NASCAR program—from engineering to fabrication and everything in between.
What has been your favorite interaction with Discount Tire as a partner?
Hands down: the Bristol XFINITY race in 2015. Started second that race, but we led all 300 laps in the Discount Tire Mustang. Having a car that dominant is like Christmas for a racecar driver. That'll be a race I'll never forget!