Rivian R1T tires – our picks
By: Discount Tire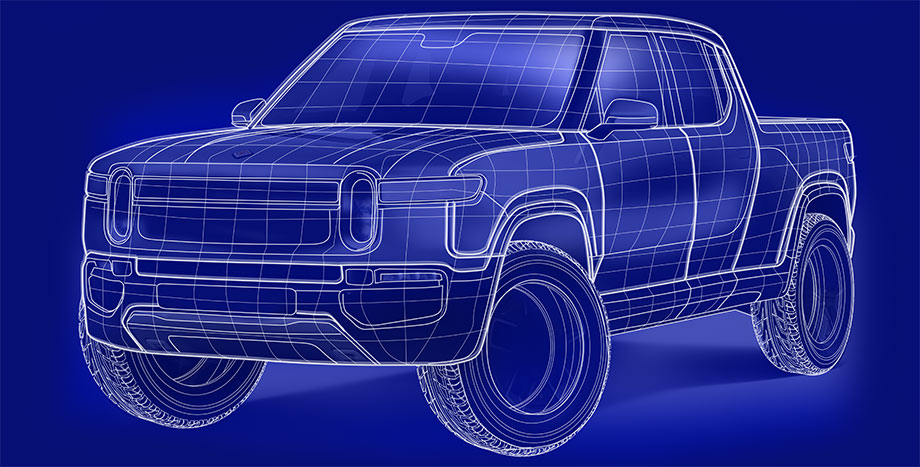 If you don't know about the Rivian R1T, in the current electric vehicle landscape it's probably the most credible manufacturer of full-electric pickup trucks in the game.
One could argue that Ford is getting close, even recently demoing an all-electric F-150 prototype that has also been spied testing on public roadways. But that prototype in no small part has the Rivian R1T to thank for its existence, what with Ford investing some $300-million in the electric truck company in a partnership that would surely provide an exchange on the strides in research and development that Rivian as a company would have made over its prior decade of existence.
Billing the R1T as an "Electric Adventure Vehicle" (EAV), Rivian will be tapping into a growing truck/SUV market segment by the end of 2020 with its all-electric R1T. An SUV-variant called the R1S is also being tested and is supposed to launch with the R1T on largely the same underpinnings, wheelbase and power systems.
We're excited to learn more about the R1T as it gets closer to launch, but we're here to assemble some more info on the things in our wheelhouse: its tires and wheels.
Rivian R1T – tires and wheels
Striking in design and proportion, with each wheel on its drivetrain independently powered by upward of 700 horsepower, the supercar-level performance specs the R1T can lay down will undoubtedly require the right wheel and tire setup.
Therefore, the R1T poses a very interesting dichotomy.
On one hand, it's Ferrari-fast. On the other, it's supposed to be able to tow up to 11,000 pounds, be able to rock-crawl, ford up to 3 feet of water and generally be a savage off-roader.
Knowing how Ford does things, there are probably going to be several trim levels of the R1T beyond certain battery pack kWh capacities.
Will there be an off-road version? A street version? All we can go on is what we know about the Rivian R1T (so far) and the best tire and wheel types for the different uses for which the R1T appears to be designed.
Some industry publications have early prototypes of the R1T shod on Pirelli Scorpions in a 275/65R20 fitment. A cousin of what comes on perhaps the highest-performing SUV currently available in the Jeep Grand Cherokee Trackhawk and even some trim levels of the Tesla Model X, it's a tire that's designed for heavy vehicle weights and high-powered demand.
But that Pirelli Scorpion isn't going to be all that good off-road, and as an OE choice would pretty directly conflict with how the R1T is advertised.
Like every other performance vehicle, wheel and tire swaps are often the first and most dramatic modifications you can make to your vehicle's performance and looks.
Here are our picks for how to get the most out of the Rivian R1T (both on and off the road) when it comes out.

Pirelli P Zero
If you're looking at the R1T more for its looks and on-road performance, we're going to make our first recommendation radical. With performance capabilities similar to a supercar, you'll probably want a supercar tire for this truck.
A set of Pirelli P Zeros will have the speed ratings you'll need for stable handling on hard acceleration, braking and overall road-holding ability. However, as of right now they aren't made in the R1T's 275/65R20 fitment.
So why examine them here?
We do need to acknowledge that the P Zero may never come in a size or variant that can safely support the weight of the R1T. But we can at least confirm the P Zero is made in a 20-inch wheel diameter size with XL load capacities for high-powered trucks and SUVs.
By potentially dropping upward of 15 millimeters of sidewall height and opting for one of Pirelli's current 265/45R20 models of P Zero, the R1T would likely handle far better and have substantially improved on-road performance. A shorter tire would also yield better acceleration times and even longer battery range, in particular.
Again, these tires may not be able to handle the weight and strain of hauling a trailer or loading up the R1T's bed or "frunk". They would, however, present an instantaneous paved-surface performance upgrade (if they fit safely).

BFGoodrich All Terrain T/A KO2
Going the opposite route, if you're planning on taking your R1T off-road as much as possible, you're going to want to wrap its wheels on something more capable in serious off-road terrain.
Across multiple truck, SUV and CUV segments, throwing a set of KO2's on is becoming a more and more popular upgrade in terms of both looks and functionality. Whether you opt for a black or white sidewall, there's always a trail that can be better handled and a rig that can be further improved when this time-tested champion of off-road capability is guiding your vehicle.
We don't know the load range or fitment for the Rivian R1T yet, but if we're being completely honest here we haven't ever seen a truck that didn't look and drive drastically better on a set of BFGoodrich T/A KO2's on it.
17-inch wheels
Picutred: Black Rhino Rumble wheels in Bronze.
Here's the thing: big wheel diameters and low tire sidewalls don't go well together off-road. While the 60-millimeter OE tire ride height of the Rivian is by no means short, it's also not anything to write home about.
Assuming the aftermarket will develop compatible sizes for the R1T like they do for every other vehicle, it's not unsafe to assume that you'll eventually be able to put a shorter wheel on your R1T.
But why would you want to?
The answer is twofold. You'll have a more comfortable ride with a taller tire—that much is certain—but you'll also be able to put substantially larger tires on with the extra clearance a shorter wheel provides.
This opens your all-terrain and mud-terrain tire options up substantially as you'll be able to fit high flotation sizes. From here, it even sets the table for lifting.
(Because there aren't any electric pickup trucks currently available for purchase, the jury is out on whether all-electric trucks will be able to support lift kits. As you may already know, electric vehicle batteries are substantially heavier than the standard chassis of internal combustion engine vehicles.)
We're as excited as anyone to see how the Rivian R1T is going to change the pickup truck and off-road industry when it debuts. Until then, we'll be updating this page as more info becomes available.