The Spare Tire Mount Guide
By: Discount Tire

We know a thing or two about spare tires (literal spare tires, not the kind you get after Thanksgiving dinner).
Whether you:
Want to shift some unsprung weight around your truck.
Bought new, larger tires or wheels and now your spare doesn't fit where it used to.
Desire improved clearances and departure angles by not having to stow your spare underneath your truck.
This is the guide for you.

Truck bed spare tire mount
The truck bed spare tire mount popularized by Baja 1000 trucks is really starting to take hold in the consumer aftermarket. It's not uncommon to even see two-tire truck bed spare tire mounts now!
Seemingly most popular on dedicated off-road pickups like the Ford Raptor, mounting your spare tire(s) in the bed of your pickup truck can be a great move for a couple reasons.
If you like to bomb through the desert, mounting your spare in your truck bed offers the dual benefit of helping your clearances while also protecting your spare from damage. But doing so also makes your spare far more accessible in the not-unlikely event you actually need it.
Because there's more room (and an infinite ceiling) in your truck bed versus the spare tire mounting point in a pickup's undercarriage, this is also a solution for aggressive 4x4 builds that have drastically increased tire sizes to accompany lifts or suspension modifications.

Hitch mounted spare tire
Hitch mounting your spare tire on an SUV offers similar advantages to a bed-mounted spare in a pickup: easier access, ability to increase tire size, and improved clearances and departure angles when you're off-roading.
It's a big part of why Jeeps and the Ford Bronco come with hitch-mounted external spare tires. But with the explosive popularity of vehicle-specific off-road aftermarket products, you can now mount the spare for your SUV (or CUV) to the rear of your vehicle hatch versus having to carry it underneath.
There are a lot of aftermarket off-road bumpers that include swing-out hitches, which can hold jerry cans and mount Hi-Lift jacks for the ultimate overlanding and off-roading build.
We see a lot of these on the Toyota 4Runner right now; a vehicle that normally has its spare mounted below its cargo area in the undercarriage. Now you know it's not just for show!
But remember: if you're adding a hitch-mounted spare tire (or two) to your build, the extra steel of a swingout bumper can add a lot of weight to your vehicle. You'll also want to take steps to protect your spare tire from the elements.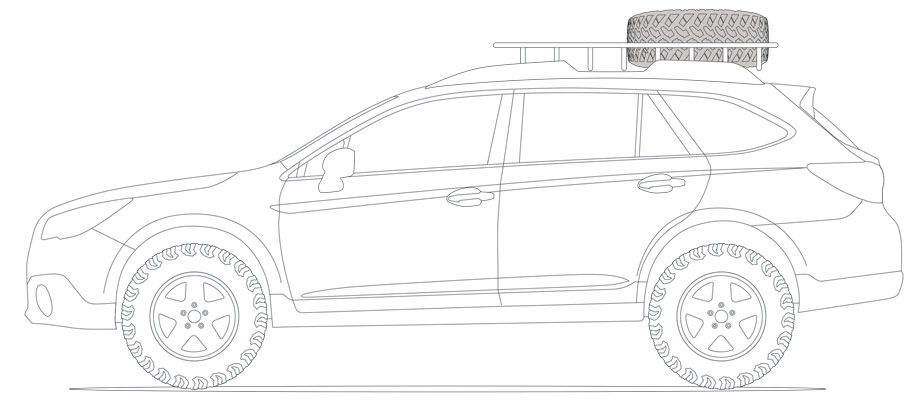 Roof rack spare tire mount
If you're thinking about mounting your spare to the roof rack of your vehicle, you either drive a tricked-out CUV or wagon such as a Subaru, or you don't have the option of an aftermarket hitch-mount. Which is totally fine!
The reason why you might want to consider mounting your spare to the roof rack of your vehicle is if you're running larger or knobbier off-road tires and can't stow your spare all-terrain (or mud-terrain) where it used to go, but you want the security of having it in case you do experience tire failure out on the trail.
Regardless of the reason why, it's a cool-looking utilitarian way to stay mobile out in the wild, which is why a lot of roof rack manufacturers have created specific spare tire mounts to be compatible with their products.
One thing to keep in mind with a roof rack spare tire mount setup is that you're increasing the top-heaviness of your vehicle, which can cause more roll when cornering and certainly makes your vehicle less aerodynamic.
And much like the hitch-mounted spare tire setup, your spare will be exposed to the elements at all times, making rotations extra important.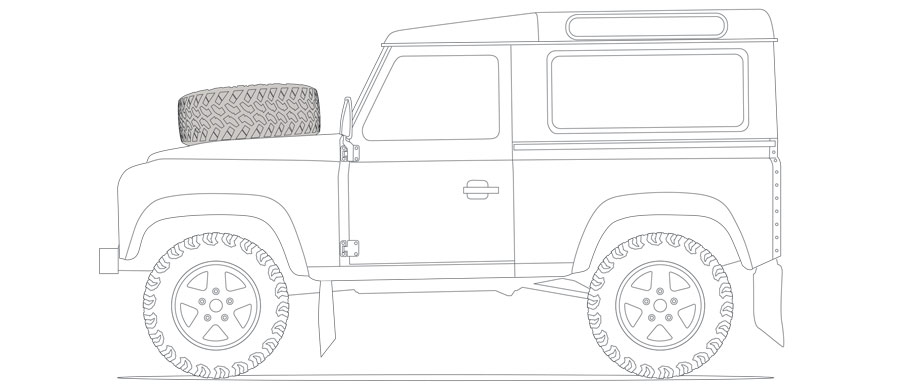 Hood mounted spare tire
Popular with the original Land Rover Defenders on the African Savannah, you don't see hood-mounted spare tires too often anymore, and for good reason.
Think about it: when your hood is to the sky on a steep incline (or decline, for that matter) you obviously want as much visibility as possible. But there are plenty of other reasons the hood-mounted spare tire setup has gone the way of the dinosaur.
Think about what happens to a hood-mounted tire in an accident or hard impact. While it has the advantage of easy accessibility, hood-mounted spares are also exposed to the elements as well as to hot engine temperatures. As off-roading tires have become larger over the years, you wouldn't be able to see anything if you wanted to try this setup on your truck.
(This all being said, we still think hood-mounted tires look very cool on vintage Land Rovers.)
No matter where you're thinking about sticking your spare tire, swing by one of our locations and we can gladly help you size up your options or rotate your spare in. Find a store near you or give us a call today!