What wheels should I buy for my Jeep Wrangler?
BY: DISCOUNT TIRE


For generations of Americans, just mentioning the word "jeep" calls to mind an image of a very specific design of vehicle. Born of military necessity during World War II, the original military jeep's outward appearance lives on in the Jeep brand, most specifically in the Jeep Wrangler.
In the mid-1940s, a market for civilian Jeeps was created by returning GIs who were familiar with the versatility of the military vehicle; the Jeep CJ design was born (short for "Civilian Jeep"). The various generations of the iconic Jeep CJ continued to gain popularity over the decades, until 1987 when the Jeep Wrangler was introduced.
Classic Jeep styling, modern technology, limitless customizations
Though modernized and improved, the Wrangler carries the iconic 4x4 Jeep identity. And though the ownership of Jeep's production factory has changed with the various parent companies of the Jeep marque, the Jeep Wrangler (as well as their generational predecessors, civilian and military) has always been produced at the "Toledo Complex" in Toledo, Ohio.
It's common for Jeep owners to feel a need to personalize their Jeep; the Wrangler can be highly modified for various looks and purposes. To fill this need, multiple trim packages are available directly from Jeep, most notably the Rubicon trim, which includes the most standard-equipment bells and whistles for off-roading.
Of course, there is an entire industry of aftermarket Wrangler parts and services (and blogs and web forums) dedicated to making your Jeep how you want it to look and how you intend to use it.
New wheels are a great way to make a substantial and personalized change to the look of your Jeep Wrangler with a relatively minimal investment. And to get more performance when off-roading, package those wheels with a set of new tires. (If you're not sure which tires will be best for your Jeep, check out our recommendations for Jeep Wrangler tires!)
Jeep Wrangler wheels – our picks
These suggestions will fit without "lifting" or adding any modifications to your vehicle's suspension, though most come in various sizes beyond that. There are hundreds of styles and finishes for wheels; these are just the tip of the iceberg!
When shopping for wheels on our site, be sure to use the "view on my vehicle" feature. Different wheel choices can undoubtedly complement your Wrangler's factory colors and seeing it first can give you confidence before you buy. Find the link under the price on any available wheel's product pages, or simply start your wheel buying experience with our wheel visualizer.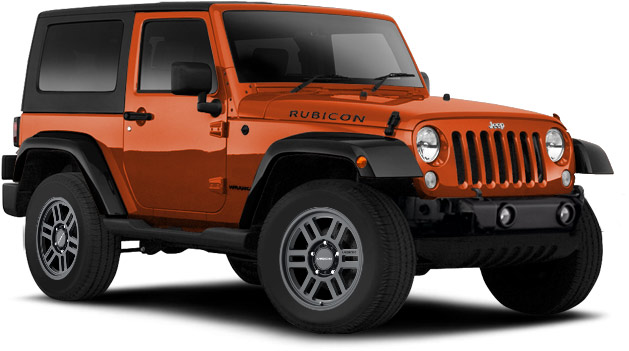 Above: Vision M2 Overland wheels on a 2018 Jeep Wrangler Rubicon via Discount Tire's wheel visualizer.
Note: The wheels below are intended for 2007 and newer models (third and fourth generation Jeep Wranglers) with a 5x127mm (5x5") bolt pattern. However, we have wheels for any generation and/or model of Jeep. Just enter your vehicle details on this site and shop for wheels or speak with an expert at your nearest Discount Tire store.
Fuel Wheels Anza
Let's start with the Fuel Wheels Anza, one of the more rugged looking wheels with an upscale two-tone design. The ring has a faux bead-lock look and it comes in three finish combinations to bring out the best of your Wrangler's color scheme: matte black with an anthracite ring, anthracite with a black ring or bronze with a black ring.
Black Rhino Warlord
For another two-tone design, check out the Black Rhino Warlord. The matte black finish with dark tinted lip gives a lot of depth to the look. Or, go more classically aggressive with the overall matte gunmetal finish for your Jeep to live up to the Warlord's militaristic name.
American Outlaw Revolver
Moving from the military theme to an old west vigilante theme, the American Outlaw Revolver is reminiscent of powerful firearms and an untamed spirit. The machined rivets on the painted gloss black and satin black combination will make crown your Jeep Wrangler the king of the trail you know it is.
Vision M2 Overland
For a clean and more modern split six-spoke display, the Vision M2 Overland is an awesome choice for any Wrangler. Available in satin black or satin grey, this wheel is a perfect match for the superb off-road tech that modern Jeep Wranglers epitomize.
Pro Comp 69
If you want to shy away from spokes and install some serious, no-nonsense wheels, the Pro Comp 69 is for you. As part of Pro comp's Xtreme Alloy series of wheels, these wheels would look as good on a classic Wrangler as the Jeeps rolling off the assembly line today. Choose from flat black or polished silver finishes.
Level 8 Strike
Maybe the above wheels are too far off the beaten path for what you have in mind for an aftermarket Wrangler wheel. If so, jump back into the sweet spot with the Level 8 Strike. With both matte black and matte silver finishes to choose from, this wheel can "strike" a balance between a customized look and classic Jeep styling.
To find the coolest looking wheels for your Jeep Wrangler (or any vehicle you're shopping for), simply enter the year, make and model and start visualizing. We've got the wheels that fit your Jeep and the look that fits your budget!