Tire Repair Guidelines
A thorough tire inspection is required to safely repair your tire. Before beginning a tire repair, the tire must be removed from the wheel/rim assembly. Not all unsafe conditions are visible from the outside of the tire. Removing the tire from the wheel/rim assembly allows a thorough inspection of the exterior and interior walls of the tire to determine if any hidden damage may be present. The first consideration when evaluating if a tire can be repaired is to confirm the type, size and location of the damage.
Repairs are limited to the tread area only. Do not repair a tire if the injury extends into the shoulder or sidewall area. In this situation, the tire must be replaced.

---
To safely repair your tire, the puncture must be 1/2 inch away or more from the edge of the tire tread where the internal steel belt begins. Any puncture less than 1/2 inch from the start of the internal steel belt on the shoulder or sidewall of the tire cannot be repaired (shown in the red area of the diagram).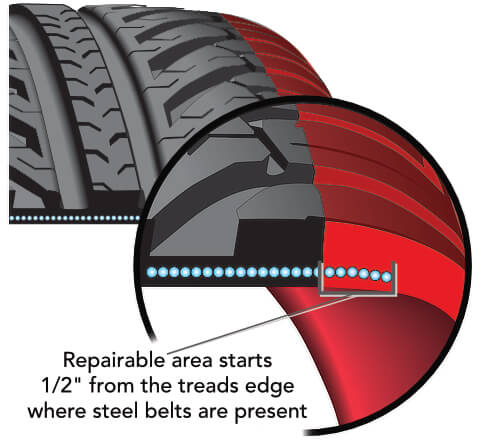 A tire puncture greater than 1/4 inch (or 6mm) is not able to be repaired. A new tire replacement is needed if a puncture exceeds this limit. Large tread punctures, irregular gashes or cuts exceeding 1/4 inch cannot be repaired. If a cut slices through the tire's steel belts, it reduces the strength and durability of the tire, making it unreliable and unsafe.
A tire repair can never overlap. In the unlikely event new tire damage compromises a previously repaired area, the tire will not be safe to repair.
A tire patch, by itself, is never a suitable repair. Proper tire repair procedures dictate that the injury must first be completely filled with a suitable vulcanizing material or solid rubber stem. Secondly, a patch must then be applied to the inner liner to complete the repair.
Not all tires qualify to be repaired. Some tires have special tire repair limits and others may have suffered damage too extensive to repair. The end results of returning a permanently weakened, or incorrectly repaired tire to service could result in tire failure.
Have you heard about our tire certificates program? Learn more about how we can help provide peace of mind in the event of unforeseen tire damage.
Discount Tire will always check the tire damage against our guidelines to ensure the tire is repaired correctly and your safety is our number one concern. If you have any questions or concerns regarding repairing a flat tire, stop by your local Discount Tire and we'll get you taken care of.