15 Inch Tires
Found on everything from trailers to pickups to classic cars, you can max out your ride's performance with a set of 15-inch tires.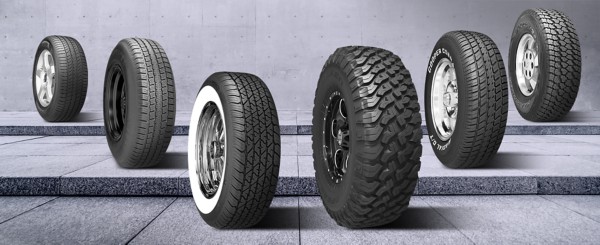 15" Tire Sizes
If you're on the hunt for tires that fit 15 inch radius rims, you're in the right spot. Whether you need fresh rubber for your pickup, CUV, passenger car or even your trailer, we've got the 15 inch tires you want.
For example, if you're upgrading your vintage ride and want to maintain its classic good looks, we've got iconic 15 inch white wall tires just for you.

On the other hand, if you're hunting for 15-inch truck tires, we've got you covered there, too.

We've got the largest selection of tires on the market, and that includes options from the best tire manufacturers out there.

We've got 15 inch tires from brands like Arizonian, Bridgestone, Continental, Cooper, Falken, Goodyear, Michelin, Nitto, Nokian, Pirelli and Yokohama, just to name a few of our favorites. Whether you're looking for full-throttle performance or dependability and value, we've got the tires you want.

15 inch trailer tires

Time to re-up the rubber on your trailer? We're all stocked up on 15 inch trailer tires, so we can help you keep your rolling resistance  almost as low as our prices.

Our shelves are loaded up with trailer tires from Carlisle, Goodyear, Hartland, Maxxis, Taskmaster and Vision. When your trailer needs an upgrade, we've got you covered. 

Whether it's for your toy-hauler or your workhorse, you'll have no trouble towing when your trailer is rolling on a set of Goodyear Endurance trailer tires. Designed for toughness that can handle any load and any road, these tires will get you where you need to go.

15 inch mud tires

And if you're looking for new levels of grip to find your off-road thrill again, look no further than a set of 15 inch mud tires.

From the all-value all-star off-road terror that is the Milestar Patagonia M/T to the off-road mud tire celebrity of the BFG Mud Terrain TA KM3, you can't go wrong when you kit up your off-road rig with a set of mud tires on 15-inch rims.

And if you're looking for something that you won't see on every vehicle (but that still provides all the grip you need and more), consider the Yokohama Geolandar MT G003. Known for the relentless performance of their street tires, this Yokohama mud tire can help your ride go toe-to-toe with any trail and still come out on top.

And when it comes to finding that perfect size, you can count on us. We have mud tires in some of the most popular 15-inch fitments, including 35-inch tires and 33-inch tires. 

15 inch all terrain tires

Or maybe you're interested in off-roading while keeping comfortable on the pavement, especially in your CUV, ATV/UTV or SUV. If so, 15-inch all-terrain tires may be the way to go.

As you're probably already aware, you can take on just about any terrain when your ride is set up with BFG KO2 tires. Designed to perform as well on the road as it does off it, the KO2 is easily one of the most popular AT tires of all time.

But if you're looking to change up your all-terrain game, consider a set of Toyo Open Country AT III tires. The ATIII is purpose built to take on the harshest of terrains, including severe winter weather—and we'd be lying if we didn't say that it looks very cool, too. If you want all-terrain performance out of your 15-inch tires, you'd be hard-pressed to find a better choice than this.

When it's time to upgrade your 15-inch tires, you know where to go. Feel free to schedule an appointment at your nearest store and we'll get you taken care of.