16 Inch Tires
From passenger cars to sports cars, pickup trucks to SUVs, make it happen with 16 inch tires.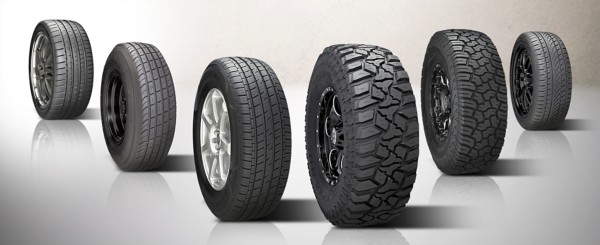 16" Tire Sizes
 There's nothing quite like a "Sweet 16". Whether you're just getting your license or you're a veteran driver, you can sweeten up your ride with 16-inch tires.
We've got the biggest inventory of 16" tires in the industry, so you can count on us to get you rolling on the right tires for you (at the low prices you want). We stock only the best quality products from brands you know and love, including Arizonian, Bridgestone, Cooper, Falken, Michelin, Pirelli, Road Hugger and Yokohama. 

We've even got 16 inch Vogue tires!

With our huge inventory, you can count on us to take care of all your tire (and wheel needs). We know some of you are on the hunt for 16 inch truck tires. We've got you covered there. We've even got 16 inch trailer tires for those of you looking to re-up or upgrade the rubber on your toy hauler or work trailer!

16 inch mud tires

When it comes to full-throttle off-road performance, there's one upgrade you need: 16 inch mud tires.

With their armor-like build quality and aggressive, self-cleaning tread patterns, mud tires are carefully engineered to give your ride all the grip it needs, no matter where the road (or trail) leads.

If you're rolling on 16s and looking for practically bulletproof construction, the Goodyear Wrangler MT/R with Kevlar is packing some serious heat. Plus, its mean, asymmetric tread design looks killer, whether you're tearing through the mud, crawling over rocks or sitting in traffic.

Looking for maxed out mud grip and maxed out value? Get both when you outfit your rig with the 16-inch Cooper Discoverer MTP. This mud-hungry off-road tire is designed to cut through soft terrain, resist cuts and tears and stay dependable on pavement, all while being easy on the wallet. Off-road performance and unbeatable value look good together, don't they?

33 inch tires on 16 inch rims

We know some of you out there are on the prowl for a particular fitment. We've got a ton of 16-inch tires available, but those specifically looking for 33 inch tires on 16 inch rims are in luck.

This eye-catching size delivers a beefy look without a massive impact on things like MPG or speedometer readings. And they shouldn't cause any wheel well rubbing issues either.

But the best part is, whether you're looking for all-terrain versatility or the full-on unhinged madness of a mud tire, you can get your pick of the litter with 33's on 16's.

A tire as popular as anything that's ever been on the road before, upgrade your all-terrain status to all-star performer with a set of BFG All-Terrain TA KO2s.

If you're looking to unleash chaos on the trails, look no further than the Toyo Open Country MT. Tough doesn't even begin to describe this beast. And with its alternating shoulder scallops, huge tread blocks and jagged shoulder lugs, this MT tire can take you where you need to go. 

(Looking for an aggressive upsize? Check out a set of 35 inch tires for 16 inch rims!)

And if you want to turn your grip upgrade into a style and performance boost, why not add a custom 16 inch rims and tires package to your mod list?

Designing your very own tire and wheel package has never been easier thanks to a few simple tools. First, find the look you want with our wheel visualizer (and see how your new wheels look on your exact make, model and OE paint color). Then, let Treadwell guide you to tire recommendations based on your unique driving needs.

Ready for your new tires? Schedule your upgrade at your nearest store and we'll get you taken care of.