18 Inch Tires
Time for new rubber? Get a boost in capability and performance with 18 inch tires!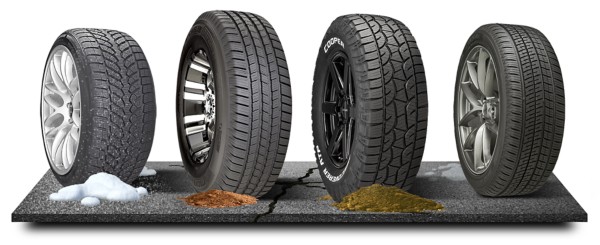 18" Tire Sizes
Whether you drive a truck, crossover, SUV, sports car or commuter sedan, we've got the best tires for your 18 inch radius wheels.
Since we keep the largest inventory of tires at the lowest prices, you know that you'll find the exact tire you're looking for.  We carry the best and most trusted brands, including Goodyear, Hankook, BF Goodrich, GT Radial, Michelin, Cooper and more. 

(You can also check out our huge selection of 18-inch wheels!)

Low Profile 18 Inch Tires

18" tires are found on a wide variety of vehicles for any number of uses. 

For a well rounded all-season 18 inch tire option, check out the Yokohama Avid Ascend GT, a touring tire that promises a quiet ride, long tread life, and an all season performance and confidence.

For near absolute reliability and all season performance, you can't go wrong with the Michelin Defender LTX M/S, a tire that maintains its composure no matter what road conditions you may cross. This all season performer is great for your light truck, SUV, or cross over vehicle.

18 Inch All Terrain Tires

If you're the type that likes to get off the beaten path, 18 inch all terrain tires are the way to go.

For drivers of trucks and SUVs, you can get all terrain tires with high performance capabilities in 18 inch sizes. The Pro Comp A/T Sport is an all terrain tire that's great for both on and off road performance. It comes in a wide range of 18" radius sizes and load ranges, and is backed by a 60,000-mile limited warranty.

You can get the best of both on and off road with the Goodyear Ultraterrain AT, a Discount Tire exclusive that is engineered for aggressive traction both on and off road. You won't sacrifice commuting comfort or off road dependability with this long lasting 18 inch tire option.

But if you need an 18 inch all terrain tire that's good across a wide range of temperatures and driving conditions, the Yokohama Geolandar A/T G015 is for you. It offers solid winter weather grip and handling with a wear resistant tread pattern that performs well in any season.

And if you want an 18" snow tire for your car, check out the Bridgestone Blizzak LM-32, a sporty rendition with premium performance and a comfortable ride even in icy, winter conditions.

If you're still unsure which 18 inch tires are right for you, head on over to Treadwell, our personalized tire comparison buying guide. And why not upgrade your wheels while you're at it? Check out our wheel visualizer and build your own 18 inch tire and wheel package!

If you can't find what you're looking for, don't sweat. We can special order any 18" tire—just give us a call! You can set up an appointment at your nearest store with ease!