19 Inch Tires
Looking to throw new tires on your 19 inch wheels? You're in the right place!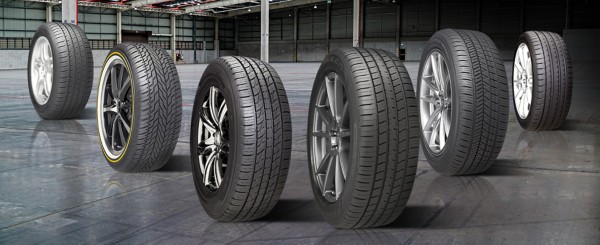 19" Tire Sizes
Shopping for new 19 inch tires doesn't have to be a hassle. We have the largest inventory of 19" tires at the lowest prices from all your favorite and trusted tire brands such as Yokohama, Falken, Michelin, Continental, and so many more!
(Were you trying to find 19 inch wheels instead?)

19 Inch Tires for Sale

If you're a commuter looking for the best ride, then 19 inch touring tires are the way to go. 

For an all around awesome all season tire that reduces road noise, check out the Yokohama YK740 GTX. It's ideal for sedans, coupes, minivans, crossovers, and SUVs in sunshine, rain, or snow. But if you're just looking for a 19 inch summer tire with the same great features, check out the Yokohama ADVAN Sport V105S ZPS. This bad baby has an engineered tread for tackling those wet summer roads and keeping the road noise down.

But for an all season touring tire in 19 inch sizes for your crossover or SUV, turn to the Kumho Crugen KL33 for its taut control and steering in all sorts of conditions. Year round traction is made easy with its microtread design that allows hundreds of little gripping edges to keep you on the road, not off it.

19 Inch Low Profile Tires

For show and go, our selection of low profile 19 inch performance, summer and competition tires are the envy of any stable. 

For all season performance at the peak of luxury, spoil yourself and your ride with the Vogue Custom Built Radial VIII, a testament to classic looks and opulent ride comfort. With sure-footed grip and a quiet ride, it even comes with a 60,000-mile warranty. 

Check out our complete selection of 19" Vogue tires!

For a luxury vehicle, you need a luxury performance tire! That would be the Michelin Primacy MXM4, an all season tire with Michelin's MaxTouch Construction that provides long-wearing performance, mile after mile.

Another great option is the Falken Pro G5 CSV. This all-season tire offers a 60,000 mile limited warranty, and is perfect for drivers wanting long wearing all season tires that can handle themselves on both slick and dry roads. 

If you're still not sure which 19" tires are right for you and your vehicle, give Treadwell a try. It's our personalized tire decision guide! 

And if you're looking at tires, why not upgrade your wheels too? Check out our wheel visualizer and create your very own 19 inch tire and wheel package! 

Make your ride right with the very best 19 inch tires! Just set up an appointment at your nearest store today!