20 inch tires
From off-roading to street cruising to all-season or ultra-high performance glory, you can give your ride the performance you crave with a set of 20 inch tires.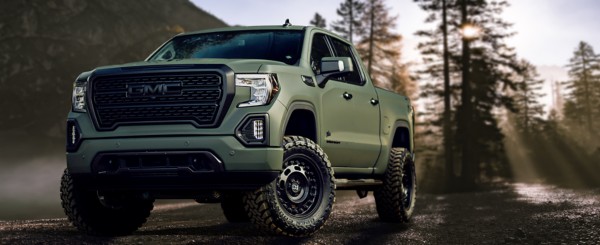 20" Tire Sizes
If you're prowling for a set of 20-inch tires to fit your 20-inch diameter rims, then you're in the right spot. And you have fantastic taste in tires and wheels.
Perhaps no other tire size offers such a range of uses (or swagger). No matter the vehicle or the application, you can't go wrong with a set of 20" tires.

From all-terrains to sport trucks, and even to ultra-high performance all-seasons, there's a 20 inch tire out there with your name on it. And not to flex, but we've got a huge inventory of tires, so we can get your ride rolling on 20s (and save you money, too). 

Here are just a few of the top manufacturers of 20 inch tires that we stock: Michelin, Goodyear, Pirelli, Cooper, Bridgestone and so many more.

If you want that iconic white and gold sidewall to give your ride a little bling, you're in luck because we carry 20 inch Vogue tires too!

20 inch rims and tires packages

But why not go full throttle and outfit your ride with a custom 20 inch rims and tires package? 

After all, there's no better way to finesse the look of your 20's than with a new set of 20 inch wheels to match. 

If you're having a hard time deciding on the best rim/tire combo, don't give up just yet. We've got a couple simple tools that make shopping for tires and wheels online fun and easy.

You can find the baddest 20 inch wheels available and see how fresh they look on your ride when you use our wheel visualizer. After that, Treadwell can help you find tires that match your new wheels and your unique driving style. 

33 inch tires on 20 inch rims

Off-road, on-road, freeways, highways, even back roads home. No matter where the road leads, you can face it all with a set of 33 inch tires on 20 inch rims.

It's an unbeatable combo: 33s on 20s. Whether you want a true off-road workhorse for your Jeep or Silverado, or you need the dual-purpose on/off road dependability of an AT tire, you can get it all with the right set of 33s wrapped around your favorite 20 inch rims. 

35 inch tires on 20 inch rims

On the other hand, you can let everyone know you're not messing around when it comes to your off-road adventures and outfit your rig with 35 inch tires on 20 inch rims.

You can always go for the gnarliest 35 inch mud tires on 20s. Or opt for a rough-and-tumble 35 inch all-terrain tire that behaves well on paved surfaces. No matter what, you'll get a mean stance and relentless traction when you upsize. 

20 inch all-terrain tires

Whatever size tire you spring for, you can rule the roads (and trails) when your ride is kitted out with a set of 20 inch all terrain tires.

Need a 20'' AT tire for challenging worksites? We've got options for that. And if you need 20s with some serious off-road grit, we've got those too.

If you're hunting for a mainstay in the off-road world, consider a 20-inch BFG All-Terrain TA KO2. Want to mix it up? How about a 20-inch Toyo Open Country A/T III? Another of our favorite 20'' all-terrain tires: the Goodyear Wrangler UltraTerrain AT.

Long story short, there's an all-terrain tire out there for you. And with our huge supply of the best all-terrain tires for 20 inch rims, we can get your ride rigged up in no time.

20 inch truck tires

Truck need a refresh? Breathe some new life into it with a set of 20 inch truck tires.

We're stocked and ready to equip your truck with the right tire for you and your vehicle. From a light pickup to a Baja-ready off-road beast and every truck in between, we've got you when it comes to 20'' truck tires.

No matter what you drive, your ride deserves 20 inch tires. We have the stock and the staff to help you get it done.

When you're ready to add some giddy-up and go to your pickup, SUV, sedan or sports car, schedule your upgrade at your nearest store and we'll get you taken care of.