35 Inch Tires
Whether 35 inch tires are the final upgrade to your build after a lift and other hardcore modifications or you're just here to re-up the rubber on your rig, our selection of 35" tires can help you stand out from the crowd and dominate the trail.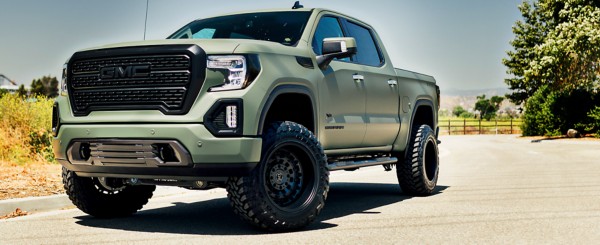 It's easy to match the exact 35 inch tire to your setup. With the best 35 inch tire brands at prices that can't be beat, (literally—we'll beat any advertised price on 35" tires) if you need the extra clearance for aired-down rock crawling or high-thrill desert running, it always feels good to be able to say your 4x4 is running 35's.
35 Inch Mud Tires
Want the ultimate in extreme traction? 35" mud tires take the cake when it comes to all-out off-road performance. (And they look awesome.)
The burliest tread and sidewall designs combined with rock-solid capability and durability characteristics give 35 inch mud terrain tires the ability to completely transform your off-road truck or SUV's performance. 
It doesn't matter whether you're rock-crawling, mudding, aired-down or throttled-up. So put it in low-range, lock your differential(s) and pick your line—35 inch mud tires are what to go with if you want performance that doesn't quit.
35 Inch All Terrain Tires
Want a 35" tire that's as good on the trail as it is on the highway? 35" all terrain tires are the perfect blend of form and function. Fill out your wheel wells while still being able to tear it up on the trail.
From legendary 35 inch all terrain tire nameplates such as BFGoodrich, Goodyear, Toyo, Nitto, Cooper, Falken and more, the only thing in your way from experiencing dynamic clearance and performance is the traffic out to your next adventure.
Remember: you can also build your own 35 inch tire and rim package and have it shipped to your door or installed by our off-road tire and wheel experts at a location near you. From popular sizes for 18 inch and 20 inch rims as well as LT and P-metric options, the right set of 35s is right here. 
(We work on lifted trucks all day long and have the equipment to knock your upgrade out quickly—you'll be in good hands.)
And don't forget your spare!