20x10 Wheels
Whether you're looking for off-road glory or street-ruling performance, you can turbocharge your ride with 20x10 wheels.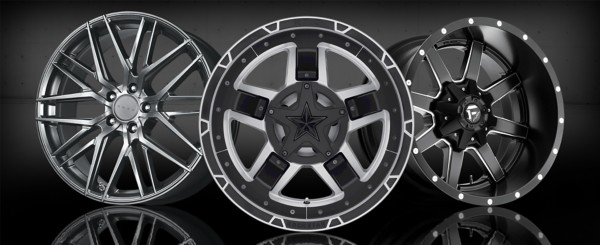 20x10 Wheels
Nothing makes an old ride feel new again (or a new ride feel more like your own) like a set of new wheels. And these days, few sizes are as in demand as 20x10 rims. 
If that's the size you're looking for, you're in the right spot. We've got a ton of the hottest rims from the best wheel brands out there, including Fuel, Black Rhino, XD Wheels, Moto Metal, Method Race, TSW, American Racing and many more.

Whether you're modding your high-powered muscle car or rigging up your off-road beast, a set of 20x10 wheels is a fantastic way to make your ride stand out from the crowd. 

Cruise the streets or own the quarter mile with a set of Drag DR-77 wheels. The sleek lines of the mesh split-spoke design are practically red carpet-ready, and its light alloy construction weighs less so you can win more.

And all you off-road fiends can fearlessly leave the paved road behind with a set of XD Rockstar III wheels. With its aggressive five-spoke design, this wheel is here to own the trail. Plus, it stands out no matter where you drive it, thanks to its unique star-shaped center cap.

20x10 Fuel wheels

There's no better way to fuel your passion for the drive than with a set of 20x10 Fuel wheels. Thanks to their mean designs and rugged builds, this wheel manufacturer is taking the wheel world by storm.

Whether you're a pavement prowler who wants rugged street style or you spend your weekends terrorizing trails, you can get the style and performance you're looking for with Fuel wheels.

One of their biggest sellers (with good reason) is the 20x10 Fuel Maverick. With its aggressive deep dish design, slick machine detailing and iconic Fuel logo, it's easy to see why so many people want these wheels on their truck or SUV. 

20x10 wheels and tires

If you think a new set of wheels is exciting, why not crank up the excitement a couple notches by creating your very own 20x10 wheels and tires package? 

After all, nothing matches a new set of wheels quite as nicely as some fresh rubber. And since we're always innovating, shopping online for tires and wheels has never been easier!

First, give our wheel visualizer a spin to see how your new wheels look on your exact vehicle (including make, model and OE paint color). Second, let Treadwell lead you to the ideal tires for your unique driving needs. Third: try not to stare every time you park your vehicle when your new 20x10 wheel and tire package is installed!

And if you didn't know, our stores can special order just about any wheel out there (including the in-demand Hostile Wheels 20x10. Just give us a call and we'll get you set up.)

Feel free to schedule an appointment at your nearest store and we'll get you rolling on your new 20x10 wheels in no time.