4x108 Wheels
From classic muscle to German luxury, get more out of your ride with a set of 4x108 wheels.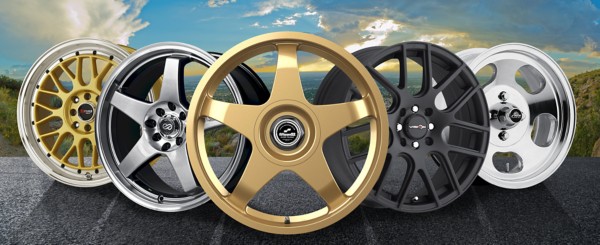 When you need a new set of 4x108 wheels, we've got you covered. With our industry-leading inventory of aftermarket wheels, you can count on us to stock brands you know and love, including American Racing, Drag, Fifteen52, Konig, Motegi Racing, Unique, Vision and many, many more.
With our wide inventory, we have everything from 4x108 Drag wheels to 4x108 gold wheels. Whatever your wheel needs, we got your back.
What cars do 4x108 wheels fit?
Drivers unfamiliar with 4x108 wheels may find themselves wondering: what cars use 4x108 wheels? The answer is, while they're not as common these days, a surprising number of cars can be seen rocking a set of 4x108 rims, including vehicles from Alfa Romeo, Audi, Ford, Porsche, Saab and Volvo (just to name a few).
If you drive a classic Ford Mustang or Ford Thunderbird, you can update its performance (and maintain that vintage swagger) with a fresh set of 4x108 wheels. And if you're rolling in an Alfa Romeo Spider, a Porsche 924 or even an Audi Quattro, there are new levels of performance to be unlocked with the right set of 4x108 rims.
And for those drivers who think in standard measurements, if you're wondering, "is 4x108 the same as 4x4.25?" the answer is yes! 4x108 is just the metric variant of the standard 4x4.25 bolt pattern.
4x108 Mustang Wheels
Easily one of the most popular vehicles that uses this bolt pattern, we know a lot of 'Stang drivers out there are on the hunt for the right set of 4x108 Mustang wheels.
If that's you, you're in luck. We've got a massive assortment of wheels that are perfectly suited to the style and performance of your Mustang, whether you want to add a little flair to your base model or you want to unlock new levels of performance on your 5.0 GT.
One of our favorites is the Motegi Racing MR116. If you want lightweight strength and performance you can count on, this is the wheel for you. Plus with its range of sleek, modern finishes, you can amp up your ride's performance and style with a single upgrade.
Another killer option that builds on vintage style but boats modern performance? The five-spoke, motorsports-inspired Fifteen52 Chicane. No matter which mustang wheel you choose, you can't lose.
4x108 Rims
If you're looking for modern style and performance with the wallet-friendly prices of yesteryear, the Drag DR69 checks every box on that list and then some! With a modern mesh design and lightweight aluminum build, it's a surefire way to boost your ride's performance and esthetic. And its low price tag keeps your bank account happy too!
To maintain your ride's vintage look while pumping it up with some modern technology upgrades, you can't do any better than the American Racing Ansen Sprint! With its bright polished finish and classic modular design, this wheel makes classic cars absolutely shine, whether you're gearing up for a car show or a street race.
If you want to give your ride a serious competitive edge, go all out with modern style and bleeding edge technology: choose the Konig Dekagram. Built using flow forming technology to ensure extremely low weight paired with unmatched strength, the Dekagram is even faster than it looks.
Still trying to decide which rims you want? That's what our wheel visualizer is for! This simple tool gives you a sneak peek at what your new wheels look like on your exact vehicle make, model OE paint color.
And while you're at it, have you considered matching your new wheels with new tires too? There's no better way to fine tune your ride's look and feel than with a custom matched wheel and tire package. It's easy enough to do, just let Treadwell guide you to the perfect tires to wrap around your new rims.
After that, you're ready to schedule an appointment at your nearest store! Or just drop on by and we can help you level up your swagger ASAP.