4x114.3 Wheels
Whether you're rolling in a classic muscle car, a modern tuner or a compact car, add a little glitz to your whip with a set of 4x114.3 wheels.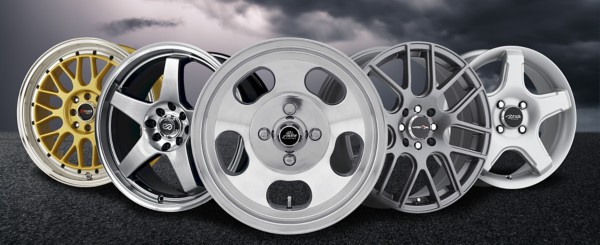 We've got the largest inventory of aftermarket wheels in the industry, so if you're looking to save on your upgrade, you're in the right spot. We only carry the most trusted names in the business, including American Racing, Drag, Enkei, KMC, Konig, Motegi Racing, Vision and XD, just to name a few.
And if you're looking for a specific size like 16-inch or 17-inch 4x114.3 wheels for your ride, we've got you covered.
What cars use 4x114.3 wheels?
Wondering what cars use 4x114.3 wheels? Also referred to by their standard variant (4x4.5 wheels) are found on a surprisingly wide range of vehicles, including Acura, Chevrolet, GM, Dodge, Ford, Honda, Hyundai, Kia, Mazda, Mitsubishi, Nissan, Toyota and Volvo.
In short, you can find 4x114 3 rims on a ton of different vehicle types, including classic muscle cars like the Ford Mustang or the Chevy Nova as well as tuner and JDM favorites such as the Honda Prelude or the Toyota Supra.
Whether you're upgrading your classic car or looking for a wheel option with performance and swagger, it's tough to beat a set of 4x114.3 wheels.
4x114.3 Rims
Looking for lightweight modern performance and a sleek, mesh wheel design? Look no further than the Vision Cross. The perfect blend of form and function, the Cross is available in hyper silver, chrome, matte black and gunmetal finishes, so you can choose the best look for your ride.
If you want a contemporary look that can't help but stand out from the crowd, the Enkei GW8 is the wheel for you. Built with a dizzying, twisted split-spoke design and a sleek black and red finish, the GW8 will make your ride look fast even when it's parked.
And for the driver who wants reduced weight, increased strength and race-ready looks all packed into a classic five-spoke design, the Motegi Racing MR116 is the wheel for you. With a black and red or silver machined face finish, as well as a snap-in center cap, tuner style never looked so cool.
Why not top off your new set of wheels with a matching set of rubber via a custom 4x114.3 wheels and tires package?
If you're feeling overwhelmed by the practically endless options out there, don't sweat it. With a few simple tools, shopping online for your wheel and tire upgrade is a snap.
First, hit up our wheel visualizer to find the perfect wheels for you and see how they look on your ride. Once you've locked in that perfect look, let Treadwell guide you to the perfect tires for your unique driving needs. Simply input your vehicle, select your driving style and find the perfect tires for you (and your budget).
Still not seeing the 4x114.3 wheels for you? Don't give up just yet. We can special order any wheel out there, no matter how hard it is to find. Just give us a call and we'll help you find the wheels you're looking for. When they get in, we'll knock out your install and have you back out there in a flash.
Ready to dial in the look and performance of your ride? Schedule an appointment at your nearest store and we'll get you taken care of.