5 Lug Rims
Found on everything from SUVs and pickups to compact cars, luxury sedans, sports cars and even ATVs/UTVs, 5 lug rims pack a mean punch.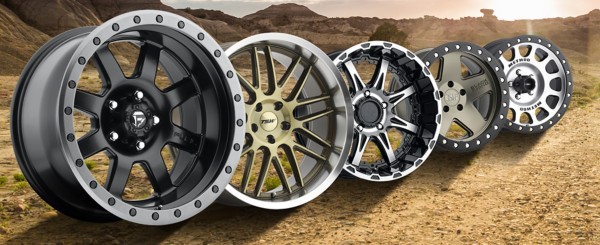 5 Lug Rims
When we say you can find 5 lug wheels on just about every type of vehicle out there, we aren't messing around. For example, one of the most common bolt patterns ever made, 5x4.5 rims (also known as 5x114.3 wheels) can be found on vehicles ranging from Fords to Bentleys to Toyotas. And that's just one of almost 20 different 5 lug bolt patterns. Seriously, these things are everywhere!
The best part about that is: there are thousands of unique options to choose from when you're upgrading your 5 lug wheels! Even better, we've got the biggest selection of aftermarket wheels (and the lowest prices) in the industry.
We've got popular 5 lug wheel options from the biggest names in wheel manufacturing, including American Outlaw, Black Rhino, Drag, Enkei, Fifteen52, Fuel Wheels, Konig, Liquid Metal, Method Race and Vision, just to name a few.
5 Lug Trailer Wheels
We've even got you covered if you need to upgrade your 5 lug trailer wheels. From a set of no-frills steel wheels to the vamped up style and reduced towing weight of a set of aluminum trailer wheels, you can find whatever it is you're looking for right here. (And if your trailer tires need replacing too, how about a 5 lug trailer rims and tires package?)
Check out our wheel catalog to see a full list of available brands!
5 lug wheels
With so many different vehicles using them, you can find 5 lug rims for just about anything.
If you're on the hunt for reduced unsprung weight for better steering response and control on your sports car, we've got you covered there. The Enkei RPF1 takes its inspiration from the speed-fiends at Formula 1, bringing you increased strength and reduced weight for performance that can't be matched.
Lead-foot drivers who want rally-racing thrills need look no further than the Fifteen52 Turbomac, a wheel so cool it was co-designed by Ken Block of Gymkhana fame.
And anyone seeking full-on off-road mayhem should add the Fuel Anza to the top of their list. With its slick simulated beadlock design and aggressive split spoke styling, this wheel will elevate your ATV, UTV, pickup or SUV to legendary status. If it goes off-road, go with Fuel.
17 inch 5 lug rims
Looking for a specific size 5 lug rim? We know a lot of you are seeking 17 inch 5 lug rims.
Whether you're rolling in a pickup, SUV or sports car, you can upgrade your whip with a set of 17s in a 5 lug bolt pattern. And unsurprisingly, we have tons of options to choose from.
Other incredibly popular sizes in a 5 lug bolt pattern include 20 inch 5 lug rims, 16 inch 5 lug rims and 15 inch 5 lug rims. No matter what size you're looking for, we can get you sorted.
5 lug rims and tires
Is it time for new tires too? Get a double dose of performance and style with your very own 5 lug rims and tires package.
We make it easy to design your package with a few simple tools. First, check out our wheel visualizer to find the wheels for you and see how they look on your ride. Once you've settled on the perfect wheel, give Treadwell a spin to find the ideal tires for your unique driving needs, including weather and tire performance in your specific area. Next, you're ready to enjoy how fresh your ride looks and feels!
(Want to make sure your new wheels stay fresh? Check out our wheel cleaning guide!)
Not seeing the rims for you? Don't give up just yet. We can special order just about any rim out there, no matter how rare the fitment or how unique the finish. Give our stores a call and we'll help you source the wheels you're after.
When you're ready to rev up your ride, schedule an appointment at your nearest store and we'll have you rolling in style, ASAP.